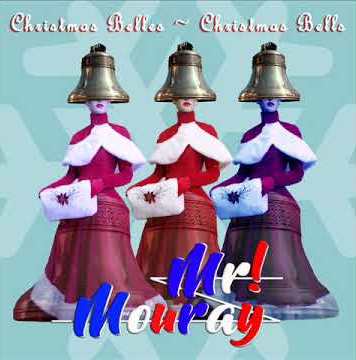 Fri Dec 21, 2018
For those of you who know Jaimie Vernon, then you know his musical knowledge and passion is beyond measure.
So when he recently announced he was part of a new band it was no surprise to us all because after all, you can't keep a good music man down. Mr! Mouray was loosely named after a classic song - now think Dean Martin 'when the moon hits your eye like a big pizza pie – Mr! Mouray!!
Now with the holiday season upon us Jaimie and musical partners have released a new single 'Christmas Belles' and it is truly a great production.
The most striking part of this song is it was written by Jaimie Vernon, and for those of us who know him and musical history, he is a rocker through and through. That is why the song is surprisingly sweet and sentimental with a nostalgic feel, combining great vocals with strong harmonies, the production builds into a great offering with a very positive lyric pattern. Kudos to these guys!
Give it a listen!
https://youtu.be/MQoaeelH658
Christmas Belles – Christmas Bells
Written By Jaimie Vernon
The Christmas Belles are out tonight
Singing songs of joy
The Christmas bells have peeled their rounds
For every girl and boy
CHORUS:
Christmas Belles have told the stories
Of joy and reverie
And Christmas Belles
Bring peace and harmony
The snow drifts slowly down tonight
The Christmas bells will toll
Caroling of children's voices
The Christmas Belles behold
REPEAT CHORUS
[Christmas Bells] Keep on ringing
[Christmas Belles] Like angels singing
[Christmas Belles]
Hear them ringing,
Hear them singing,
Hear the joy that they are bringing…
The Christmas Belles came out tonight
And brought melodic cheer
Christmas bells tolled for Christmas
Marking the New Year
REPEAT CHORUS
[Christmas Bells] Christmas Belles bring peace and harmony
[Christmas Bells] Christmas Belles bring peace and harmony
[Christmas Bells] Christmas Belles bring peace and harmony
(c) 2018 Jaimie Vernon Music Publishing
Available here:bullseyecanada.bandcamp.com