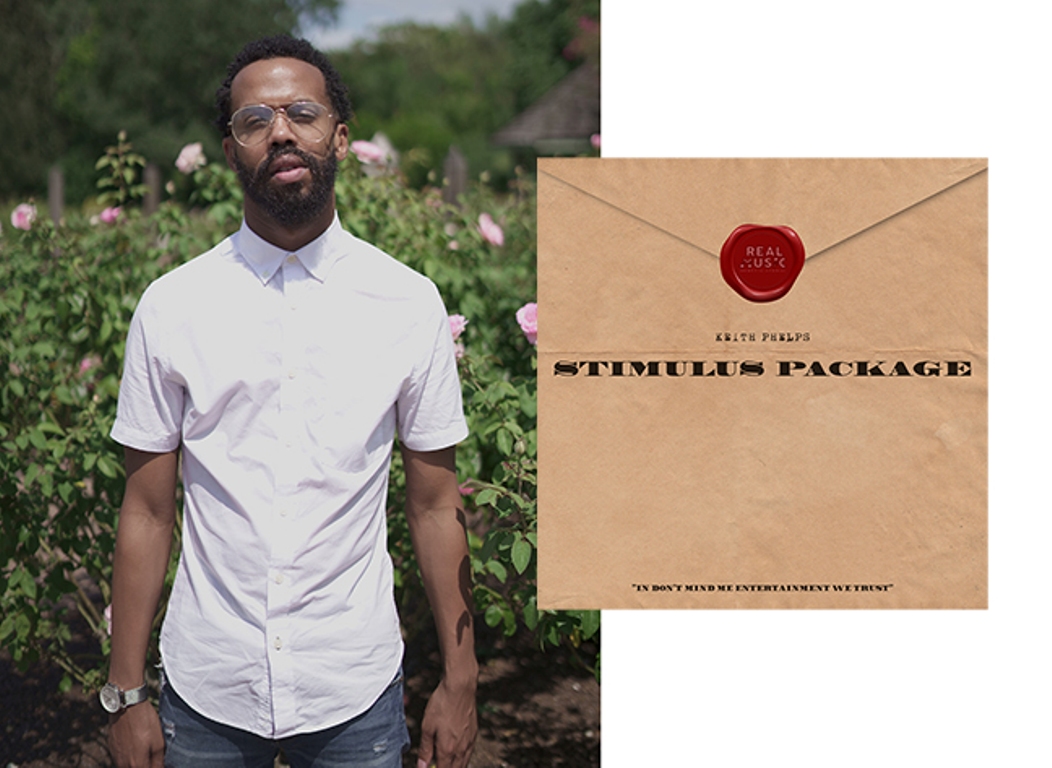 Fri Aug 21, 2020
Hip hop R&B artist and producer Keith Phelps has channelled his visionary insights into prescient lyricism with this, his timely new album Stimulus Package and premiere single "Need 2 Know".
The multi-talented musician and creator recently toured as the keyboardist for Haley Reinhart (Season 10 American Idol finalist), and can also be seen playing alongside R&B legend Jon B, or with his band, The Conglomerate. In 2017, he scored Nathan Cheney's film, A Fatherless Generation, starring George Lopez, Terry Crews, Aisha Tyler, and Bret Ernst.
"I create 'audible chicken and noodle soup for the soul,'" Phelps says of his sound. "I'm constantly creating music with the intent to aid the inner well-being of the listener.
"Stimulus Package and 'Need 2 Know' are part of that. The album is meant to uplift, but also address the heartache of the global pandemic and social injustices plaguing the world.
Watch and listen to 'Need 2 Know' here:
"It's literally supposed to be the soundtrack that would get you through this unprecedented time."
His fifth album release, Stimulus Package was written and produced as Phelps' personal processing of the year's tumultuous time. "COVID-19 really put my back up against the wall," he recalls. "I knew that, whether the gig was local or beyond, we musicians were not going to be able to go back to making our living the way we did before the pandemic.
"Amid uncertainty, fear, and anxiety, I consciously set out to make a project with intentions of changing my life forever. Furthermore, I really wanted to make something that would give people hope to combat the constant barrage of negative news within the media.
"'Need 2 Know' could be argued as a 'conspiracy theory anthem,'" Phelps considers of the track, which features Gerald Law II. "But more than anything, they are just urban think pieces that encourage people to ask the next questions with regards to the information they're receiving.
"I'm all about providing additional schools of thought that inspire others to challenge or verify, or possibly change their life's perspective."
Phelps suggests the same could be said of the album's title track, "Stimulus Package"; the remaining songs on the seven-track release round out the artist's signature sage song-craft.
"Songs like '2-Step Dip' and 'Wolf' lightheartedly highlight the 'first world' social media commentary that follows our 'inconveniences' due to our current global predicament," he offers. "The unassuming crown jewel of this project, however, comes from the Kalita Records sample of 'Take A Moment' by Carrie Cleveland in 'Love Me.' I unknowingly, predictively, and genuinely wrote this song two months before the global ignition of the Black Lives Matter movement and what many would consider to be a new beginning for racial and social reform."
Keith Phelps' Stimulus Package (2020) follows previous album releases Any Given Phriday (2018), Real.Beautiful.MUSIC (2015), PHiNDiNG Myself (2014), and his debut, Phelps Phriday Mixtape (2013). Early 2020 also brought the single "Never Thought" with Dayve Stewart.
Now, amidst a global pandemic where live music as we once experienced it is paused indefinitely, Phelps is holding dear to Stimulus Package as both a lighthouse of sorts for his audience, industry peers, and — most definitely — himself.
"Silver Lining,' while serving as the last track, was the first of the songs written and produced for this project," he shares. "It was specifically written to express how I felt as an entertainment professional.
"The timing of the pandemic seemed unbelievably disappointing and almost unfair. I was just coming into a newfound confidence with regard to my ambitions and artistic efforts.
"'Silver Lining' became my personal beacon of hope."
For more visit:
keithphelps.bandcamp.com/
instagram.com/keithphelps/
facebook.com/keithphelpsmusic
twitter.com/keithphelps