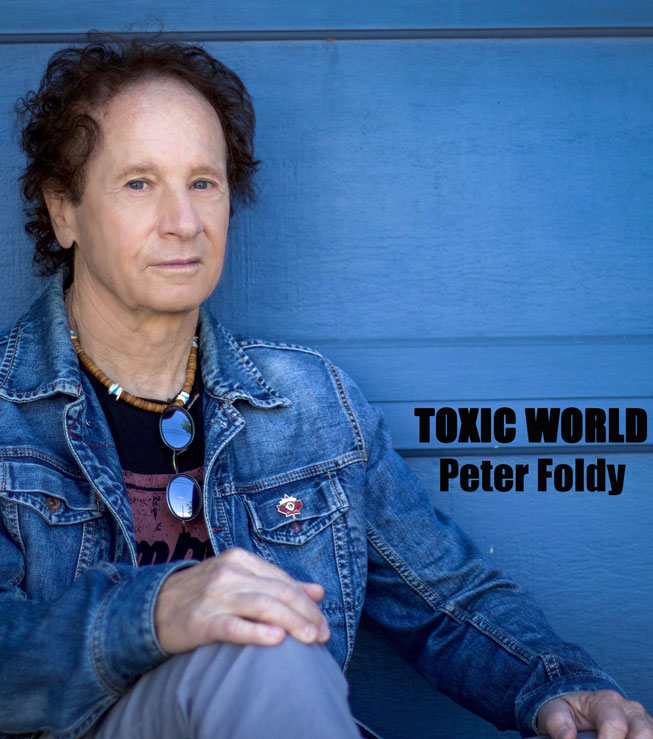 Fri Nov 15, 2019
Known for his catchy pop melodies, Peter Foldy has enjoyed musical success on labels such as Capitol/EMI and Quality Records in Canada as well as Polydor and RCA Records in the US. Following the warm reception for his 2016 CD, "Nine Lives," the two-time Juno Award nominee is back with an infectious, thought-provoking, three-part CanCon pop/dance single, TOXIC WORLD.
Born in Budapest, Peter Foldy spent his formative years in Sydney, Australia. After a family-move to Toronto, he began composing music and was soon signed to a record contract. His first single, "Bondi Junction" reached number one on the Canadian music charts and Peter went on to receive 2 Juno Award Nominations (the Canadian equivalent of the Grammys). After a successful decade as a recording artist on labels such as EMI, Polydor and RCA, Peter began writing and selling screenplays and eventually got the opportunity to direct. His initial project, a short called "Jamie's Secret" introduced a young Paul Rudd in his first on-film acting role. Peter's feature film credits as a director include "MIDNIGHT WITNESS" starring Jan-Michael Vincent and Maxwell Caulfield, "TRYST" with Academy Award winner, Louise Fletcher, the HBO World Premier movie, "WIDOW'S KISS" starring Beverly D'Angelo, "SEEDS OF DOUBT" with Peter Coyote and "SILVER MAN" starring Eugene Levy, Joe Pantoliano and Daniel Baldwin.
An avid photographer, he has been taking pictures all his life. He particularly enjoys capturing candid shots of people, some ordinary, others world-famous. He has had the good fortune to shoot candid photos of stars such as Bob Hope, Ronald Reagan, Audrey Hepburn, Dennis Hopper, Bette Davis and Paul McCartney among many others.
But the 'Bondi Junction' boy never lost his love of writing and recording his songs. "Music will always be a part of me, I still feel the best is yet to come in my songwriting. It is in my heart and soul and "Toxic World" is my latest offering at a time when we seem to be in such turmoil. Through all of the chaos going on I really want people to know that 'people are forgettin' that love is the world if we stay united you know that we can carry on' is the message in my lyrics.
Watch "Toxic World:  here:
https://youtu.be/-HfYLhAc7QQ
Written by Foldy and co-produced in association with hit record producer/programmer, Miklos Malek, (Ariana Grande, Jennifer Lopez among many others), the track offers up encouragement, hope and love for a messed up world. With high-energy vocals and radio-friendly production, "Toxic World" is a solid fit for today's contemporary music.
A humble artist whose Instagram simply says "I make music. I direct films. I take photos" has continued to hone his craft and "Toxic World" is a timeless production with a timely message.
For more visit:  peterfoldy.com/
facebook.com/PeterFoldy
twitter.com/PeterFoldy
instagram.com/peterfoldy/
open.spotify.com/artist/5Fi2JGn0ryRhZGVqqZQWfi