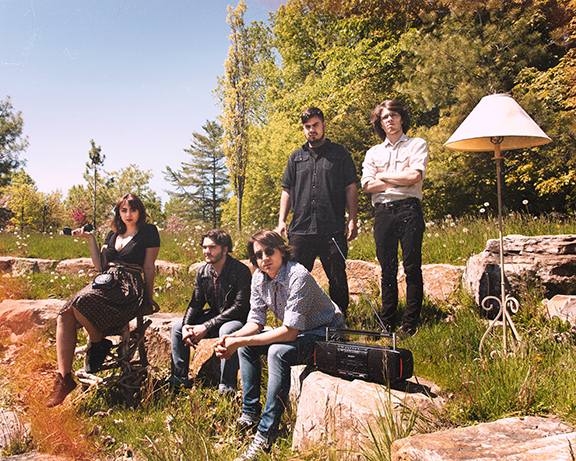 Fri Aug 28, 2020
At over 11,000+ views and debuting at #1 on Amazon Music's "Country du moment" playlist, Canadian pop-country band The Record Breakers continue to soar beyond sonic norms with the release of their latest double-single, and first bilingual release, "In My Car / Dans mon char" — available now.
Watch and listen to The Record Breakers here: "In My Car / Dans mon char" here:
See, on the surface you have your standard checklist for the makings of a stellar contemporary band: two main vocalists, guitarists, and songwriters, Hayden Nolan and Bella Galasso, accompanied by knockout keys, bass, and drums from Michael Vallinakis, Devan Meisner, and Julian Galasso, respectively.
Check, check, and check.
But dig a little deeper, and you discover The Record Breakers are so much more.
First formed in 2014 for a Beatles-related celebration, the band began to explore and develop their identity as a bilingual five-piece with a knack for solid musical arrangements, memorable hooks, and larger than life harmonies.
"We had a special encounter with Blue Rodeo," they recall. "That inspired us to bring country into our pop sound.
"So, we're a country band, we just sing about cars instead of trucks, you could say!"
2016 saw the release of their self-titled debut EP, with a follow-up sophomore offering, Bigger Plans, landing in 2018. Notably thereafter, they opened for Bon Jovi that summer at the Montreal Bell Centre in 2018, something they bill as an "opportunity of a lifetime," crowned "Discovery of the Year" at Festival New Country Brome in 2019, and handpicked for CBC Searchlight's Top 50 Producer Picks in 2020.
This year, they created a song and collaborative video "Quarantine With You," dubbed a "viral success" by Global News Montreal.
"In My Car / Dans mon char" is the band's first bilingual release, and debuted at #1 on Amazon Music's "Country du moment" playlist.
Et en français:
The Record Breakers est un jeune groupe de musique new-country provenant du Canada et composé de musiciens "old-soul". Après sa formation en 2014 pour un événement en mémoire des Beatles, leur aventure a débuté et ils ont exploré différents styles jusqu'à ce qu'ils trouvent le leur, ce qui est devenu The Record Breakers. Leurs chansons, toutes écrites par eux, consistent en un mélange de vieux et nouveau country, entrecoupé de pop et de rock. Comme la plupart des plus grands groupes de musique de l'histoire, The Record Breakers mettent en vedette deux chanteurs/auteur-compositeurs ; Hayden et Bella. Avec des arrangements musicaux solides et rempli d'harmonies, le résultat final est diversifié et divertissant.
En 2018, le groupe a eu la chance de faire la première partie de Bon Jovi, 'This House is Not for Sale tour', au Centre Bell à Montréal et a lancé son premier album intitulé 'Bigger Plans'. En 2019, le groupe a été nommé 'Découverte' du Festival New Country Brome et en 2020, a fait le Top 50 des producteurs de la compétition nationale CBC Searchlight.
For more visit:
recordbreakersband.com/
instagram.com/recordbreakersband/
twitter.com/TheRBofficial
itunes.apple.com/artist/the-record-breakers/996753416
open.spotify.com/album/2CnfYeTz8UaC4YqqQqfWF7?si=7FTdnawhSKOmwSsUXOIS0Q