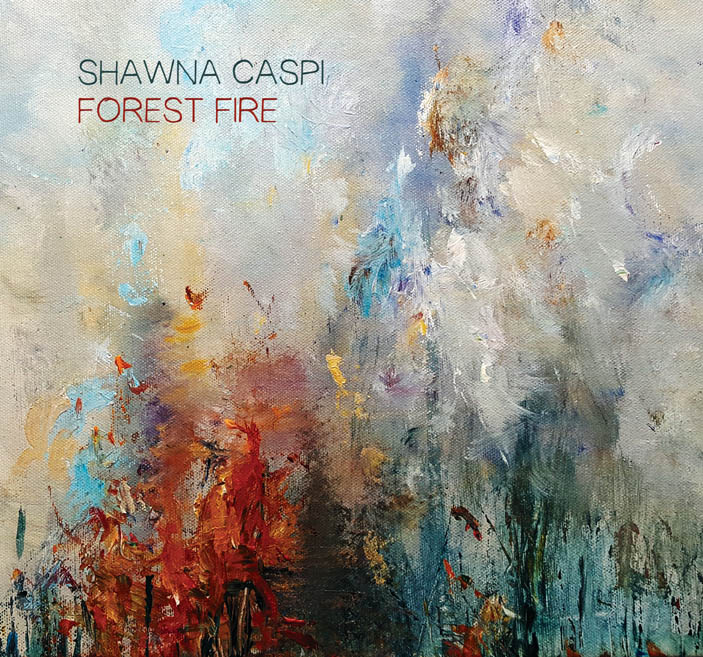 Fri Sep 15, 2017
Toronto-based singer-songwriter Shawna Caspi released her fourth studio album Forest Fire on September 1st, 2017. Engineered and produced by Don Kerr (Rheostatics, Bahamas, Ron Sexsmith), the album is complete with Shawna's remarkable lyrical fingerpicking guitar style, elegant arrangements and powerful messaging in which Shawna strives to be unafraid, to embolden quieted voices and to tell the truth above all else.
Forest Fire is a collection of songs about burning things down and building them up again, drawing listeners into the depths of haunting, atmospheric tracks, then lifting them out with airy, bluegrass instrumentation and hopeful narratives for brighter days. It's dark granite stone with a shot of glimmering quartz through the middle. When the words get heavy, they are held up to the light of love, grace, and gratitude. The album features a compelling mix of instrumentalists including Rosalyn Dennett (fiddle, background vocals), Don Kerr (drums, background vocals, cello), Dave Matheson (piano, organ), Joel Schwartz (electric guitar, baritone guitar, rhythm acoustic guitar, mandolin, resonator, tenor banjo), Ben Whiteley (double bass) and Alyssa Wright (cello).
"It's an album about cycles, about playing the long game," says Caspi. "That's why it's called Forest Fire – something that seems huge and devastating when it happens, but in the relative vastness of space and time, it's just one small moment on a much grander scale, a necessary catastrophe that leads to new growth." Forest Fire features Shawna's paintings on the front and back cover and throughout the album artwork design.
Shawna performs solo, but there's a whole band under her fingertips. A mighty singer, a story sculptor, and a truth teller, she has toured across Canada and the United States and believes in poetry and the power of one person and one instrument. Shawna's vocals are brewed by years of classical training followed by years on the road finding her own voice singing folk songs. She combines power, intensity, character, and closeness. Her performances capture audiences with grace and intimacy whether the setting is a living room, a festival stage, or the bar car of a passenger train.
In support of Forest Fire, Shawna will be touring throughout the United States and Canada beginning in September.
For more on the artist visit:www.shawnacaspi.com
For more information contact:
Cortney Harkin
cortney@baselinemusic.cabaselineMUSIC.ca