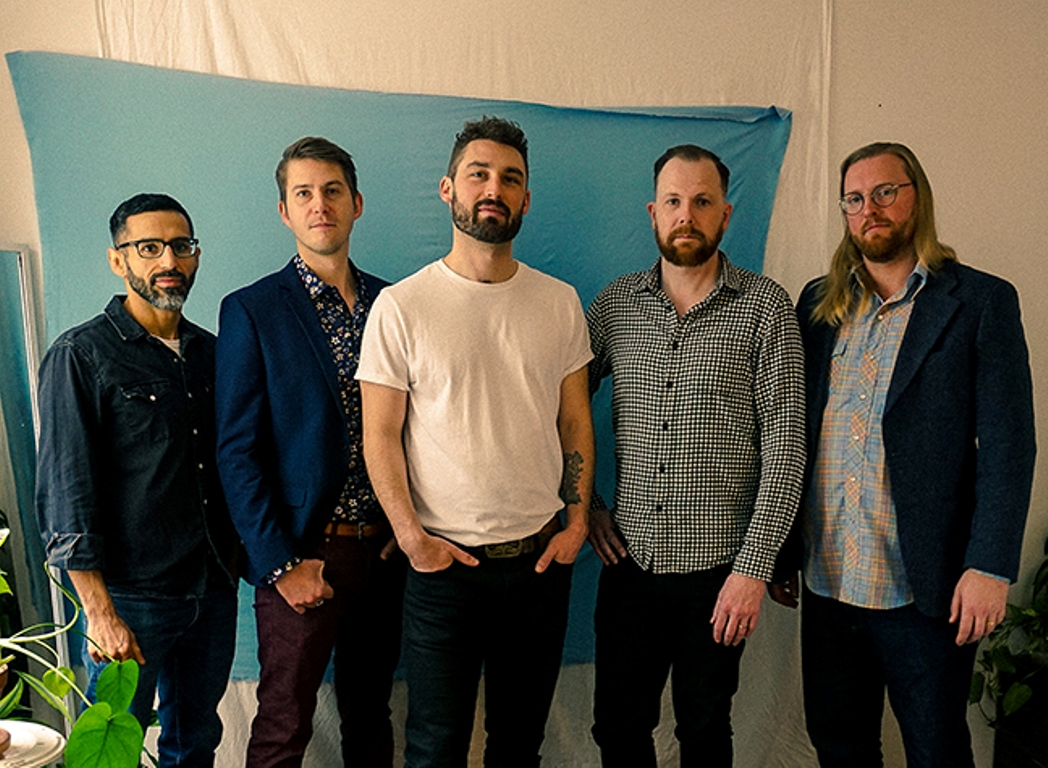 Fri Jul 24, 2020
It's time: Canadiana x Americana alt roots rockers The Actual Goners are very much here with the newly minted release of their self-titled EP — and what single CILU calls "solidly traditional" and "fun to hear," "Cannonball".
Watch and listen to "Cannonball" here:
"It's an attempt to verbalize the feelings of restlessness I've experienced throughout my life," says co-frontman Duncan Symonds of "Cannonball," a track hoers.de fittingly dubbed a "perfect soundtrack for a road trip." "It's about moving from one place to place, leaving behind people and relationships, all while trying to maintain a sense of purpose and routine in the shuffle.
"Five years ago, I was living in Louisiana and travelled between New Orleans and Baton Rouge regularly on a Greyhound bus," he continues. "On one hand, it was the least exciting part of my time there but, on the other hand, it represented so much of the 'coming and going' and urgency I'd felt.
"I'd listened to the music of New Orleans and Louisiana for some time and, ultimately, that's what had called me."
There are a couple of nods to those inspirations in "Cannonball," Symonds explains, including the main riff reminiscent of cajun slide guitarist Sonny Landreth, and a drum groove summoning sentiments of legendary funk drummer and founding member of The Meters, Joseph Ziggy / Zigaboo Modeliste.
And while the song's — if not the whole album's — vibe may be artfully mined from the area's rich, dynamic soundscape, New Orleans and its French Quarter also plays a definitive role in the band's origin story. "I was visiting Duncan while he attended university in Louisiana," co-frontman Tristan Armstrong recalls of heading to the 'Paris of the South' for a decidedly indulgent evening spent catching up with Symonds. "At the end of a momentous night, I suggested we get matching tattoos to commemorate the evening."
"Bumblebee tattoos," Symonds clarifies. "He suggested we get matching bumblebee tattoos."
Having a slightly clearer head in that moment, Symonds managed to temper the thoughtful yet what would be a lifelong memento and, instead, offered to move to the same city as Armstrong when finished with his degree to start a musical project together.
And so goes the lore of how Armstrong (Nanaimo, BC) and Symonds (Comox, BC) — who met at university in Nanaimo, BC and collaborated on several musical projects together while there, including The Brethren, Paisley Eye, and the Mother Tongue Band — ended up in Toronto, ON and joining forces with Phill Albert (Salt Spring Island, BC), Ryan Farley (Victoria, BC), and Carlos Aguilera (Calgary, AB) to create The Actual Goners.
While Armstrong and Symonds have worked regularly both together, with artists such as Dione Taylor and Zachary Lucky, and in backing bands for Jim Cuddy, Ed Robertson, and Dan Aykroyd, The Actual Goners first came into actual existence in 2018. Since then, the band has taken the stage at The Horseshoe Tavern, Cameron House, Lee's Palace, The Piston, Junction City Music Hall, and more; in 2019, they released double-single Henhouse Sessions, featuring "Coricidin Bottle Blues" and "Wide Awake," before early-2020's triple-track offering, Curbside Finds.
The Actual Goners EP and "Cannonball" land on the heels of breakthrough and critically acclaimed preview single, "Diamond Dust," a song that "celebrates the joy of shared experiences," Armstrong says, setting the scene. "It's about those moments when you've felt like you're truly on the same plane as those around you.
"The imagery in the song is an amalgamation of two different evenings spent wandering around on adventures with friends, far from the city, under the stars… While inebriated.
"The first is a story that was relayed to me by a friend during a long car ride to his family's cottage in rural Quebec," he continues. "He had spent the prior evening taking hallucinogens in a field on a farm and talked in great length about the amazing sense of connection that resulted from his experience.
"The second is about my own experience trekking around with friends one night in Ucluelet, British Columbia. The five of us had walked from our cabin out to Amphitrite Point, where there is a historic lighthouse. It was a particularly dark night but, once we had made it through the woods to the edge of the Pacific Ocean, the lighthouse beam was at full power, circling around us and creating an amazing spotlight on the trees from where we had emerged.
"After one member of our crew decided to scamper across the jagged rocks near the crashing waves below, and start to climb up the base of the lighthouse, another friend asked if we should join him; my reply was, 'naw, that looks like ankle-break city.' We all laughed so much that night, our stomach muscles were sore the next day."
Keenly tuned ears will hear a sound modelled after modern heavyweights such as Jason Isbell and Wilco alongside an astute homage to the likes of Neil Young, The Band, John Hiatt , and Tom Petty. The band's time immersed in the music cultures of New Orleans and Nashville tints their well-blended and expansive Canadiana Americana crossover within the roots/folk and alt rock range.
"I was excited to work with Aaron," Armstrong shares of the album's recording process alongside producer Aaron Goldstein (Cowboy Junkies, Daniel Romano, Tom Wilson). "I was a big fan of his band Huron; they were based out of Hamilton, Ontario, and put out a really cool record in 2010. I've listened to it many times over the years and it's certainly been an influence in my own writing.
"Upon our first meeting at his studio in Toronto, I could tell we were on the same page sonically."
"Even before we entered Baldwin Street Studios to record, I could feel these would be our best recordings to date," Symonds concurs. "We had logged enough hours playing together as a band that the music was second nature, and Tristan and I had written enough that our sound had started to refine itself naturally."
For more visit:
theactualgoners.com/
instagram.com/theactualgoners/?hl=en
facebook.com/theactualgoners/
twitter.com/theactualgoners
open.spotify.com/album/03Zz9yg6YSHwMTJWMBE3Rt?si=IaueE0BLTTmHVjQqZVWq7w