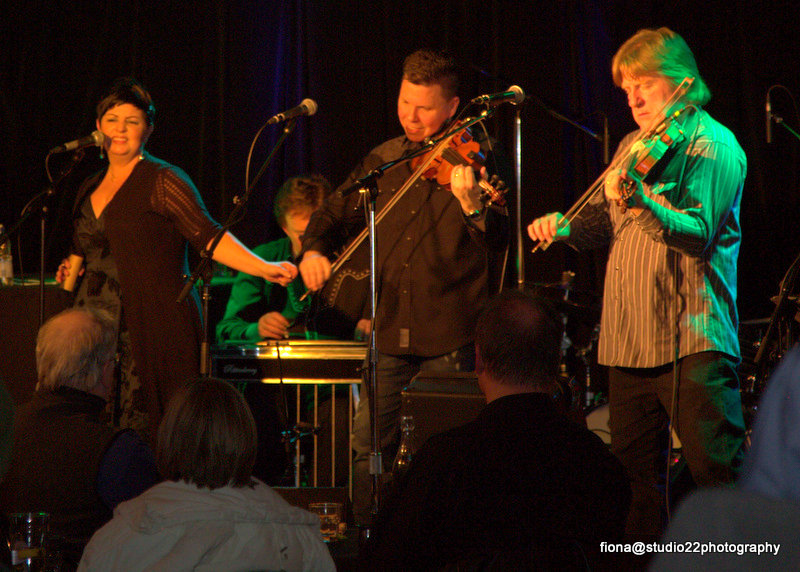 Fri Feb 08, 2019
On this Toronto February night, the 25 degrees below zero temperature was bone chilling and teeth chattering but inside the city's iconic venue Hugh's Room Live it was Texas hot. From the moment the band hit the stage toes were tapping, hands were clapping and bodies were swaying in swing time. The seven-piece group featuring twin fiddles, Shane Guse and Dan Howlett, guitar whiz Paul Chapman, upright bassist, Matthew Lima, drummer Gary Craig, who did a remarkable job subbing for regular drummer Jimmy Boudreau, steel guitar legend Ed (Pee Wee Charles) Ringwald and vocalist extraordinaire Stacey Lee Guse are in stratosphere all their own.
The stage presence and showmanship are only topped by their world-class skills on their instruments and their ability to work as a unit. They wove a musical theme through the night with songs like Louis Jordan's " Ain't Nobody Here But Us Chickens" and moved effortlessly into country classics " Faded Love" and " I Fall To Pieces "  and Stacey's killer version of "Stand By Your Man." Add "Slow Boat To China " to the mix and you pretty much have something for everyone. And every member of the band got a chance to shine, Shane and Dan traded fiddle solos, each bringing out the best in each, almost good-heartedly pushing each other to " top this". Guitarist Paul Chapman wowed the crowd with his solos and bassist Matthew Lima was featured as well. Ed Ringwald wowed the crowd with his composition and the title track of the new album " Big Deal" pulling amazing sounds, licks, and tones out of his pedal steel guitar. And of course, the amazing Stacey Lee sang with power, emotion and grace that can only come with talent and experience.
This band kept the sold-out crowd in the mood the whole night with two one hour sets, all killer no filler and had a great mix of variety and styles to keep the attention of all present. The second set opened with " The Pink Panther Theme " a sonic adventure and so well done, followed by the Hee Haw classic "Where Where Are You Tonight?" A barn burning twin fiddle number "Paddy On The Turnpike " set the room on fire and the applause meter off the charts.
The encore numbers included a great song penned by Shane Guse off the Big Deal CD, " Extraordinary' and the Charlie Chaplin classic " Smile, " a perfect choice to end the night because that's what everyone in the audience was doing as they filed out the room. If you ever get a chance to see.
Western Swing Authority live, do not miss it.