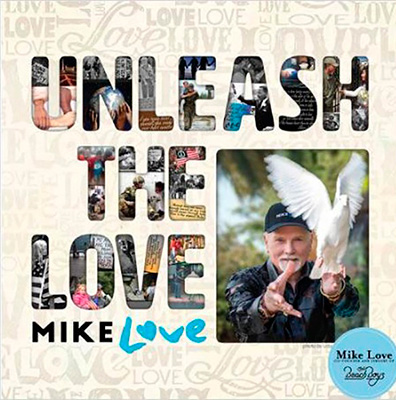 Fri Oct 06, 2017
Legendary Rock and Roll Hall of Fame Inductee, Grammy Winner, New York Times Best-Selling Author, co-founder and chief lyricist of The Beach Boys, Mike Love, is set to release a special double album on November 17 through BMG. Entitled Unleash the Love, the albumwill feature 13 previously unreleased songs and 12 re-recordings of Beach Boys classics. The album is produced by Grammy-winning producer, Michael Lloyd. To listen to the title track off of the album, "Unleash The Love," click here: http://bit.ly/2wyosO9. The album will be released on digital, double CD, and 2LP formats. It will be available for pre-order on October 27- once pre-ordered, fans will be able to stream and instantly download 3 album tracks (Do It Again, Darlin' and All the Love in Paris).
For more than fifty years, Mike Love has been the lead singer and front man of The Beach Boys taking the sounds of America's band to every corner of the globe- playing for crowds of up to 750,000 fans. Mike has co-authored more than a dozen hit singles, cementing The Beach Boys as one of the only artists to have produced twelve Top 10 Singles within 5 years. With iconic and timeless tracks like "Good Vibrations," "Fun, Fun, Fun," "I Get Around," and "Kokomo," The Beach Boys have created some of the most performed songs in pop music history.
Unleash The Love is a testament to, and continuation of, Mike Love's remarkable career. The new tracks range from rock, gospel, R&B and pop and celebrate Love's journey to find personal love and peace. Love's history with Transcendental meditation anchors a number of songs including "Ram Raj" a song celebrating the divine; "Pisces Brothers," a tribute to the late George Harrison and the experiences they both shared in India in 1968 and "Cool Head, Warm Heart" a breezy pop song, which borrows its title from a saying by Maharishi Mahesh. The album also includes a prayer for the planet "Only One Earth." As with all of the unreleased tracks, a sense of concern is infused in every song: to change what you can, to transcend, and connect to the planet and all its inhabitants through the power of love; which some say is the most powerful force in nature.
"I've been working on these unreleased songs on and off for many years now and I'm excited to share them with the world," said Mike Love. "As a writer, I kept gravitating to this idea of love, in all forms. Romantic love, unrequited love, lasting love, spiritual love, love for the planet, and what the absence of love can do to us as a people. This album is my way of communicating what the world needs now is love sweet love. And the hope is if we all can unleash whatever love is inside of us, we can collectively make this world better."
In addition to the collection of Mike Love original songs, the special double album features new versions of classic hits recorded by members of The Beach Boys touring band such as "California Girls," "Help Me Rhonda," "Good Vibrations," "Do It Again" featuring Mark McGrathand John Stamos, as well as"Darlin'" featuring AJR.
Earlier this month, the paperback version of Mike Love's New York Times best-selling memoir, GOOD VIBRATIONS: My Life as a Beach Boy hit shelves. The book is published by Blue Rider Press, a member of Penguin Group (USA). Pick up your copy here.
Currently, Mike Love is on the Wild Honey World Tour with The Beach Boys which will continue into Winter of 2017. Fans attending upcoming concert dates will have an exclusive opportunity to pre-order Unleash The Love at a discounted rate using a special text message code and number that will be provided at each show leading up to the album's release.
Back by popular demand, as part of the Wild Honey World Tour, the band is offering a VIP Platinum Upgrade Package for shows currently on sale. By purchasing the package, fans have the opportunity to meet Mike Love and Bruce Johnston of The Beach Boys, receive an autographed hardcover copy of Mike Love's memoir Good Vibrations, My Life as a Beach Boy, and an exclusive VIP Coffee Table book celebrating 50 years of Good Vibrations as well as pre-order Mike Love's new album Unleash The Love, available in Vinyl or CD. This will be offered exclusively on MikeLove.com/shop.
The Beach Boys touring band features lead singer Mike Love, Bruce Johnston, Scott Totten, Jeffrey Foskett, Brian Eichenberger, Tim Bonhomme, and John Cowsill. The band continues to perform over 150 sold-out shows year-round across the globe.
FOR THE LATEST ON MIKE LOVE:
MikeLove.com | Facebook | Twitter
TRACK LIST:
MIKE LOVE DOUBLE ALBUM 2017 TRACK LIST
Mike Love Originals:
Side A
All the Love in Paris featuring Dave Koz on Saxophone
Getcha Back featuring John Stamos on Drums
Daybreak Over the Ocean
I Don't Wanna Know
Too Cruel
Crescent Moon
Side B
Cool Head, Warm Heart
Pisces Brothers
Unleash The Love
Ram Raj
10,000 Years Ago featuring John Stamos on Drums
Only One Earth
Make Love Not War
Mike Love/Beach Boys Re-Records:
Side A
California Girls
Do It Again featuring Mark McGrath and John Stamos
Help Me Rhonda
I Get Around
Warmth of the Sun featuring Ambha Love
Brian's Back
Side B
Kiss Me Baby
Darlin' featuring AJR
Wild Honey featuring John Cowsill
Wouldn't It Be Nice
Good Vibrations
Fun Fun Fun