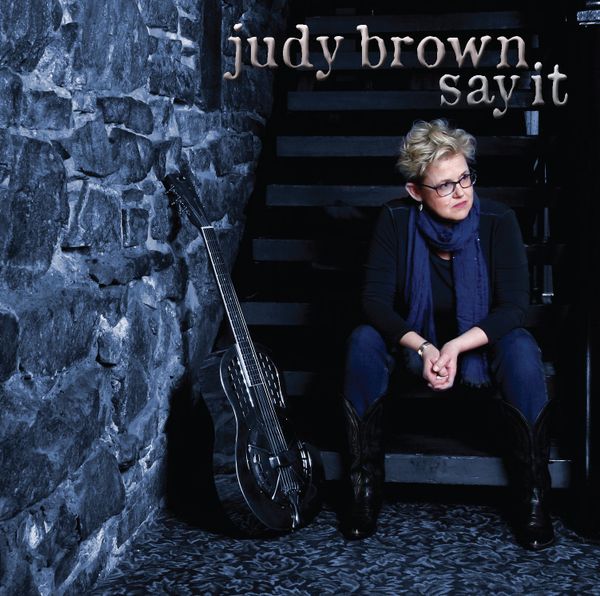 Fri Aug 24, 2018
British Columbia roots and blues singer, songwriter, guitarist Judy Brown celebrates the southern Ontario launch of her new full-length solo recording titled 'Say It' with two key concerts. The first show is in Hamilton at Mississippi Queen Foods Restaurant on Thursday, September 6, and the second is in Mississauga at the Southside Shuffle, 20th Anniversary Port Credit Blues and Jazz Festival on Friday, September 7, 2018. Note: See all concert details below.
Produced by Maple Blues and JUNO award-winners Gary Kendall (Downchild Blues Band) and Teddy Leonard (Fathead) – 'Say It' (released May 18, 2018) – represents Brown's journey in roots and blues that began in Alberta, followed by 30 years in the Toronto music scene and now marks an exciting next chapter. After taking time to raise her two children, in 2017, Brown made a move west to Nelson, BC (to be near family and a supportive arts community) and returned to recording with long-time musical friends and collaborators Kendall and Leonard.
'Say It' is available via Brown's website, at shows, CD Baby and iTunes. The album was recorded, mixed and mastered by renowned engineer L. Stu Young (Prince, Downchild Blues Band, Anne Murray, Alan Doyle, David Wilcox, The Guess Who, Prairie Oyster and many more) at Loud Mouse Studios in Toronto over the fall/winter of 2017/18. It features Judy Brown (lead vocal, electric and acoustic guitar), Teddy Leonard (electric, acoustic and slide guitar, dobro), Michael Fonfara (piano, organ), Jim Casson (drums, percussion) and Gary Kendall (bass). Special guests include Colin Linden, Samantha Martin & Delta Sugar (Sheri Marshall and Stacie L. Tabb) and Jeff Baker, plus Emily Ekelund (Brown's daughter) and Bessie Wapp on backing vocals.
Brown states, "I'm really looking forward to these dates! They're a homecoming of sorts for me; playing at the South Side Shuffle with my good friends Gary and Teddy, who did such a terrific job playing on and co-producing my new CD, and it'll be fun to perform solo and unplugged in an intimate setting at the Mississippi Queen in Hamilton. I always enjoy sharing songwriting stories and connecting with my audience on a more personal level."
Southern Supper with Judy Brown (dinner and solo acoustic concert).
Mississippi Queen Foods Restaurant, 635 King Street East, Hamilton, ON, L8N 1E5.
Thursday, September 6, 2018 at 6:30 p.m.
Advance tickets are $45.00, available at; mississippiqueenfoods.squarespace.com/general_store_menu/southern-supper-with-judy-brown-thursday-september-6-2018.html.