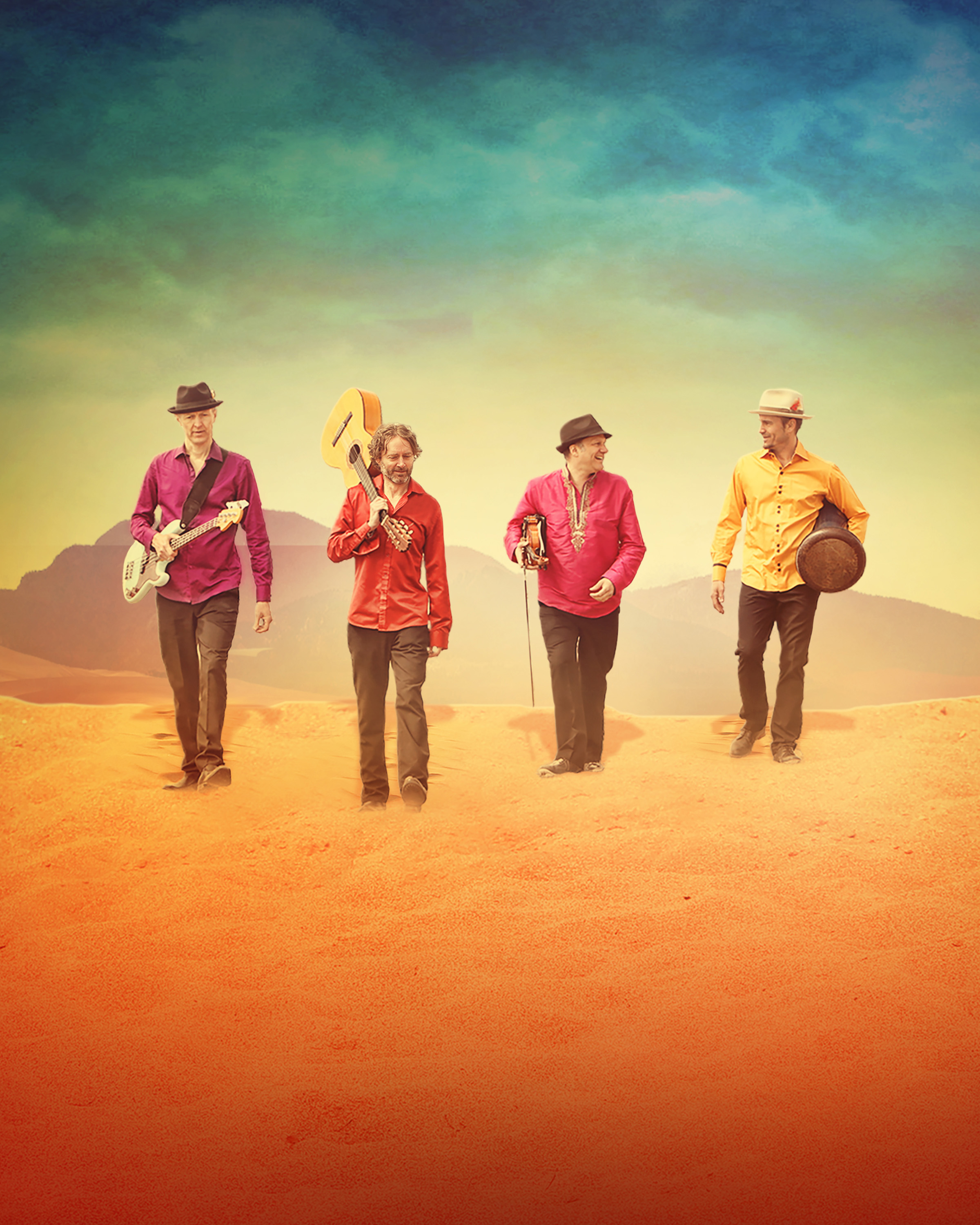 Fri Oct 30, 2020
For their latest release, Canadian world music collective Sultans of String set out to raise awareness of the nearly 26 million+ refugees currently stateless and away from their homes in a project centred around the positive contributions of new immigrants. The result was Refuge, and its title track, the award-winning "Refuge" featuring Edmar Castaneda.
Experience "Refuge" here:
The song just won Folk Music Ontario's Songs From The Heart Award — Instrumental, and is raising funds for the band's campaign to aid the United Nations High Commissioner for Refugees in Canada.
The single spotlights the work of the astonishing Colombian harpist known for reinventing the instrument the world over, and celebrated for his improvisation and dynamic counterpoints created in the track. "It's a great vibe, the whole tune," Castaneda says. "It fits right with the harp, so I'm happy to be a part of this.
"I just added my soul into the track."
ABOUT SULTANS OF STRING & REFUGE
Sultans of String are sharing the wealth. In more ways than one.
"We love to expose people to sounds they might not have heard before," explains violinist and bandleader Chris McKhool, summarizing the mission statement of the groundbreaking and acclaimed world music ensemble. "And we love collaborating with other artists."
Over the past dozen years and six albums, McKhool and his bandmates — co-founding guitarist Kevin Laliberté, bassist Drew Birston, Cuban percussionist Rosendo 'Chendy' Leon and second guitarist Eddie Paton — have excelled at both. Thrilling listeners around North America with their genre-hopping fusion of Celtic reels, flamenco, Gypsy jazz, Arabic, Cuban, and South Asian rhythms, Sultans of String celebrate diversity and creativity with warmth and virtuosity. And they often do it with artists such as Paddy Moloney and The Chieftains, Richard Bona, Benoit Bourque (Bottine Souriante), Nikki Yanofsky, Alex Cuba, Ruben Blades, Crystal Shawanda and Ken Whiteley.
With their historic and visionary seventh album Refuge (released March 20, 2020), McKhool and co. bring their unique brand of musical synergy and collaboration into the studio like never before. Their most ambitious, diverse, inclusive and passionately political album, Refuge puts the Toronto-based Sultans face-to-face with a VIP roster of artists from around the globe — including American banjo master Béla Fleck, Israeli vocalist Yasmin Levy and others, like Iraqi violinist Imah Al Taha and Iranian santur master Amir Amiri, who have fled the peril and persecution of their homelands for the safer shores of North America.
Sultans of String have never taken the easy road. Since releasing their debut album Luna in 2007, they have continually strived to make each chart-topping album more original and meaningful than the last. That includes working with an orchestra (2013's Symphony), teaming with Pakistani sitarist Anwar Khurshid (2015's Subcontinental Drift) and even crafting a world-music holiday album (2017's Christmas Caravan), which landed them on the Billboard charts and the New York Times. Their ambition and work ethic have garnered them multiple awards and accolades, including three JUNO Award nominations, first place in the International Songwriting Competition (out of 15,000 entries), three Canadian Folk Music Awards, and countless other honours.
Their live resumé is similarly stellar. Equally at home in a concert hall, jazz club or festival setting, the Sultans have gigged at the legendary club Birdland in New York, the renowned Celtic Connections Festival in the U.K. and the San Jose Jazz Festival. They have performed with symphonies across Canada and the U.S., and played live on BBC TV, Irish National Radio, World Cafe and SiriusXM in Washington. No matter the venue, the goal is the same, McKhool says.
"I've always wanted our concerts to be a place where everyone feels welcome. I want to reach out to diverse communities to say, 'Come out and enjoy music with us — you're going to have a really good time.' And it's great to see people from, say, the South Asian community mixed in with the hipster crowd. Or to play some very small towns where they might not have heard a sitar played live before. It benefits society as a whole, to have people from around the world blending their ideas, mixing their cultures."
And sharing the wealth.
RECENT AWARDS:
• New York Times Hits List
• 3x BILLBOARD World Music Charts
• Canadian Nielsen World Charts #3
• 3x JUNO Award Nominees — Instrumental/World
• 4x Canadian Folk Music Awards winners — World Group
• SIRIUSXM Indep. Music Awards Winner — World Group
• Queen's Diamond Jubilee Medal for bandleader Chris McKhool
• Hit #1 on Earshot National International/World & Jazz Charts
• 2 x Independent Music Awards — 'Best Instrumental Song' & 'World Producer Award'
REFUGE, THE CAST:
Ahmed Moneka - IRAQ / CAN
Amir Amiri - IRAN / CAN
Anh Phung – VIETNAM / CAN
Anwar Khurshid - PAKISTAN / CAN
Béla Fleck - USA
Demetrios Petsalakis - GREECE / CAN
Donné Roberts - MADAGASCAR / CAN
Duke Redbird - OJIBWE ELDER / CAN
Edmar Castaneda - COLOMBIA / USA
Fethi Nadjem - ALGERIA / CAN
Gundem Yayli Grubu - TURKEY
Ifrah Mansour - SOMALIA / USA
Imad Al Taha - IRAQ / USA
Majd Sekkar - SYRIA / CAN
Marito Marques - PORTUGAL / CAN
Matias Recharte – PERU / CANS
Meg Contini - CAN
Mehmet Akatay- TURKEY
Michel DeQuevedo - MEXICO / CAN
Naghmeh Farahmand - IRAN / CAN
Ravi Naimpally– INDIA / CAN
Rebecca Campbell – CAN
Robi Botos - HUNGARY / CAN
Sammy Figueroa - PUERTO RICO / USA
Selcuk Suna - TURKEY / CAN
Suat Suna - TURKEY
Twin Flames - INDIGENOUS / CAN
Waleed Abdulhamid - SUDAN / CAN
Yasmin Levy – ISRAEL
Check out more about Sultans of String on their socials here:
sultansofstring.com/
instagram.com/sultansofstring/
facebook.com/sultansofstring
twitter.com/sultansofstring
open.spotify.com/artist/6GUPR8j10gupeAmKJYgP3I?si=ODnrLMQnQGqlncLhaKP51Q