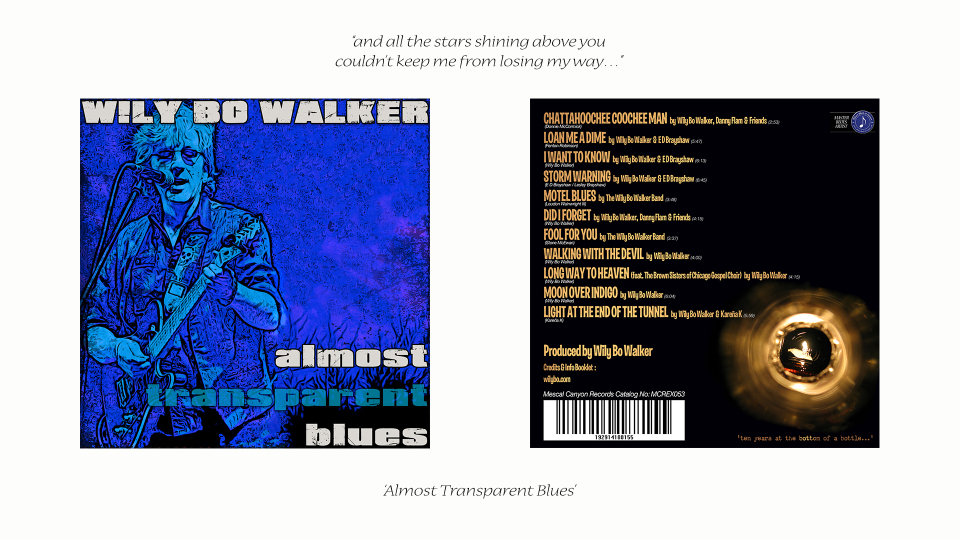 Fri Aug 17, 2018
Wily Bo Walker is one of those guys who never seems to fail to deliver interesting, varied, finger-on-the-pulse blues music that rips and roars along pulling in a huge variety of influences and crossing genres at almost every twist or turn. Originally from Scotland, Walker is a London-based picker, singer-songwriter who is prepared to nail his colors and balls to the wall with a remarkable release bulging at the seams with sheer class and originality.
In recent years he has turned out albums that always surprise and delight in pretty much equal measure. His fretwork is gripping and driving while his voice scratches the paint from bar-room walls and clears the head with ease. With this latest offering, 'Almost Transparent Blues,' Walker again turns up the heat to produce an eleven-track album that holds echoes of Stevie Ray one moment followed by Lightnin' Hopkins and Springsteen or Joe Cocker the next. Each successive cut draws the listener deeper into his revelatory riptide and rattles the roof with startling effect and essence.
Joined, as usual, by two of his oldest buddies here, ED Brayshaw and Karena K, Walker kicks-off with some smouldering Memphis horns before moving on to cover Americana, soul, blues, roots and almost everything in between before throwing in a down-south, swampy voodoo vibe and a touch of Tom Waits to the mix.
As a self-admitted fan of this guy's music, I must add that this is probably his finest release so far and can only hold the promise of more genius in the years ahead. This is an album to grab and enjoy, a surprise for many and a great introduction to a masterful musician.