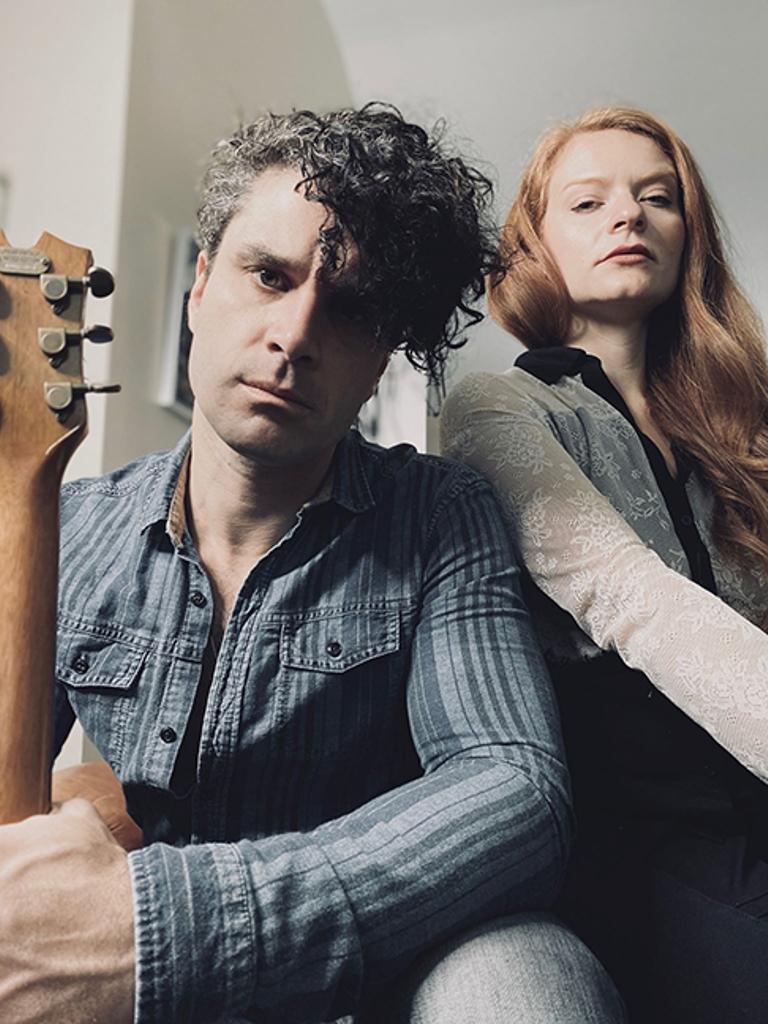 Fri Jun 12, 2020
Canadian duo LambLion step out in front with the release of their prophetic new single, "Only The Brave".
Circling the topics of life, death and redemption, "Only The Brave" comes alive with husband-and-wife duo — and esteemed musicians in their own right — Oliver and Danka Pigott and their signature enigmatic mix of alt-folk with Americana-rock undertones.
"We wrote this just before the pandemic hit," Danka reflects on the track's origins. "It turned out to be a call to action, especially in times like these.
"It was born almost effortlessly in the course of an hour in Marc's studio," she continues, speaking of Nashville-based producer Marc Copely (Bono, The Edge, Willie Nelson, Roseanne Cash, Joe Walsh). "Marc began to jam on the guitar and Oliver came in with a vocal melody. I then joined in with the harmony and soon the hook emerged.
"We all knew it was perfect."
Watch and listen to "Only The Brave" here:
"What's interesting is that, as we navigate these challenging times, the lyrics take on new and unexpected meaning daily," Oliver shares. "It's also a song we play our 16-month old twin boys frequently… It makes them smile and dance every time!"
LambLion's visual for the track is two-fold, the first being a music video directed by Taras Lavren, featuring scenes of a desolate bike ride through Toronto under lockdown.  The second is a mini-documentary about brave individuals from Toronto and New York City. 
"There are courageous people everywhere," Danka says. "Perhaps this global crisis has helped remind us of that."
While as spouses the pair are well familiar, their creative iteration as LambLion first entered the scene in 2019. They draw from early lives spent in Portugal and Serbia, and soundscape songs that offer lyrical abstraction into otherworldly harmony and melody. "It's extreme vocal highs and lows, often transcending traditional male-female dynamics," says Oliver of their sound.
Their earlier 2020 release "War" was produced by Thomas McKay (Joydrop), and stands as an iconic anthem showcasing a gang vocal-driven chorus and marching drums courtesy of renowned percussionist Tony Rabalao. Its video — their debut — highlights the stunning talents of ballerina Sarah Murphy-Dyson performing on an abandoned Cherry Beach during the earlier stages of social distancing.
ABOUT LAMBLION
OLIVER PIGOTT is a musician, actor and songwriter. He's written hundreds of songs in his career, toured and recorded worldwide and acted on both stage and screen. Beginning with a BMG Canada publishing deal in 2002, Oliver's time in the entertainment business has seen him as frontman for projects of varying genres, from folk/pop to country, electronic, soul and hard rock. He's worked with industry luminaries like Nick Tauber (Thin Lizzy, UFO), Doc McKinney (The Weeknd, Esthero) and Dean McTaggart (Wynonna Judd, Amanda Marshall) and recorded in premier studios, including Abbey Road in London, England and CBC Studios in Toronto, Canada. He also appeared as a finalist, alongside his brother Sebastian, on the closing season of Canadian Idol. The two went on to perform and record internationally as The Pigott Brothers, writing two songs for the CBC series Being Erica, in which Sebastian starred. Oliver's voice was featured in the song "Elevator", from the hit Family Channel series The Next Step. He starred in the feature film Lost Angels (which also featured his music), as well as the short film Hum. Oliver currently spends his time between Toronto and Nashville writing and collaborating with other artists, including his wife in LambLion.
DANKA PIGOTT graduated Summa Cum Laude with an Honours BFA in Theatre Arts from Drake University. She earned music diplomas in piano and voice from The Royal Conservatory of Music. The last decade has been spent performing, directing and producing theatrical productions in the US and Canada. Most recently, she served as the co-artistic director of Sterling Theatre Company in Toronto. During her 3 years in the company, Danka was involved in over 30 theatrical productions. If you happen to be a science fiction fan, you may recognize her as Carleen in season one of Syfy's Killjoys. Danka also loves to get behind the camera. Her music video, "Double Meaning" was nominated for best music video at TIFA - Toronto Independent Film Awards.  She has filmed music videos for Toronto indie Rock band The Celebration Army, and for Vancouver-based teen heartthrob Tristan Thompson. Danka spends her time working on music with her husband Oliver and raising their twins sons, Iggy and Phin.
For more info visit:
lamblionmusic.com/
instagram.com/lamblionmusic/
facebook.com/lamblionmusic/
open.spotify.com/artist/2HzosEooWXDNxaT0KHSTQh