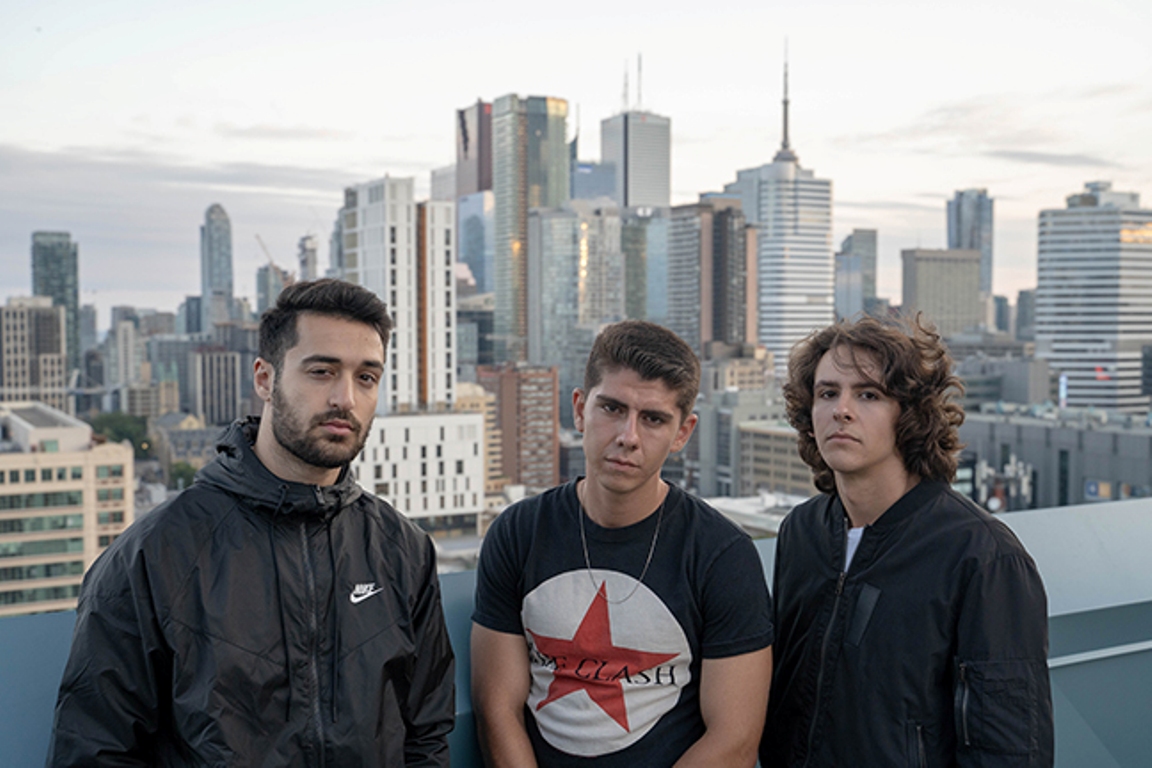 Fri Jul 24, 2020
Canadian alt-garage rockers The Vaniers have gone "Wild" with their newest single, a decidedly nuanced, pared-down version of the track heard on this year's debut EP, Who Are You To Say? — available now!
"The song has a rebellious undertone, and is mainly about being yourself, voicing your thoughts, and not caring what others think," says the band: Diego Paz on bass guitar and vox, Alex Iacobellis on guitar, and Nick Donato on drums.
Watch and listen to "Wild" here:
The long-time friends are currently revisiting their five-track breakthrough March 2020 release, offering audiences acoustic versions of each song as well as insights into their makings. "We'd much rather be on stage or in the studio these days," they assure. "But, for now, we all have to do our part and stay safe. Hopefully these acoustic sessions can help brighten everyone's quarantine."
As for "Wild," the track itself was written in about 15 minutes during a seemingly standard-issue rehearsal. "We were rehearsing at Alex's and trying out some new ideas and things started to feel a bit forced," Paz recalls. "We decided to step out and get some food."
When they got back, things just clicked and the rest is history that can be heard by pressing 'play.' "When we got back, Diego picked up the bass and the bassline for the track was the first that came out," Iacobellis  says. "Nick threw on his beat, and Diego just started singing."
"I remember telling Alex to just play the first thing that came to his head," Paz adds. "And when he started playing the main riff? We knew we had something."
"It was exciting to suddenly have something from absolutely nothing," Donato says. "The song pretty much wrote itself… We must've played it 30 times that day, and the final product is very close to what we played that first time."
Most recently, audiences were introduced to Who Are You To Say?'s premiere single, "On The Regular." "It's got a carefree, toe-tapping rhythm that's perfect for a day drink in the summer," Paz offers of the track's warm weather vibes and retro-inspired video. "It was written over a weekend at a cottage in Tiny, Ontario… We hauled all the equipment up after a late-night gig at Junction City Music Hall, set up after getting there around 3:00 am, and jammed the entire weekend.
"We were just focused on having a good time when we wrote 'On The Regular' and I think you can feel that in the music."
The Vaniers (pronounced 'van-ee-ays') have taken the stage at The Horseshoe Tavern, Lee's Palace, Taste of the Danforth, and more since their 2016 inception. Who Are You To Say? is the Toronto-based band's official premiere release.
"The EP speaks to finding your footing through the ups and downs of an experience, and not being afraid of who or what's out there to judge you," says Paz on the album's overall theme. "They're a diverse collection of tunes — some to party to, make love to, sing along to, and even cry to.
"Tracking the recording finished relatively quickly," he continues, adding about early days converting the Iacobellis family's living room into a rehearsal space. Who Are You To Say? was ultimately laid at Inception Sound Studios with producer Brandon Pero. "The mix, however, took months as we were extremely particular about how we wanted the EP to sound.
"We learned to appreciate the subtleties in our music and taste, and were determined to have that come out in the record.
"We hope people dig it."
For more information visit:
facebook.com/TheVaniers/
instagram.com/thevaniers/?hl=en
twitter.com/TheVaniers
open.spotify.com/artist/2zZGr5gNmqEseoUtU8UsoO