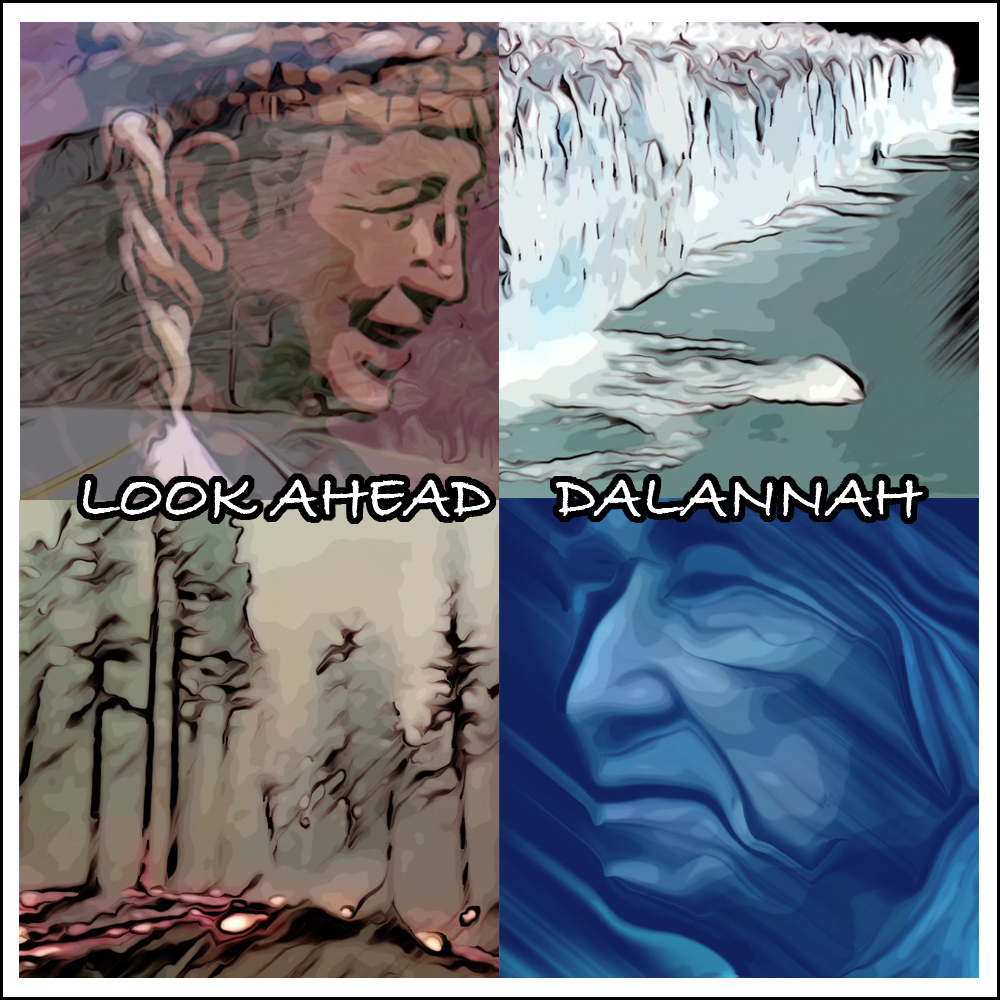 Fri Oct 23, 2020
Canadian matriarch of the blues and veritable force of musical nature Dalannah takes an optimistic, introspective, and encouraging "Look Ahead" with the release of her new single and video — each available now.
Check out "Look Ahead" here:
"This song is an invitation and a reminder for us all as 'stewards of the land' to ensure we walk consciously and conscientiously in regard to Mother Earth and all living things," Dalannah says. "The current climate in regards to Mother Earth is a sign that we must be aware of the damage we are causing; waters are receding and flooding, ancient icebergs are melting.
"We have entered a crucial time in our relationship to Mother Earth, and it is our responsibility to be active in 'changing the tide.' We cannot be idle in our daily practices. I encourage everyone to act with consideration and be an example of the positive and good way to respect the environment and all living things. We must carry the torch of respect for Mother Earth.
"As Chief Dan George says, 'We are as much alive as we keep the earth alive.'
The song is the latest to come from her fifth and most recent studio album Looking Back, out via Quest Records and with support from Creative BC and the Province of British Columbia.
"I am very fortunate at this time in life as I usually get a message from spirit that it is time to do a CD," Dalannah shares of her creative process and how Looking Back came to be. "All my albums have come from a waking moment where something comes through me…
"There has always been an underlying theme for my recordings," she adds. "For Looking Back, I woke up one morning and knew I still had something to say musically at this crucial time. The more I thought about it, I knew that it was — and is — the undeniable fact that we need to take a good look at how we walk on Mother Earth…
"A good look at how we 'be.'
"One of the basic hereditary teachings and beliefs of our tribal Indigenous communities is that we are not just casual visitors on this planet, we are the current generation of ancestral caretakers who must see that the needs of our children and their children's children are not squandered, but harvested and shared and replenished for their use.
"As I was Looking Back on my life and its successes and failures to write songs for this album, I realized my worst times came from self-indulgence and a lack of concern or awareness of my personal footprints and behaviours in life, and how they effected others," she recalls. "But also my best and most rewarding experiences were those that required giving, sharing, loving, and caring.
"For example," she continues, "the era of my 'hippie' years with protests against war, nuclear power, pollution, and injustices, there was camaraderie in fighting for a just cause; that has become a sustaining purpose in my life, and will remain so as I 'Look Ahead.'"
"It is an obligation to commit and participate in ensuring the earth's resources are shared wisely so as to be available in perpetuity for all humankind."
Born of African-Canadian and Cherokee heritage, Dalannah Gail Bowen's indisputable prowess as a prolific singer, songwriter, actress, playwright, storyteller, event producer, social activist, International Memphis Blues Awards semi-finalist and Blues Hall of Fame Master Blues Artist has secured her standing as a fixture of the blues, rock and soul music-making scene for over 40 years.
Canadian Musician Magazine says she "has a truly spectacular set of pipes, and a most commanding stage presence," before adding that Dalannah "has one of those voices that lays claim to part of your soul the first time you hear it, and never lets go.
"Smoky. Earthy. Soulful. Powerful. But it's not just the voice, it's what she does with it. So much emotion. So much control."
Critics and colleagues across the board have long been ones to agree; an in-demand vocalist, she has performed alongside or opened for the likes of Led Zeppelin, B.B. King, Willie Dixon, as well as The Monkees and The Guess Who during her time with all-female group, The Feminine Touch.
Downbeat Magazine named her 2015 release Been Around A While one of the top blues albums of the year, and that year she was inducted into the Blues Hall of Fame as a Master Artist. Releases Mamma's Got The Blues and Them Menz were also released to international critical acclaim, and she can also be heard in a wide range of musical collaborations, including traditional drum group The Snowy Owl Drummers, tribute collective to the world-renowned gospel singer in Songs of Mahalia Jackson, and Billie's Blues: A Tribute to Billie Holiday.
It's efforts like these that awarded her "The Key to The City" and have December 11th officially declared "Dalannah Gail Bowen Day" by Vancouver's Mayor and Council.
All this to say there have long been many facets of Dalannah to shine, and they all share a common spark, joy, determination and fire towards her womanhood and craft.
The new release, Looking Back, takes the dynamic artist's work in a new direction, with the music drawing more heavily from Dalannah's own and more personal story.
"My journey has led me from an unsettled childhood, to finding music, to getting lost in the trauma, to finding traditional ceremony, and all that that means as far as healing is concerned," she shares. "My journey as an activist started way back in the 60s, marching for the anti-apartheid movement and human rights… Women's rights.
"Now, at this place and time, I have the opportunity to be a messenger through my music, and through Looking Back.
"The album also takes a hard look back at our world, and our cultures," she adds of its genesis. "It takes a look towards our future, too."
Produced by Michael Creber, Looking Back was recorded at Vancouver's Monarch Studios and Warehouse Studio on classic mics seemingly designed to capture Dalannah's rich, arresting vox.
The album features a veritable who's who of the area's local music scene, including Jim Byrnes, The Sorjourners, Tom Keenleyside, Andreas Schuld, Chris Nordquist, Miles Hill, Olaf de Shield, Brian Newcombe, and Rob Becker.
"We could have probably called it 'How We Spent Our Summer'," she laughs, recalling the release's recording process. "We more or less missed hitting the beach, but our studio tans looked great!
"And wait 'till you hear what we put down."
For more information visit:
http://dalannah.com/index.html
https://www.facebook.com/Dalannah-Gail-Bowen-musician-167289847243567/
https://open.spotify.com/album/32Kk2O4D7HHWD3j3p9qm6p?si=NTrhaiFIQhKbiw…