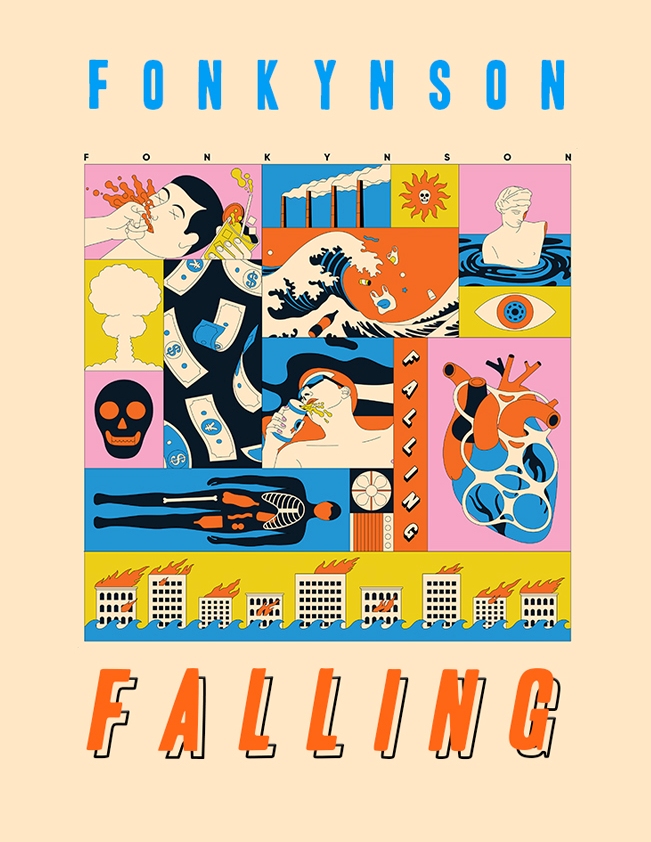 Fri May 29, 2020
Canadian future house electro artist Fonkynson's genre-pushing creative heavy lifting is Falling into place with the release of his newest album.
"Falling is an album where I took time and perspective about my music," the Montreal-based artist says of the LP, touching on how it weaves a series of social flash points into a genre that doesn't often touch such. "It reflects what I have been through the past years, musically and personally.
Watch "Falling" here:
"I wanted something else, more 'mature' music and less 'club' music. Music you can listen to on your couch and is still relevant."
Like the album's title track, designed to serve as an immersive, self-reflective sonic cocoon. "I wanted it to be a song you can lose yourself into, let your feelings be expressed, go inward… An introspection, of sorts, but also a song you can close your eyes and dance to and let yourself go.
"I was in a special mood when I began to play some keyboards the day I wrote 'Falling.' It was rainy, I was feeling a bit nostalgic — not sad, but like when you cherish a memory, or a special moment that's gone that overflowed with feelings you didn't necessarily know how to deal with.
"I don't get sad when I remember painful moments," he continues. "I dig into them."
Of the single "Mind Games," he says, "That is our tendency as humans… To be enemies when it comes to life matters. Negative self-talk is something we all deal with but don't necessarily talk about, especially in music. On this track, Desiire made an amazing job at writing a positive and uplifting song that inspires, as well as makes you dance.
"Best of both worlds!"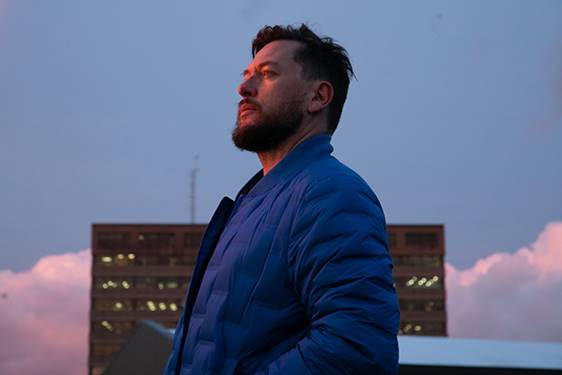 Speaking of Desiire's co-write credit on "Mind Games," that's just one example of the creative collaboration Fonkynson called on for Falling, something he's never really done before. "I'm trying to not be so alone in my process anymore, so I invited several musicians and singers to join the party, and bring their own meaning to the songs," he explains. "Working with other artists really made the music take off elsewhere.
"I was kind of a lone wolf before, but if I learned one thing during the making of this album, it's that working with the right artists can make your project even more personal and achieved. Collaborating helps you express feelings you couldn't do yourself.
"I stepped out of my comfort zone, and I like where it all landed."
Beyond "Mind Games" and arm wrestling negative self-talk, the album explores concepts of love being given a second chance ("Giving U Up"), and how anxiety can create its own sense of false comfort, "like a cocoon where you feel comfortable, but it's really a poisonous home," he explains of "Reefer Madness" and "Ultra Violet."
Or missed connections — but not with another person, but rather one's self, as heard in "Missed Connection". "It's not the original meaning, but more about the missed connection between you and your own life, your destiny.
"That's even sadder, when you think about it," he laughs, "but also more inspiring and poetic.
"It's not always easy to express abstract feelings through instrumental music, but I did my best to translate those emotions in the album. There are still club bangers, but with an emotional note."
Fonkynson's concept for the album ripples outward to society as well, most notably in the cover art. "I wanted to bring a big concern of mine — and everybody else's too, (or at least it should be!) — and touch on the catastrophic outcome we're about to face as humans on this planet."
The result is an artful series of pictograms that predict Fonkynson's prediction of the future. "It starts with a guy getting punched in the face because he uses a straw in his drink," he explains. "It reflects the violent hypocrisy of lesson givers and the diversion of concerns. The notion led to the title of the album, with Falling as a fatality."
It's not all curious existentialism for Fonkynson, however; one silver-lining of such rad album art translates beautifully onto merch… "When we received the artwork, the label and I thought, 'oh damn! Can't wait to see this on vinyl!!'"
Growing up in France, Fonkynson — nee Valentin Huchon — was greatly influenced by his father's music. "It was the iconic set of sounds from artists like Jimi Hendrix and The Rolling Stones," he recalls. "As my interest started shifting, I developed a taste for house, drum n' bass, and techno. From there, I started to produce my own."
And start, he did. Fonkynson's debut EP — a super-funky, vinyl-only release that sold over 2,000 copies — first landed in 2008 via Super HiFi. 2013 saw a decidedly French house EP, Thirsty via Heavy Disco, followed by 2015's Horny via Montreal-based label, Lisbon Lux Records.
Hitting sonic stride, Fonkynson delivered the full-length #followme, in 2016 — with singles "Aquarelle" and "Caresse" quickly topping Hype Machine and Spotify's viral charts.
For more visit:
lisbonluxrecords.com/fonkynson
instagram.com/fonkynson.mtl/
facebook.com/fonkynson
twitter.com/fonkynson
open.spotify.com/artist/1SjxgZEAMJd9SMa1ydV56O?si=kukaHmRsQZKBLam1SQ6Bhw