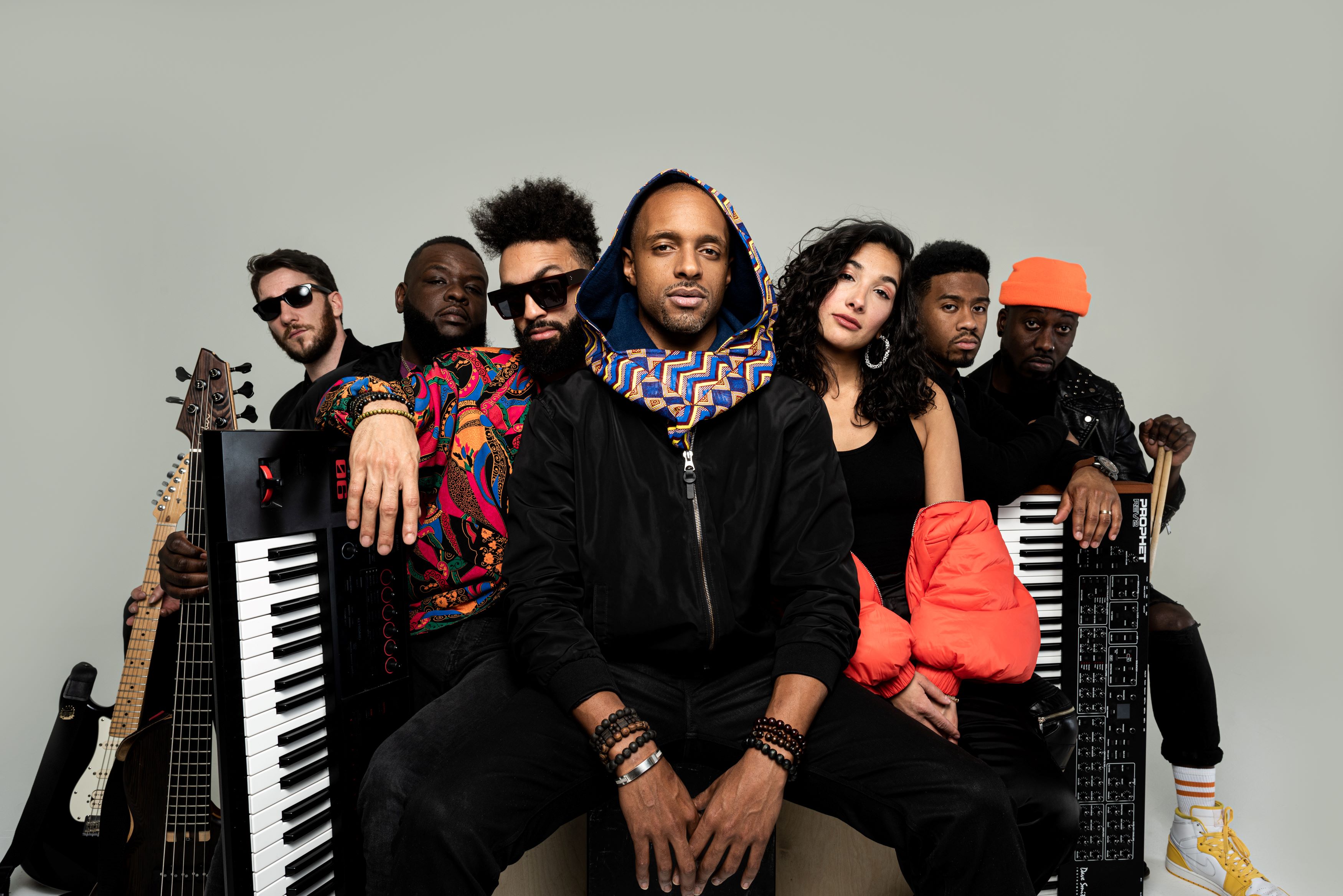 Fri Oct 09, 2020
Canadian artist and producer Fredy V. and his powerhouse band The Foundation are back, unleashing their 'modern funk' meets 'classic throwback' NEW single, "One Step".
The song holds a strong message, and lands ahead of Fredy V. & The Foundation's forthcoming EP, One Step — set for release on October 30, 2020.
"It's got a nostalgic mood while still remaining relevant through its lyrics," Fredy V. says about "One Step." "There's an empowering message in there, too — the importance of taking a leap of faith towards your purpose.
Check out the YouTube here of "One Step":
"It's an anthem for aspiring performers, creatives and entrepreneurs."
The notion directly aligns with the group's initiative to produce the EP in the first place, he adds; in the spirit of the single, Fredy V. & The Foundation have partnered with the Montreal-area Dynastie Sports Institute — aka not your average basketball academy.
"Dynastie are dedicated to recruiting and developing high-level French-speaking talent from countries like Congo, Guinea, France, and Ivory Coast with the goal of ushering the next wave of NBA players out of Quebec," Fredy explains. "The journey of an aspiring professional basketball player and the come up of independent artists are very similar in numerous ways; there's lots of crossover in the goals, including ownership, entrepreneurship, positive media relations, and a mission to improve their respective communities."
In honour of the partnership, Fredy V. & The Foundation and Dynastie Sports Institute have developed the #OneStepMission, a promise between the two 'teams' to take at least 'one step' towards their goals, their dreams, and their 'why.' The song's video was shot at the Institute and features the '20-'21 roster, and a documentary detailing the unique journey of Dynastie and its players is in the works.
As for looking ahead to the album, "we got some for everybody!" Fredy enthuses.
From his breakthrough solo release, 2017's #ItTakesAVillage, to weekly appearances as CBC / Radio-Canada Les Poilus' house band, to performing at the Montreal Jazz Fest and Cape Verde's Atlantic Music Expo, and more, Fredy V. continues to bridge the gap between his North American and West African cultures through a now-signature funk, Afro-pop and R&B sound.
For their intrinsic part, The Foundation are a group of highly skilled, 'first call' musicians known for playing with the world's top r&b, hip hop, funk, gospel and jazz acts. After gaining collective experience from producing and performing for a national TV show aired weekly, the group used their momentum and for the first time began creating new music together.
ABOUT FREDY V & THE FOUNDATION
Fredy V. & The Foundation are a diverse group ready to release quality music on a large scale that represents cultures on both sides of the Atlantic. Already known in its hometown as one of the best live acts, The Foundation is here to establish and export a sound that reflects and connects.
Fredy V. (vocalist, producer)
The Foundation frontman is a seasoned performer and a talented multi-instrumentalist that carries the torch of funk patriarchs such as Sly, George Clinton and Prince. He also serves as bassist and musical director for Quebec's nationally televised talk show Les Poilus. In addition to sharing the stage with notable acts like Roy Ayers, Les Nubians, Omar (Lye Fook) and Kool & The Gang, he also has writing credits with Grammy award-winning group Snarky Puppy featuring Grammy-nominated singer Malika Tirolien (Bokanté).
Caulder Nash (keyboardist, producer, engineer)
Caulder has served as keyboardist and musical director for countless notable Canadian acts such as Kallitechnis, Vox Sambou, Paul Cargnello, Coral Eagan, Wesli and Jonathon Roy to name a few. His vast skill set in performance, sound design, programming and vocals have led to him becoming one of Montreal's finest first call musicians. From the stage to the studio, his production work on The Foundation 'One Step' EP is reminiscent of Jimmy Jam's transition from member of The Time to the producer we all know today.
Mel Pacifico (vocalist, co-producer)
As the sole woman of The Foundation roster, Mel's 'honey' tone and lush vocal arrangements brings a glow to every song she touches. Transitioning from her former role of background singer on Fredy's live show and debut album, Mel steps into the spotlight singing lead on songs like 'Your Own Way' and '45' and establishes herself as a promising songwriter. Her vocal work on the new Busty and The Bass record and her feature on producer Rock Lee's first single 'It's A Feeling' are clear indicators of her future as one of Canada's next top vocal talents.
Ronny Desinor (drummer, composer, arranger)
Already garnering the reputation as one of the top drummers in the game, Ronny's skills reach beyond his cymbals and toms. From playing and arranging for the renowned Jireh Gospel Choir to rocking out with Quebec staple Michel Pagliaro, his range is as diverse as any musician. When he plays his expression and personality are as unique as contemporaries like Chris Dave and Larnell Lewis. Paired with an infectious joy, Ronny's drumming brings a smile to every witness.
Frank O'Sullivan (guitarist, composer, arranger)
Frank is an all around top notch guitarist with impressive precision. After graduating from the prestigious Berklee School of Music with a bachelor degree in jazz guitar performance, he spent the following years touring multiple continents and playing prestigious stages such as SXSW, Osheaga, and CBC's "Q" with acts like Tom Power to name a few. He recently started his solo instrumental project, The Frank O Quintet, that promises to light up the ears of real music lovers.
Paul Charles (bassist, composer, arranger)
Paul's reputation as an outstanding bass player and musical director for soul, R&B and gospel acts rises everyday. Coming into the Foundation as the final permanent member, Paul brings a grand presence and expertise to an already highly proficient group where he fits in seamlessly. In 2019 Paul released his debut solo album 'From Glory to Glory' (available on all digital platforms). Paul is also a conference speaker and workshop facilitator backed by his partners Weber Instruments and Gallien-Krueger.
David Osei-Afrifa (keyboardist, composer, arranger)
David is a truly gifted multi-instrumentalist who particularly excels as a high level keyboardist. As a core member of Montreal's premiere hip hop and soul night, Urban Science, David consistently impresses audiences with his jazz piano skills, talk box solos and unique synth textures. He has also played for Polaris nominated acts such as Dominique Fils-Aimée and Shay Lia while providing his studio skills for a vast number of projects.
For more visit:
instagram.com/bandfoundation/
facebook.com/fredyvmusic/
fredyv.bandcamp.com/
open.spotify.com/album/0wZX602AK9CxF5fz2GXb7F?highlight=spotify:track:0gFYVtvrwOm3YJosiw1NYh