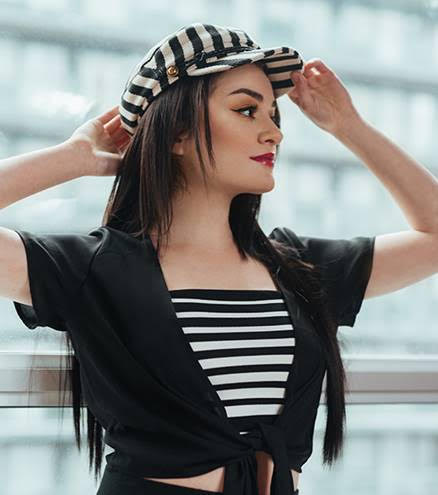 Fri Feb 28, 2020
Submitted by Record World Magazine
Canadian electro-pop dynamo Mauve has released her dazzling, must-hear and newest single, "Must Be" — the latest off her recent and award-winning EP, Palette.
To say Mauve delivers a velvety lush voice perfectly folded within her infectiously catchy, light but a layered brand of chill-bop tropical house and RnB beats would be understating just how immersive and engaging the listening experience for this self-produced artist's work is.
With more than 1,460,000 streams across all platforms — including features on more than 350 influential playlists — the rapidly emerging artist has stacked those stats with good reason; Mauve was nominated for a 2018 Niagara Music Award for "Best New Artist" and her single "Come Around" took top honours at the 2019 InterContinental Music Awards for "Best of North America."
The extended features the Toronto-based artist's recently released EP, Palette, have received are lengthy — including, but not limited to, NBC-2, FOX40 News, ABC7 News, CBC Music, 107.3 Virgin Radio, Buzz Music LA, Talk About Pop Music, WFMZ-TV 69, Best Kept Montreal, Tinnitist, KOTV-TV CBS-6, IndieCan Radio on SiriusXM, MediaPro Music, Beat Lounge, Canadian Beats, Cashbox Canada, The Girls at the Rock Show, Daily Herald, 100FM, CHUO FM, and many many more. A frequent live performer, she has taken the stage at events such as YOUTH DAY Global at Yonge-Dundas Square, and the 2020 Toronto Music Expo.
"Sometimes love can come to you unexpectedly," Mauve says of the new song, "Must Be." "I wrote this after thinking back in awe at how suddenly the emotions can come to you...
Watch "Must Be" here:
https://youtu.be/87WwpyNZYj8
"It just changes everything from night to day," she continues. "Suddenly everything you once saw as dull and grey is now beaming and bursting with light, and that's because this startling feeling of love has popped into your life. This song represents that extra boost in your stride and the never-ending smile you get on your face due to the elated feelings of love.
"And it's not just talking about love in the relationship sense — it can be the love you get through the birth of a child or through accomplishing something you never thought would be possible. It's about that innate sense of joy that you feel comes effortlessly to you, which to me is the sign of true love."
For more visit:
mauve-music.com/
twitter.com/MusicbyMauve
facebook.com/musicbymauve/
instagram.com/mauve.music/
open.spotify.com/artist/7kIuLV6IQZ3nj7WmHZIXNt