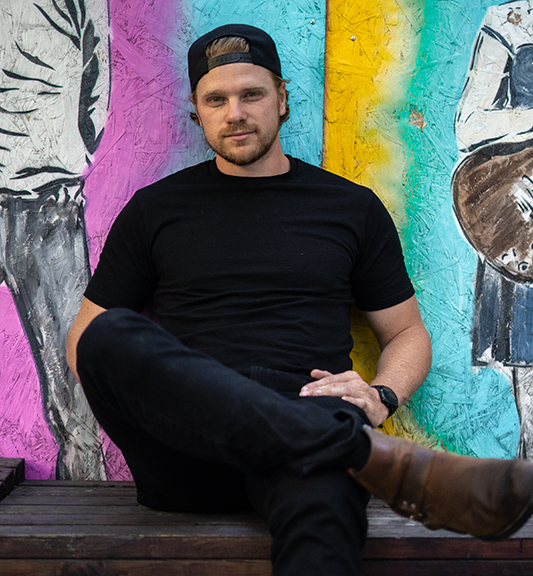 Fri Sep 18, 2020
Canadian country-pop artist Greg Rider's second date felt just like the first in this, his new single "Accident".
"This song came to life after a date in Nashville," Rider recalls. "It started as an innocent online dating match with a Canadian girl, and it turned into a hilarious coincidence… Or 'Accident.'"
Grab the popcorn, here's how the story goes: Rider met up with the girl — a fellow songwriter — and soon after grabbing a drink and getting to know one another, she insisted he looked familiar. "She was from Alberta, and I was from Ontario," he explains. "I was confident I'd never met her before."
"But then she asked, 'did you ever live in Montreal?' and my eyes went wide. She said, 'oh my God, are you Greg from Montreal?! We went on a date and I still talk about that night with my friends!'
"I was in utter shock, and couldn't believe what she was saying. I felt horrible because I didn't remember it at all. She had a different hair colour back then, I was 22 and a club promoter, so I met quite a few girls that summer, but… I still felt like a horrible person!"
So here they were, four years later in a different city in a different country; Rider couldn't help but question what it all meant. "I wondered, was this a huge coincidence? Why am I meeting this girl again? Was it meant to happen? Or is this more of an 'Accident'?"
While the second lease on love leaned more /TinderCringe vs /TinderSuccess, the pair have stayed friends to this day and can thank the other for an excellent story in their respective songwriting banks.
"Accident" is the newest song to land after this summer's previous release, "One Town Away." With music influenced by the likes of Sam Hunt, Kane Brown, and Tim McGraw, Rider first set his sights on starting his musical journey in Montreal, busking on busy street corners and playing the city's vibrant bar scene. From there, he took flight to the Cayman Islands, balancing time between bartending and songwriting, playing open mics under the sun and stars.
Check out "One Town Away" by Greg Rider here:
His islander life wouldn't last for too long; he was soon convinced to try his hand at North America's country music capital, Nashville, where he earned the opportunity to play on Grand Ole Opry's radio station WSM, at the incomparable venue Whiskey Jam, a full-time residency at Nashville Broadway's top venues, and full-time at FGL House.
He's back where it all started, now, setting up shop in Waterdown after a recent cross-Canada tour playing over 75 schools to more than 30,000 high schoolers, sharing music with a message of hope and resiliency.
"After years of traveling, I'd been thinking more and more about the day when I'd finally settle down. Crazy eh? But I always think about when and where I'll meet my 'person.'
"I thought I would have found her by now, but I guess it's not the right time. And it wasn't that night in Nashville, or that previous night in Montreal."
Until then, it's as Bob Ross would say: only 'Happy Little Accidents' here.
For more visit:
instagram.com/gregridermusic/
twitter.com/gregridermusic
open.spotify.com/album/7LpQXqFE3gAxhalWUq6qcp?highlight=spotify:track:6pchi7dhb3hrSTPdFZqQgg