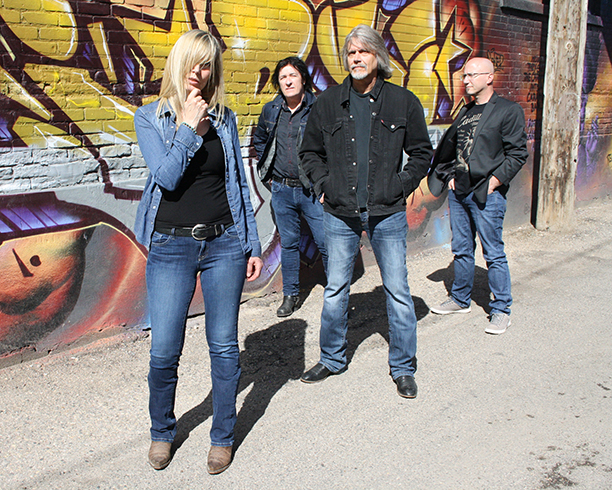 Fri Sep 18, 2020
Canadian alt-country rockers Tucker Lane are soaring high on "Paper Wings" with this, the release of their newest single.
"This song is about taking a chance on love, even though you might get burned," the band says of the track's meaning, begging the question: "Is the fire going to be uplifting? As in a spark? Or will it be devastating, like a house fire?"
Watch and listen to 'Paper Wings' by Tucker Lane here:
Featuring Platinum- and Gold-selling The Pursuit of Happiness and Universal Honey alums Leslie Stanwyck and Johnny Sinclair, as well as Brent Carlin and Warren Medernach, the song lands ahead of the award-nominated Americana act's forthcoming album, available this Fall.
The release follows both Tucker Lane's debut 2015 offering, West of Minnesota, North of North Dakota, as well as a lengthy separation due to COVID-19.
"We made it a point to follow the guidelines provided, and when we first began rehearsals for completing the album, we all included each other as part of our social bubbles," Stanwyck shares. "It had been a while; after the lockdown first started in March, the band didn't see each other until June. Getting together after a long separation fuelled a level of inspiration and creativity we feel is evident in the finished album."
Mixed by industry heralded music master Bart McKay (Gord Bamford, Brett Kissel, Kevin Churko), the song — and album — was recorded entirely at Stanwyck and Sinclair's Honeytunes production studio.
For the album, Tucker Lane added Sam Derbawka's mandolin, violin, and Pedal Steel into the repertoire, adding "just the right amount of flavour to help us achieve that paisley, California, 'easy going' vibe," Sinclair says. "The album is a collection of songs compiled much in the same manner as Some Girls by the Rolling Stones; we have lots of variety with no track ever sounding out of place."
For more visit:
tuckerlaneband.com/
instagram.com/tuckerlaneband/?hl=en
facebook.com/tuckerlaneband/
open.spotify.com/album/0N2q239Bu0kgeZb5udl0rG?highlight=spotify:track:6kSQThlSJ9KPaoVlALedOe