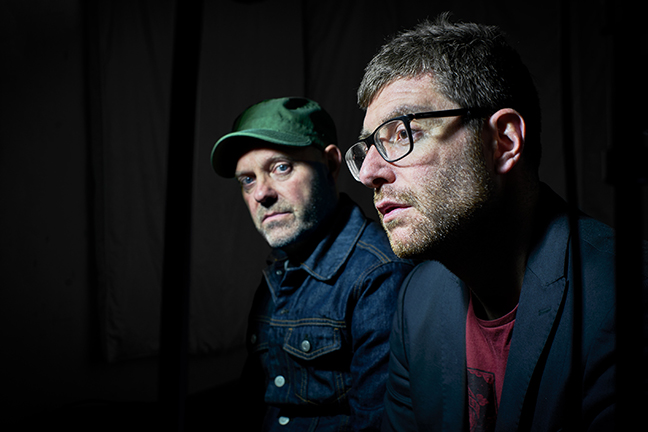 Fri Jun 05, 2020
British alt-folk, alt-Americana 'Indie for Grownups' act Wonders of the Yukon have released their newest single, "Cartoon Dreams." They've also revealed Woty.
"It's a tale of existential angst with a liberal sprinkling of surrealism and absurdism," band co-front Andy Campbell shares. "It considers the dichotomy between religion and evolution, and pits God against Darwin.
"Faith against genetics," counterpart Dave Langdale adds.
Watch and listen to "Cartoon Dreams" here:
Set on a bouncing backdrop of squelching guitars and laser-guided melodies, "Cartoon Dreams" captures the stark sense of one's own mortality. "But this is balanced with random meanings using the William Burrough's 'cut up' technique famously employed by David Bowie," Langdale continues of the dream-like quality the track takes on. "Afterall, what is life but a sequence of random events?"
"Life is but a dream, right…?" Campbell offers.
Most notably beyond the track's feisty fortitude is the reveal of 'Woty' — the song's mascot of sorts. "We welcome the 'birth' of Woty in this video," the duo says. "It's a character that came into existence inadvertently as the stencil left behind from a spray-painted guitar pickguard.
"Woty 'spoke' to us when we were considering the artwork for this single."
As heard since their breakthrough EP Songs of Mild Peril (2018) and  follow-up string of singles, "Cartoon Dreams" amplifies the band's affinity for both toying with the darker side of American culture with their homegrown Northern England sensibility. The results are yet another addition to their library that equally finds its place in the Twin Peaks Bang Bang Bar as would in a weather-ravaged grog shop in the Yorkshire Moors.
With their sound described as having a liquor-soaked romance, replete with soothing harmony and rattling emotion, this is a band that came together by chance; their partners are childhood best friends who also lived around the corner from each other.
Previously, Andy Campbell and Dave Langdale have released records via Columbia and Jeepster Records, respectively. Years before meeting, they shared stages with the likes of Pavement, Granddaddy, Sparklehorse, Bootsy Collins, and more, before joining to create Wonders of the Yukon.
And as for that name… Here's how that conversation came about:
Dave: "I really like the word 'Yukon.'"
Andy: "Yeah, it's cool. It's a place, isn't it?"
Dave: "It's in Canada. It's bleak and beautiful."
Andy: "Hmmm. Sounds quite apt for our music."
Dave: "I was reading about Yukon Territory… Fantastic wildlife, the Northern Lights, vast and wide open spaces, harmonious nature…"
Andy: "Yukon Territory sounds pretty good."
From there, the pair did a quick Google search, as one does, and discovered like nearly every last (dot) com or Insta-handle or… Y'know, Territory. There was already something named it.
"I just still loved the word 'Yukon,'" Campbell continued, not inclined to let it go so easily. "It sounded like something from a sci-fi movie, like it came straight out of Flash Gordon.
"'Ming the Merciless approaching from the planet Yukon.'"
"Yeah, it sounded otherworldly," Langdale agreed.
Soon, an image came to Campbell: "I just saw 'Wonders of the Yukon…' Like a heading or chapter in a novel or newspaper."
Or… The name of a really great band from Wakefield, England.
For more information visit:
wondersoftheyukon.bandcamp.com/
instagram.com/wonders_yukon/
facebook.com/pg/wondersoftheyukon/about/?ref=page_internal
twitter.com/wonders_yukon
open.spotify.com/album/4suBpso9Ri72xtBJQP2He7?si=-jwIjy_nQTuQFYx7SPOlOw