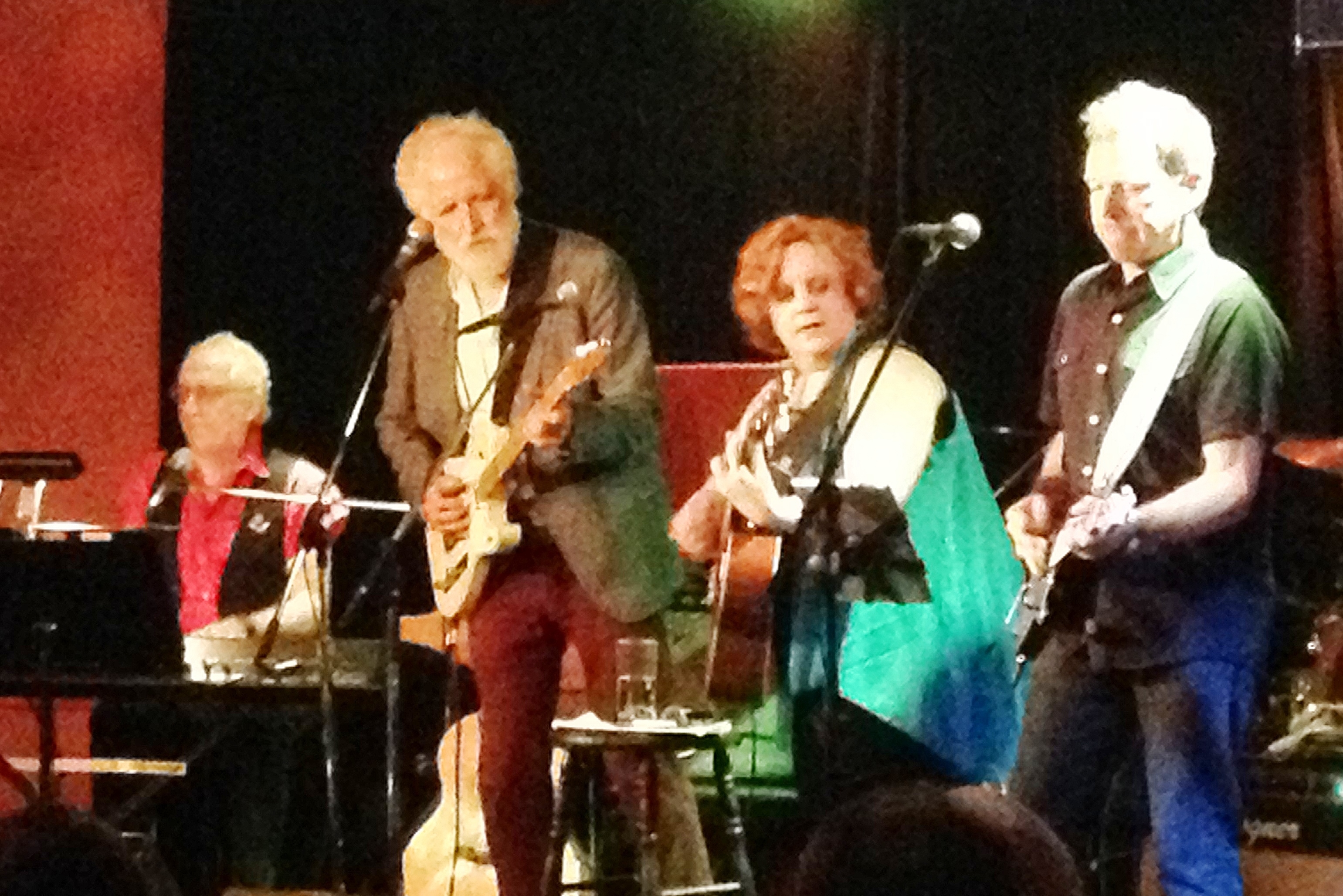 Fri Jun 16, 2017
Last winter I walked into a Kim Doolittle show just as she was wrapping up a song called "Snowballs Day In Hell." It's a droll little narrative about why she no longer takes requests at shows and I wished I'd heard more. Got my wish on a muggy summer's eve when I entered HRL just as the lady was getting started on, yeah, "Snowballs Day In Hell." so finally heard the whole thing and it was worth it.
Also, very much in the spirit of the event because Kim Doolittle showed up at Hugh's Room Live to do a celebratory concert for the release of album number 9, Into The Blue, and a good ol' East Coast kitchen party broke out. Backed by the stellar combo of guitarists Ken Whiteley and Rob Quail, Tom Leighton on piano and accordion and one of town's best backlines, drummer Bucky Berger and bassist Victor Bateman on bass, Doolittle went to work on Into The Blue and its infusions of blues, folk, roots rock, country and roof raisin' Gospel.  Hair-raising  actually, as her close to 7 minute take on "Amazing Grace" was a mesmerising and transporting experience that went from acacpella to the joyous foot stompin' end of Gospel, leaving not a soul in the house unmoved.
That was the music. The vocals were a showcase not only for Doolittle's powerhouse  pipes and equally effective soft singing  but demonstrated how much her personal charisma allows for effortless movement between genres and appropriate styles.
So we got the Cajun influenced uptempo "Poor Boy (Oh My My) "  with Kim going Gulf Coast bluesy  and urging that accordion along, "Let Love Be Your Goal" was full on Gospel  from a life experience angle which advises  "don't cry over someone who won't cry over you,"  all sweet tones and yearning lilts on "Let The River Run," a song that could make you nostalgic for a place you've never been, The slow and stately ballad "Long, Long Way From Here" was delicately folky and deeply moving.
This is by no means a list of set highlights  as there was nary a lowlight to be heard all show. Bonus at a Doolittle show is the between songs stories, drawn from her life and delivered with a warm, self-deprecating humour and studded with nuggets of getting-through-life advice. The lady's just a born charmer.
Folks who've been following her career diligently say this is her best album ever and I've no quarrel with that.
Kim Doolittle plays the Canada Day party in Port Hope Jul,1, Rotary Ribfest Peterborough Jul.8, Canada 150 Concert Series Cobourg Jul.12