Fri May 24 2019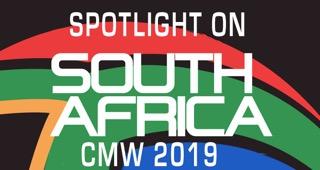 The Canadian Association for the Advancement of Music and the Arts (CAAMA) welcomes a full slate of international business opportunities at Canadian Music Week, which runs May 9 to 11, 32019 at the Sheraton Centre Toronto Hotel (123 Queen Street West.)
Canadian Music Week's International Marketplace (IMP) is hosting back-to-back meeting sessions during this year's Canadian Music Week.
Pre-arranged meetings curated by the IMP include Meetings with South Africa, in celebration of CMW's first-ever Spotlight on South Africa.
Activities include a comprehensive panel from the South African music market and sector specialists on Friday, May 10 form 10:35 AM to 11:35 AM (Lower Concourse, Osgoode Ballroom West) followed by a session of business-to-business (B2B) meetings from 1:00 PM to 3:00 PM at the International Marketplace, Lower Concourse, Hall E). Join us for a taste of South Africa at the Spotlight on South Africa VIP reception at the International Marketplace on Friday from 5:30 to 7:00 PM.