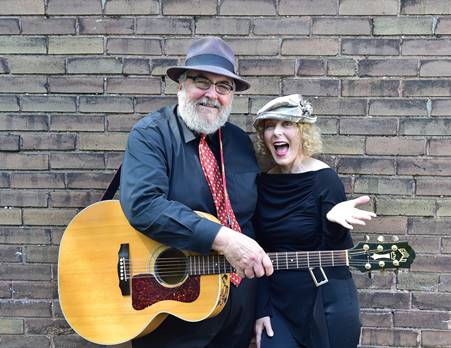 Fri Aug 28, 2020
Prolific and eclectic musical duo Q&A have got One More JAZZ Thing for you; their newest EP!
From big band to ballad — and including newly released single "That Place, That Face, That Moon" — One More JAZZ Thing leaves little behind across five tracks exploring the genre.
Listen to  "That Place, That Face, That Moon" here:
Comprised of JUNO Award-winning Tony Quarrington and Zoey Adams — an accomplished jazz guitarist, composer, and songwriter with hundreds of multi-genre credits to his name, and an artist long-lauded for her work in theatre, movies, radio, and corporate entertainment, respectively — the duo are now co-writing original tunes to the beat of their Q&A drum.
Having made music together in some form or another for the better part of two decades, Q&A quite literally holds 100 years of professional experience between them. Their first extended work together took place in 2005 when Stuart McLean commissioned Quarrington to compose what would become Vinyl Cafe: The Musical; Quarrington sang the role of 'Dave' and Adams 'Morley,' 'Stephanie,' and 'Sam.' "The pleasure we took in that project convinced us to work together even more," they recall.
The results have included but are not limited to a long-held run as Paper Moon, a nostalgic jazz duo, all the way to now; One More JAZZ Thing is the first in a three-part EP project releasing via Sonic Peach Music focusing on a specific genre of music through the lens of this spectacularly diverse and uniquely talented pair.
One More FOLK Thing and One More POP Thing are set to follow this Fall.
"That Place, That Face, That Moon" and One More JAZZ Thing are available now. One More FOLK Thing is available September 18, 2020, and One More POP Thing is available October 16, 2020.
For more visit:
facebook.com/QuarrAd/
open.spotify.com/album/0Q78mTlY7czLtIVTTkbIDR
soundcloud.com/sonic-peach-music/sets/qa-one-more-jazz-thing-sonic-peach-music
facebook.com/QuarrAd/