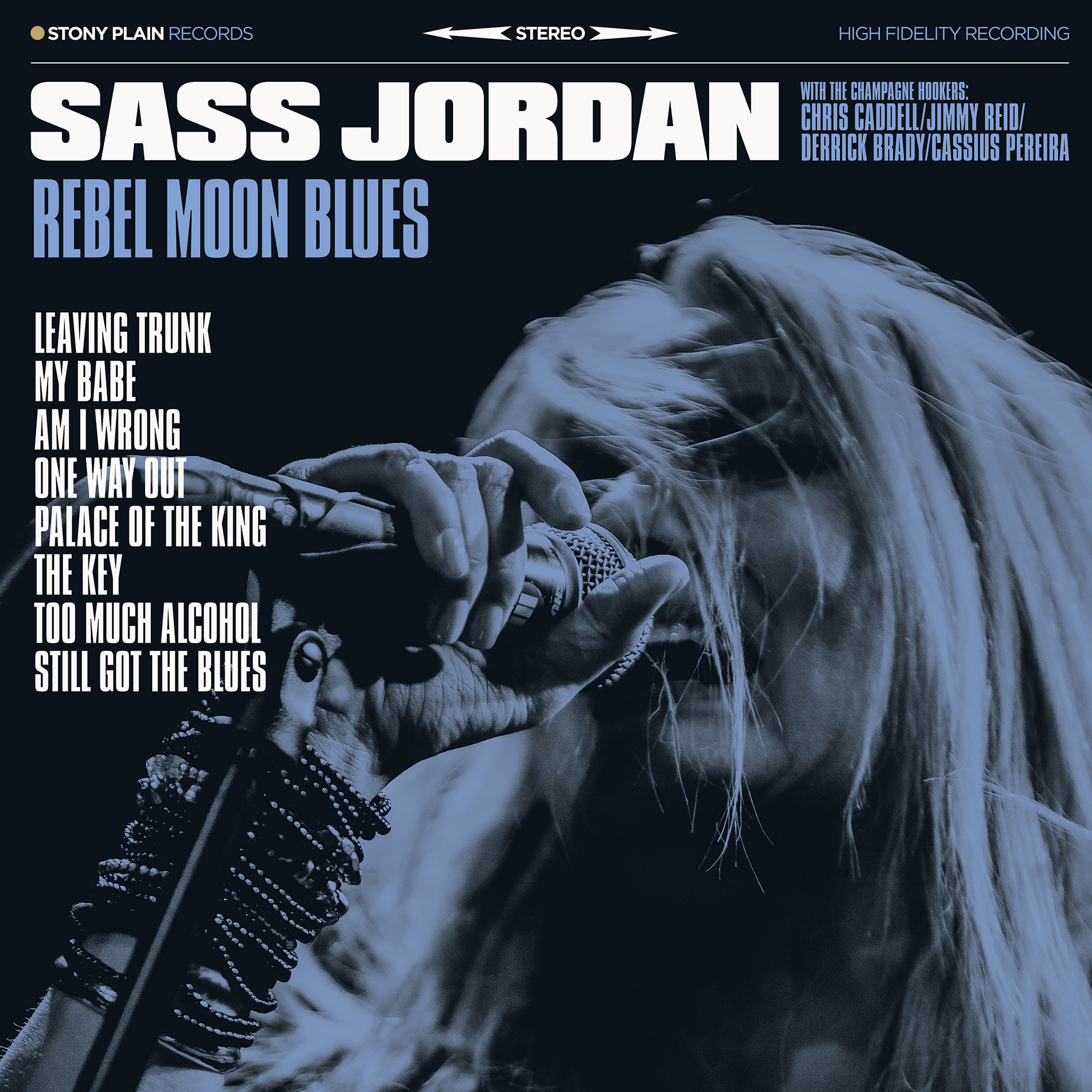 Fri Jan 24, 2020
Canadian JUNO and award winner Sass Jordan today announces the release of her new album, Rebel Moon Blues — available March 13, 2020 via Stony Plain Records.
With more than a million records sold worldwide, Sass Jordan delivers the eight-song album spotlighting her signature vox in a wholly-dedicated blues endeavour across seven diligently selected covers — plus one knockout original, "The Key."
"The Blues has been there throughout my entire career. People have always said, 'You're so bluesy.' And it's true. My singing is blues-inflected. My songs use blues-type licks. I didn't do any of that on purpose. It isn't contrived. It's just me."
Co-produced by Sass and D#, Rebel Moon Blues serves as a watershed that charts a new course in Jordan's musical voyage while tracing her love of the blues back to its source. All killer and no filler, the album features the inimitably raspy rock goddess jubilantly celebrating the songs, sounds and styles of everyone from old masters like Willie Dixon, Elmore James and Freddie King to younger, louder guns like Gary Moore and Rory Gallagher.
Nailing down the crate-digging setlist was both a labour of love and a trip down the rabbit hole. "I wasn't following any formula. I knew they had to be songs I loved and could really sink my teeth into," she says.
Cut off the cuff and on the fly in just three fast-paced days, Jordan and the Champagne Hookers — her touring band of guitarists Chris Caddell and Jimmy Reid, bassist Derrick Brady and drummer Cassius Pereira, augmented by blues harp master Steve Marriner and keyboardist Jesse O'Brien — played live in the same room at the same time. "The energy is so different when you're playing it live," Jordan says. "It's a different frequency, a different vibe. It's very joyous. You can hear a lot of us laughing on there. I love that kind of thing.
"It's like you're right there with us. We're there, we're alive, and we're having a blast, baby!"
And no changing the lyrics either. "To me, what makes these songs fresh, besides our energy, is that it's a female doing traditionally male stuff. And I sing the lyrics the way it was written... If the singer's singing about, 'My girl,' I sing, 'My girl.' That's what puts the icing on the cake. I like approaching the songs the way they were written. I find that not messing with the original gender is particularly relevant in today's climate. It's great that we can get away with doing that now."
A pioneer of powerful, gritty female-fronted rock, Jordan has worked alongside fellow greats like Aerosmith, the Rolling Stones, AC/DC, and Van Halen, among many more. She is currently on an International 30-date tour — including Tel Aviv, San Francisco, New York, Atlanta, and Canadian stops in Vancouver, Calgary, Winnipeg and Toronto — with A Bowie Celebration, the critically acclaimed, one-of-a-kind roving tribute to the late legend, featuring distinct alumni of former bandmates. Bowie Celebration Tour dates:
A Bowie Celebration: Bowie Alumni Play Diamond Dogs & Ziggy Stardust
January 22, 2020 O2 Academy Glasgow UK
January 23, 2020 O2 Ritz Manchester UK
January 25, 2020 O2 Shepherd's Bush Empire London UK
January 26, 2020 Salle Pleyel Paris France
January 27, 2020 Casino Barriere Toulouse France
January 28, 2020 Femina Bordeaux France
January 30, 2020 Mann Tel Aviv Israel
January 31, 2020 Auditorium Haifa Israel
March 4, 2020 Mesa Arts Center Mesa AZ USA
March 6, 2020 The Rose Pasadena CA USA
March 7, 2020 Belly Up San Diego CA USA
March 8, 2020 Bimbo's 365 Club San Francisco CA USA
March 11, 2020 Crystal Ballroom Portland OR USA
March 12, 2020 Neptune Seattle WA USA
March 13, 2020 Commodore Ballroom Vancouver BC Canada
March 15, 2020 Palace Theatre Calgary AB Canada
March 17, 2020 Burton Cummings Theatre Winnipeg MB Canada
March 19, 2020 Arcada Theater St. Charles IL USA
March 20, 2020 Royal Oak Music Theater Detroit MI USA
March 21, 2020 Queen Elizabeth Theatre Toronto ON Canada
March 22, 2020 Carnegie of Homestead Music Hall Munhall PA USA
March 24, 2020 State Theater Falls Church VA USA
March 25, 2020 Agord Theater Cleveland OH USA
March 27, 2020 Chevalier Theater Medford MA USA
March 28, 2020 Lebanon Opera House Lebanon NH USA
March 29, 2020 Garde Arts Center New London CT USA
March 31, 2020 Sony Hall New York NY USA
April 1, 2020 Count Basie Center Red Bank NJ USA
April 2, 2020 McCarter Theater Center Princeton NJ USA
April 3, 2020 Bergen Performing Arts Center Englewood NJ USA
April 4, 2020 Keswick Theater Glenside PA USA
April 5, 2020 Tilles Center Brookville NY USA
April 7, 2020 Center Stage Atlanta GA USA
April 9, 2020 Capitol Theater Clearwater FL USA
April 10, 2020 PR Funding Center Lakeland FL USA
April 11, 2020 Amaturo Theater Fort Lauderdale FL USA
http://www.abowiecelebration.com/#tickets
Born in Birmingham, U.K and raised in Montreal, she launched her solo career with the single "Tell Somebody" from her 1988 debut of the same name, garnering national acclaim and a JUNO Award for Most Promising Female Vocalist. Throughout her career, she's earned three more nominations for Best Female Vocalist thanks to albums like Racine (1992), Rats (1994), Present (1997), Hot Gossip (2000), Get What You Give (2006), From Dusk Til Dawn (2009) and her side project S.U.N.'s album, Something Unto Nothing (2011) — along with singles like "Make You A Believer," "You Don't Have to Remind Me," "Sun's Gonna Rise" and 1992's "Trust in Me," a duet with Joe Cocker from the record-selling Bodyguard soundtrack.
Jordan starred in the off-Broadway Janis Joplin show, Love Janis, performed The Vagina Monologues in Winnipeg and Toronto, guest-starred on NBC's Sisters, and of course, weighed in as the only female judge on Canadian Idol for all six seasons beginning in 2003.
In 2017, she released Racine Revisited, recreating her sophomore album with an all-star cast for its 25th anniversary. This year, Rats celebrated the same milestone with a coloured-vinyl reissue.
"It's surreal," she acknowledges. "When you hear '25th anniversary,' you're like, 'WTF?' I don't really remember the person that wrote them. I'm not that person now. But then it passes. Because it's another day! It's now! And I have more fun now than I've ever had.
"My voice is better now than it's ever been. I can hit notes that I never could before. I feel the exact opposite of a lot of people. I feel the voice gets better with age. Hell, everything gets better with age!"
Not surprisingly, she's less concerned with what she's done than what's coming next. That includes a new brand, Rebel Moon Whisky, along with her Kick-Ass Sass wine. "Whisky is my spirit animal," she laughs. "There aren't any female singers doing a whisky line yet, that I know of. It's a whole new thing! Besides, what goes better with blues than whisky or wine?"
And rest assured, there are plenty more blues to come from Jordan. "I definitely want to do some more recording in this style. I loved every second of it. It all happened so easily and it just made so much sense.
Sass Jordan Album Pre-Sale Link: https://www.merchmrkt.com/merchmrkt/vendor/sassjordan
"I'm not reinventing the wheel. Never have, never will... But this opens up a whole new world for me, and it's one that I belong in and feel at home in already!"
For more visit: sassjordan.com