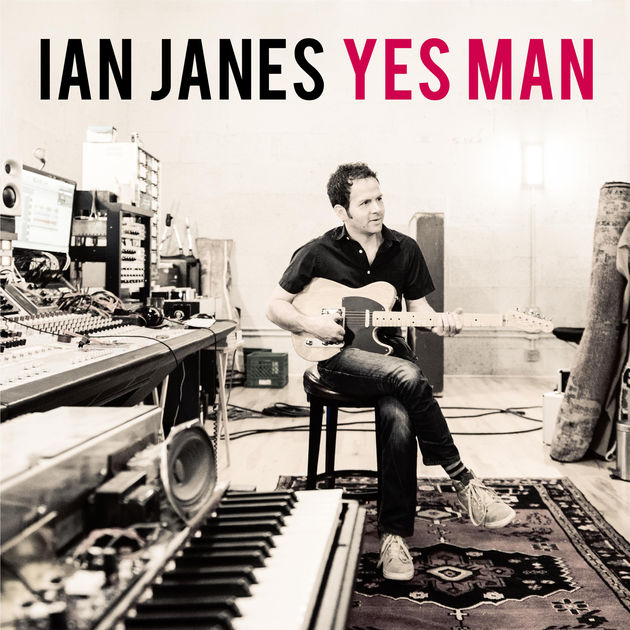 Fri Mar 17, 2017
On February 24th, 2017, Ian Janes released his latest solo album, Yes Man, to critical praise and acclaim from some of Canada's most prestigious press.
A confident and soulful record, Yes Man creatively mixes Ian's deepest influences and experiences. It is a combination of singularly written songs, as well as collaborations with other great writers from across North America. The album includes co-writes with Andy Stochansky (Goo Goo Dolls, Ani DiFranco, Shannon Noll), Jamie Hartman (Joss Stone, James Bay, Christina Aguilera) Lee Ann and Daryl Burgess (Irma Thomas, Colin James, Patty Loveless) and iconic Canadian songwriter, Joel Plaskett.
Earlier in February the first single from the album, "Broken Record", was released and has been receiving regular play from CBC, Clic Franco, Sirius XM, and Stingray radio, and has kept Ian busy with interviews and in-studio performances.
Check out the lyric video for "Broken Record" here: http://bit.ly/2luXYbj
Last week, Janes' song, "Can't Remember Never Loving You", co-written with Byron Hill (George Strait, Ray Charles, Alabama), was prominently featured in the groundbreaking music-based TV drama, Nashville. The song was performed as a posthumous duet by lead characters Deacon (Charles Esten) and Rayna (Connie Britton) as a dramatic conclusion of the show's mid-season finale.
The song is currently at #62 in Canada and #55 in the US on the iTunes charts for country songs. Listen to "Can't Remember Never Loving You" from Nashville here: http://spoti.fi/2mtcJh5
In addition to the Nashville placement, Janes is enjoying increased activity as a writer for other artists. Late last year he had a co-write cut by Toronto funk, soul and roll group, The Julian Taylor Band, on their latest album, Desert Star; and he has 4 additional songs scheduled for release over the next couple of months by 2 separate artists.
Ian will be heading back to the US for the last two weeks of April for a full schedule of co-writes in Nashville, along with a day of writing at the legendary studio 'Muscle Shoals Sound', in Muscle Shoals, Alabama, before travelling to St. John, New Brunswick for performances at the East Coast Music Awards conference.
"So much time, sweat and careful consideration went into making this record. It's so rewarding to put it out into the world and have people dig it....makes it all worth it. More than anything, I tried to really 'mean' every note I sang and played, and capture the individual personalities of all the musicians".
"As a songwriter, your ultimate goal is to try to capture a sentiment that might be hard for someone (including yourself sometimes!) to articulate. Having the folks from the TV show Nashville feel that our song would help to tell their story....is the ultimate compliment".
See Ian perform live at the following dates:
March 23, 2017 – Promo Date in Moncton, NB
March 24, 2017-Bruce Guthro's Songwriters Circle, Casino NS, Halifax, NS
March 30, 2017-L'Astral (supporting Matt Andersen), Montreal, QC
April 29, 2017-ECMA Big Ticket (supporting Matt Andersen), St. John, NB
May 26, 2017-Chester Playhouse, Chester, NS
Listen to Yes Man on Spotify: http://spoti.fi/2lBr1f7
Eric Alper
www.ThatEricAlper.com