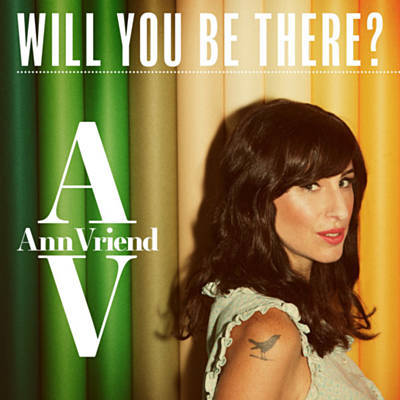 Fri Jul 21, 2017
Award-winning artist Ann Vriend (AV) releases new video for the single "Get Back To Me," included in AV's new EP Anybody's Different, (Aporia Records) which has already received significant media attention. In addition to the Maple Blues Awards Cobalt Prize win for "All that I Can," the Australian EP release reached #2 on theirSoundslike Café national playlist, and "Will You Be There" has been added in high rotation at Quesada and z-teca burrito restaurants across Canada. The EP has been charting on national campus radio, reaching #1 on theCJSR Edmonton Top 30 and continuous charting on CKUA's Top 30 from April to July hitting #12. Ann was also nominated for Female Artist of the Year for the 2017 Edmonton Music Awards.
AV can take you by surprise. At every show, people say, "I didn't expect such a big voice to come out of such a tiny frame!" Her ballads bring people to tears, but then she cracks a witty, self-effacing joke and takes off her shiny second-hand high heels to play the piano. AV sings her heart out about her views of the world; her matter-of-fact, non-sugar-coated observations from her inner city neighborhood; her hard life lessons -- and yet there is a soulful, hopeful persistence for herself and the world to be better.
"Get Back To Me," is another beautifully crafted, impeccably produced slice of funky soul from AV - this one falling about mid-way between Motown and Stax/Volt, but with a totally contemporary sound. It's an old-school, funky, upbeat number, sexy and fun, with a gospel-style call-and-response at the end of each chorus, yearning for a lover to come back, even (or especially) "if it takes all night." It's fueled by a huge, irresistible dance beat and boasts a killer vocal breakdown at the finale.
The low-fi video takes place at a tenement building party, depicting people stuck in the inner city, but making the best of it on a hot summer night. It's something AV herself can relate to, living in her own troubled inner-city neighborhood of McCauley, Edmonton: a place filled with opioid-related tension, but also a lot of artistic and multi-cultural celebration. Produced by Ryan Nolan, the video also features fellow Aporia artist Julian Taylor.
The rest of her new EP Anybody's Different follows a similar template, matching stimulating grooves with well-considered views on the rollercoaster of romance.
UPCOMING TOUR DATES 2017:
August 10, NAPANEE, ON, Ellena's Cafe, solo
August 11, TORONTO, ON, Hugh's Room Live w/ the Rooster Davis Group
August 12, KITCHENER, ON, Kitchener Blues Festival w/ the Rooster Davis Group
August 19, WAINWRIGHT, AB, Come By The Hills Festival w/ the Rooster Davis Group
September 2, SHERWOOD PARK, AB, Festival Place, A Night of Rhythm and Soul with Terrell Edwards and Guests
MEDIA CONTACT:
Beverly Kreller, Publicist SPEAK Music
bev@speak-music.com