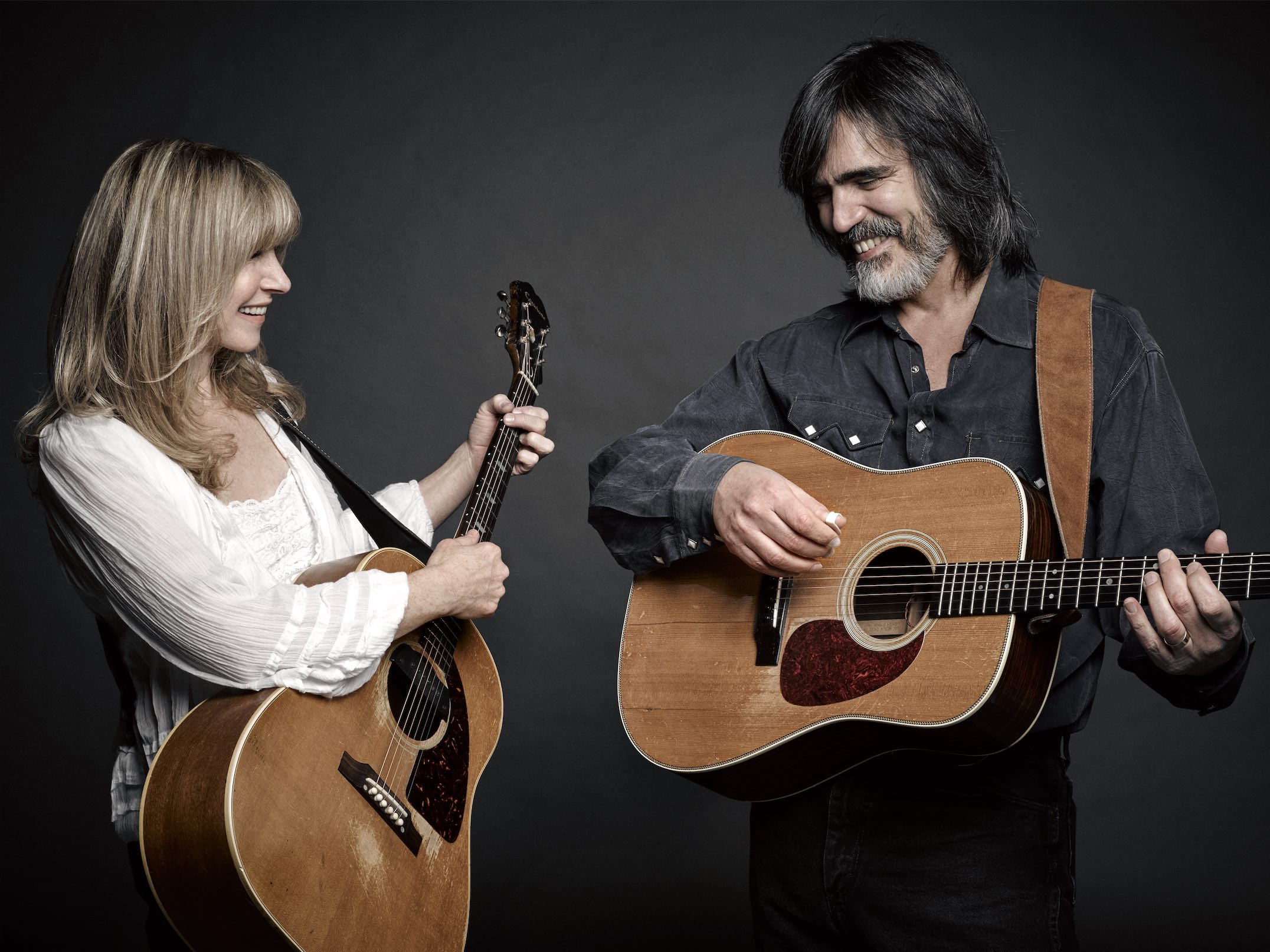 Fri Jul 14, 2017
Modern musical partnerships are no new things. Johnny Cash and June Carter Cash; Duane and Gregg Allman; Doc and Merle Watson; Simon and Garfunkel; Kris Kristofferson and Rita Coolidge – you get the picture, no doubt. With Nashville treasures and general US recording remarkables, Larry Campbell and Teresa Williams you again have the real deal, a pair of seemingly intuitive musicians, singer-songwriters and all round stellar performers who seem to have arrived on the scene already fully formed.
Grabbing the chance to speak with both Campbell and Williams at home in world-festival-famous Woodstock in upstate New York on the brink of the release of their latest album, 'Contraband Love,' on Red House Records, it becomes readily apparent that this pair do almost everything together, including interviews. Both are in relaxed mode though about to hit the road playing with Emmylou Harris before kicking off with two New York nights, on a gruelling US-wide tour that they both agree will be tiring at times.
Campbell confirms he used to enjoy the touring, has been all over – much of it with Bob Dylan's band – and can still enjoy hitting new towns, people and places along the way: 'Though I dig being at home, sometimes it's still cool to see new places, people; and that's a benefit,' he sighs.
Williams, on the other hand, finds she misses the family connections when out on the road: 'My parents are still alive, thankfully. I have deep connections back home in West Tennessee and I don't want to miss time with my family, even though it's great to be out touring, working. I'm a walking contradiction,' she laughs.
'I love getting on-stage for a two hour set, doing exactly what I want to do with exactly who I want to do it with,' says Campbell, a guy who has worked with Dylan, Hot Tuna, Paul Simon, Phil Leish, Levon Helm, Mavis Staples, Buddy & Julie Miller and is a stalwart of the Americana Awards annual house-band, with a nod to his long-time partner, Williams.
Looking back to his time as director and band member at the late Levon Helm's Midnight Ramble, he suggests it was the passing of Helm in 2012 that provided the impetus for the pair to take to the road and pursue their own musical path: 'We have an immediate commonality in the love for the music. After Levon passed, we had to sit back and think about things, what to do next. We decided to try for ourselves, to put it together and give it a go,' he recalls. And with the evident success of the duo's first eponymous album in 2015, nobody is likely to take issue with that thought.
'There was always music around me, as a kid in West Tennessee,' adds Williams, warming to the theme. 'We do have a commonality there. I grew up listening to Loretta Lynn, the coal-miner's daughter, Hank Williams, Johnny Cash, a mix of rockabilly, country and blues. Every evening after supper, we'd all get together and listen to, play and make music. Even when out working on the farm, hauling cotton, my brother would have a radio strapped to his belt playing all the time. Then I met Larry. It was like we were made for each other.'
Campbell reckons the song-writing process leading to the new album, 'Contraband Love,' took around eighteen months and confirms he was still putting finishing touches to a few tracks when they went into the Nashville studio to record it: 'Songs just come at you from all sorts of unexpected places. This time round I wanted one that was deeper, more meaningful as a song-writer than the last one. I wanted it to express something more important, to look at things I'd experienced and witnessed over the years,' he muses.
Williams agrees with this background thinking: 'There were some difficult, dark things going around. We wanted to deal with issues like addiction that are everywhere and devastating in their effects,' she says. 'We have so many good friends who have been affected by this. Everybody knows somebody who has been affected. We wanted to do it for them. We don't want to romanticise Larry's experience. We don't all have a Keith Richard's gene,' she adds with a shrug and laugh.
'I didn't want to be just another musician writing about or complaining about addiction. That's been done many times and it's a common theme in the music world. I wanted a rounded album that looked at dark themes but also worked on every level. It is part based on my early experiences. Teresa had to manage a take on what was going on inside my head, to understand my thoughts,' Campbell muses as he describes the writing and recording process.
With the new album in the bag, due for release in September, Campbell and Williams may well have an award-winner on the cards with a release that echoes their commonality passionately and clearly.