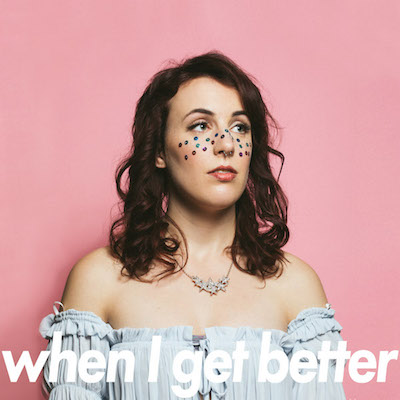 Fri Jun 23, 2017
Sarah Jickling, neurotic songstress and theatrical front woman of pop-rock band The Oh Wells, is taking to the stage on her own as Sarah Jickling and Her Good Bad Luck and will be releasing her first solo album When I Get Better on Friday, July 14th. When I Get Better documents Sarah's mental health issues and is a candid portrayal of her ongoing struggle with debilitating anxiety and bipolar disorder. The first single 'This Time' explores the difficulties of maintaining friendships and romantic relationships while living with a mental illness. Click here to watch the acoustic live video and album teaser premiering today at The Revue. Sarah Jickling's new solo project pairs the unbridled emotion of her voice with synths and loops, and graduates lyrically from high school daydreams to honest accounts of a chaotic young adulthood. On When I Get Better, Jickling paints an honest picture of the past few years of her journey to recovery, and explores what it means to "get better" when living with a chronic mental illness.
"The songs on this album were written because I needed them," says Jickling. "I write songs to sort out my own emotions, to tell the truth about what I am going through, and to turn my illness into something positive. I didn't intend to write an album, I just wrote songs when they came to me. In the end, I realized that all of the songs led me to this place of acceptance. I learned to accept my illness, and make peace with what it means to have bipolar disorder. The album is called When I Get Better because it was through songwriting that I realized there is no "better," that recovery isn't a straight line, but that there is beauty in that."
When I Get Better will be released in tandem with a mental health themed zine co-written by Jickling and illustrator Amelia Butcher. The zine was created as a way for Jickling to poke fun at her own emotional instability, while also sharing the coping tools that she finds helpful with her audience. "
The zine is called 'It's Okay, A Guide For Human Beings' and I wrote it as a reminder to myself and others that no one is perfect," says Jickling. "We are all struggling in different ways, but there are things that we can do to make things easier. I was inspired by the Riot Grrrl movement from the 90's, when bands and fans would create handmade zines to give out at shows. At that time, those zine started conversations about intersectional feminism. I think that right now, there is a bit of a mental health movement going on, and I like the idea of creating little works of art to spread awareness and ideas."
Based in Vancouver, Sarah Jickling is a strong local advocate for mental health awareness and has opened up about her mental illness on radio, local television, podcasts, blogs and at live speaking events. She can also be found performing her new sound and sharing her personal stories with ReachOut Psychosis, a program created by the BC Schizophrenia Society that tours high schools across BC educating on psychosis and early psychosis intervention.
Sarah Jickling's new album When I Get Better will be available on Spotify, Apple Music/iTunes, and other digital retailers and streaming services on Friday, July 14th. For more information and the most up to date tour schedule, please visit: www.sarahsgoodbadluck.com.
SARAH JICKLING AND HER GOOD BAD LUCK >> UPCOMING TOUR DATES
July 13 - Vancouver, BC - The Hindenburg (Album Release Show)
July 15 - Victoria, BC - Copper Owl
SARAH JICKLING - WHEN I GET BETTER TRACK LISTING
RELEASE DATE: JULY 14th, 2017 (Independent)
1. You Let Me Down
2. Anything That You Want
3. Repetitive
4. Untitled
5. Lullaby
6. I'm Not Broken
7. When I Sing
8. This Time
9. When I Get Better
FOR MORE INFO: www.sarahsgoodbadluck.com