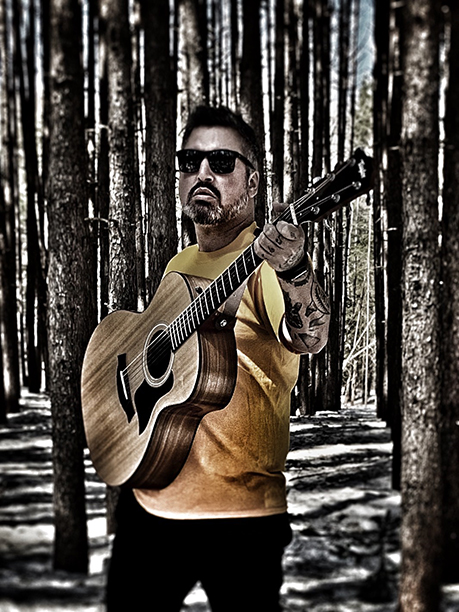 Fri Jun 19, 2020
Tobique First Nation, NB-based, award-winning and 2018 Olympic Games-featured Indigenous folk rock artist Mike Bern has released his debut solo EP Waponahkew.
Meaning 'Person of the Dawn,' Waponahkew and its title track pay stunning homage and gratitude to Bern's Waponahki Ancestors, while "First Mother draws on the book "The Red Man" for inspiration; the release's single "Apatapasiq" honours the suffering and stories of residential school survivors — including those in his own family.
Watch and listen to: Waponahkew here:
At three tracks on the release, Waponahkew wastes no time before showcasing Bern's masterful roots within the genre set. Previously, he has sung in award-winning bands Kickin Krotch and District Avenue, the Indigenous Music Countdown chart-climbing single "First Mother," and opened for Seaway, The Trews, One Bad Son, The Motorleague, and more. Additionally, District Avenue's music video for song "Revival" was featured at the 2018 Winter Olympics in Pyeong Chang, South Korea.
Between his signature raspy rock vocals harmonizing with traditional folk acoustic melodies, Bern doesn't leave his penchant to pepper in a hint of Southern Gospel behind; crediting influences in the likes of Chris Otepka, Frankie Miller, and Ben Schneider, it's of little wonder Mike Bern's music exudes a purity and pain throughout its soundscape.
Nowhere on Waponahkew is this more notable than the album's second song, "Apatapasiq."
"Wolastoqey language is sung 'Apatapasiq Wasisok'… Children come home," Bern explains. "The song is about the experience my Aunt and Uncles went through in the Shubenacadie Residential School.
"I remember a story my uncle told me once: They were always thirsty when they went to bed and the nuns would never give them anything to drink."
To solve it as best they could, the kids would "keep one stall clean in the bathroom and take turns dipping their socks in the toilet for a drink.
"I want the listener to experience the heartache and pain these children suffered," Bern continues. "Being away from loved ones and forced to take on a new world and lifestyle…
"This song is dedicated to my family, and all the Residential School Survivors."
For more visit:
mikebern.com/
instagram.com/mikebernmusic/
facebook.com/mikebernmusic/
twitter.com/mikebernmusic
open.spotify.com/album/118kc0ByzwcXaQ5uNOQAfq?highlight=spotify:track:3v3Sz8YjIuM2LaJLknbumC