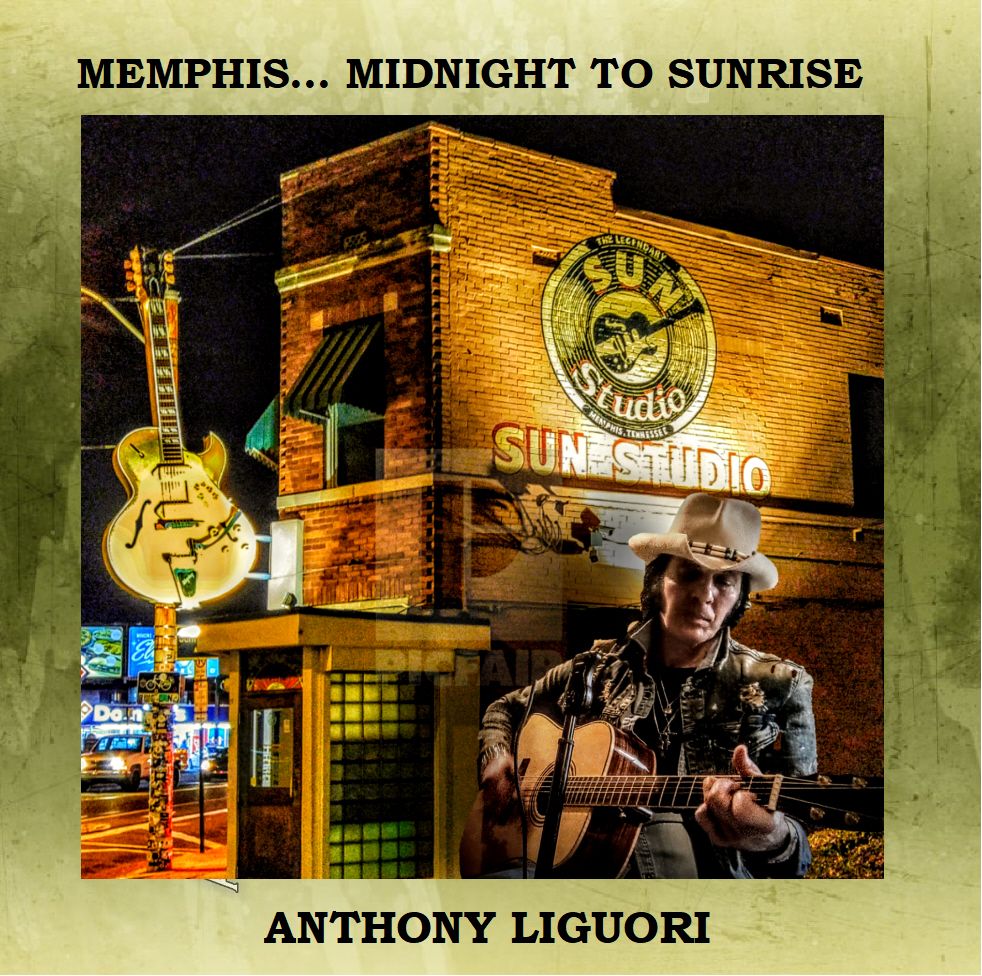 Fri Feb 05, 2021
Singer/Songwriter/Recording Artist Music....the universal language and no one speaks it better than Anthony Liguori. Perhaps you would never suspect this handsome down to earth talent from New Jersey of being so close to the truth, but he is. Fostered in the love of his music, he has overcome the busy and noisy sounds of his upbeat surroundings with the ease and beauty of a Bennett "sonata" and the gentle touch of a B. J. Thomas "rainfall".  Anthony has been able to remain true to who and what he is. Regarding his talent and direction in which he has moved his career, he has been a straightforward guy. 
His latest release – "Midnight in Memphis" is a fast moving rockabilly tune, a tribute to the King and captures the essence of Elvis. Whether you are an Elvis fan or not – the song is cleverly written, well-produced and has hooks all over it. Doesn't get much better than that.
Check out this great song here:
"This is me. I can't be more than I am, and won't be what I'm not. What I can be is honest about my craft. And in having that resolve share the special gifts I have been given with each and every one of you through my songs, my words my music, and my heart".  Anthony is a survivor.  Growing up a stone's throw from New York City you learn how to real fast. Anthony has played in concerts, casinos, clubs, churches, and major outdoor arenas sending several songs to the Top 10 Indie charts and also charting in the Hot 100 national charts. He also performed and recorded with the best Nashville has to offer.
In January 1991, Anthony was inducted into the Alabama Country Music Hall of Fame. Anthony always says, he loves all people and he himself is easy to love. There is a certain honesty about him that reaches out and touches you whenever he's around. His writing, his songs, and experience on the road are evident by his professionalism.  
Anthony has recorded for Lost Gold Records in Ridgeway S.C. under the name Tony Sands.  Anthony has recorded many singles, as well as, 2 cd albums for Lost Gold.  Most of the songs on his CDs were written by Anthony and his long time writing and publishing partner, Joseph Durante.  His first CD release is a blend of pop, R&B country titled "Tony Sands, It's After Midnight".  His second release is a contemporary Christian CD titled "Evermore".  Anthony also recorded a Christian Country CD for Calvary Records in Nashville TN.  The CD is titled, " Thankful For The Roses" produced by  Hammond Brothers Productions. Currently recording new singles written by Hall of Fame songwriter; Jerry Foster.
Anthony is also one of the country's top Elvis tribute artists.  He performs his show stopping review, "Elvis, One Night With You" in concerts, casinos and cruise ships throughout the country.  Anthony has also portrayed Elvis for "Legends in Concert", an internationally acclaimed show that pays tribute to the superstars of show business.  Anthony also performs his Elvis tribute with show with the Hammond Brothers, foster son's of Ray Walker The Original Bass Singer for Elvis' Jordanaires. Together, Anthony and the Hammonds perform in a stage revue titled... "Rock With You Baby...
Anthony has performed with Jerry Foster, Clint Black, Patti Loveless, Shenandoah, Mark Collie, Bill Anderson, Hank Snow, Johnny Mathis, Eddie Fisher, the Marshal Tucker band and countless others in the pop, rock, country and gospel fields. Anthony's T.V. credits include: Miss Hawaiian Tropic, Miss New Jersey Pageant, The Legendary Joe Franklin Show, Jersey Spotlight, Reading Rainbow with Lavar Burton, The Uncle Floyd Show, March of Dimes Telethon, Into the 90's, The Steve Ames show, Big Joe's TV Show and the Country Boy Eddie Show. Anthony has also made several appearances on the Legendary Ernest Tubb Midnight Jamboree Grand Ole Opry radio show in Nashville Tennessee.
Check out Anthony's music here: anthonyliguorijr.com/music
Anthony has received many awards including: Knights of Columbus Outstanding Humanitarian Award, Unico Award, Inducted into Alabama Country Music Hall of Fame, Lost Gold Records Male Vocalist of the Year, Indie Country Artist of the Year and Lost Gold Records' Recording Artist of the Year. Anthony is the author of a book titled, "  He Said, Peace Be Still".  The book is an extraordinary true account of Anthony's near death experience that changed his life forever. His book has been published and was released on June 12, 2006.  
For more visit:
anthonyliguorijr.com/
facebook.com/anthony.j.liguori
twitter.com/bluesuedeheaven