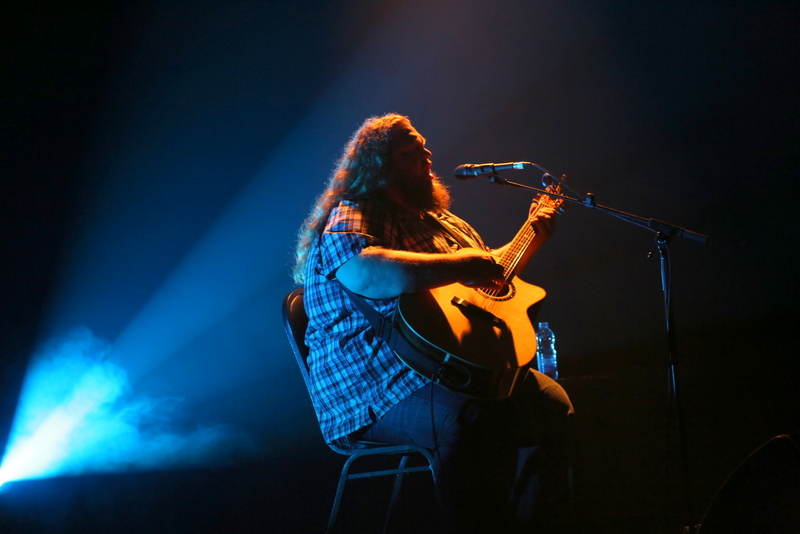 Fri Apr 21, 2017
Listening to a Matt Andersen CD is an exciting audio experience, seeing Matt Andersen with a full band is awesome, but seeing Matt Andersen solo takes it to a whole other level. 
The man and his guitar is something I wasn't really prepared for. Andersen was over the top on all levels, his hold on the audience, his powerful and controlled vocals with acres of dynamics and guitar mastery that made his acoustic guitar sound like an entire band.
The venue L'Astral in downtown Montreal was the perfect spot to witness this incredible show. The sound was crisp and clean, the lighting moody when needed and sharp when it had to be. And the audience was spellbound from the moment the larger than life Matt Andersen ambled to the stage and took his place on the stool. "Thanks to you all for coming  out tonight. Here's how this works. I'm going to sing some songs for you, then I'm going to stop and that will be the night." He then started off his set with his brilliant song " The Gift". "In times of trouble, in times of need, in the darkest hours she says you've got to believe. Believe that you are special, believe you've got a gift. The gift of life is all you need."  Matt Andersen has more than the gift of life, he has been blessed with musical talent and skills that will ensure he has a long and fruitful career, His arc of triumph has already soared in the last 12 months. "I have to say last year was great for me and I want to thank all of you for your support. Couldn't have done it without you."  He took his audience on journeys of hope, despair and anger. He showed his edgier side, "Devil's Bride" is about a couple Andersen saw in a bar he played in regularly. " They'd come in every night, sit at the same table and order the same drinks every night. Then as they night wore on they would have the same fight, every night. I thought that this is what he would like to say to her in a song 'You throw me water when I'm drowning , You take my kindling when I'm cold. You give me matches when I'm burning and give me pennies for my gold..Only Hell's own fire will ever warm you. You should be the devil's bride." Brilliant song. One of my favourites of the night was the Maritime coal miners song Coal Miner's Blues, ""Black on my hands, black on my shoes, black on my heart, from these coal mining blues," Song from his soul with all his heart. A man proud of his East coast roots.
The task of opening for Matt Andersen in a supporting role is not an easy one but fellow Maritimer Ian Janes was the ideal choice. The likeable Janes is different enough in style to compliment Andersen and so talented at handling the audience as well as being a gifted guitarist and  raconteur. Maclean's magazine has named Ian one of 100 Canadians to watch, he has performed on the nationally televised 'East Coast Music Awards' show, CBC Radio's 'Canada Live' and 'Definitely Not The Opera'. He has been nominated for 5 East Coast Music awards to date and won Record Of The Year at the Music Nova Scotia Awards. Janes recently had a song placed in the hit series Nashville. The song "Can't Remember  Never  Loving You" was a posthumous duet by the two lead characters Deacon and Rayna.  Janes explained the genesis of the song. "I heard one of my children say to my wife 'I don't remember not loving you' and it hit a chord. And then I thought I could never come up with a line the good but I can write a song about it." Ian Janes is definitely a talent to watch.
When Matt Andersen finished the night to a standing ovation he didn't leave the stage , instead saying, "I'm not going to do the running off the stage and coming back routine, I'll just stay here and sing a few more. It was then that he invited Ian Janes back on stage where they did a killer version of Neil Young's " Helpless" The night close with the two compadres singing a memorable version of the Bill Withers classic "Ain't No Sunshine."
After the show Matt stayed to talk to his fans, pose for pictures and sign autographs despite having an early flight to catch the next day for Winnipeg.
If you get a chance to see Matt Andersen on his Honest Man tour grab it, you'll be glad you went.
For more on Matt Andersen visit www.stubbyfingers.ca