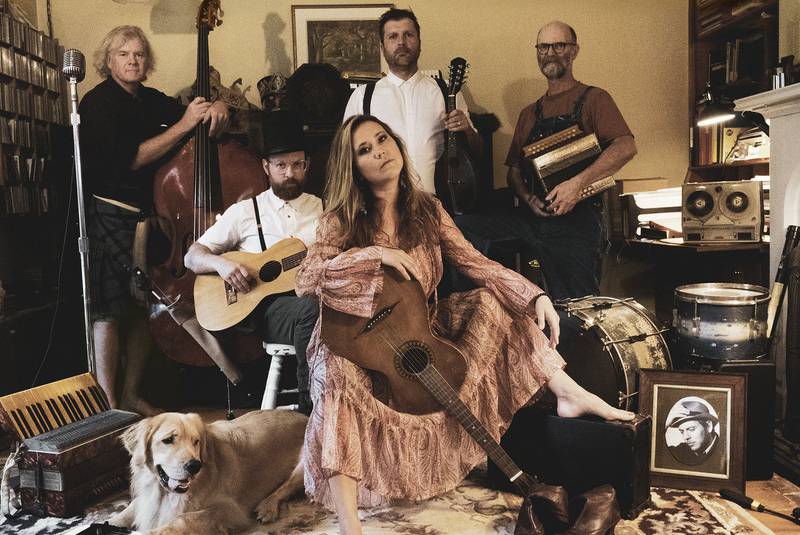 Fri Nov 01, 2019
Submitted by Cashbox Canada
Award-winning Canadian singer/songwriter Jessica Rhaye and The Ramshackle Parade have released their newest single and video, "I Dreamed I Saw St. Augustine" — the latest off 2019's Just Like A Woman - Songs of Bob Dylan.
And prompt dreams, it does. The video — backlit with star-like twinkle lights, not unlike Rhaye's own connection to the track — invites viewers into the band's intimate performance of the 1967 classic. "I've always pictured Van Gogh's 'Starry Night' when I listen to this song," says Rhaye. "Dylan talks about the John Wesley Harding album and, at the time, his increased interests in painting and his work to sharpen the imagery in his lyrics."
"I think our version helps capture the lyrical imagery of the song."
"Our version of this classic Dylan tune also takes on more of a ballad feel than the original version," she continues, considering additional creative differences between the two. "Chris' beautiful guitar solo — along with the delicate cymbal work and bowed bass — gives our version a very lush and dreamy feel."
The result is a natural fit on a collection of songs each at once retro- yet future-fitted with psychedelic undertones and folkie ballads only Rhaye and The Ramshackle Parade could relay. The nine-track opus lands as engaging and inventive in its interpretations of the Master's works, each with no click tracks and very few overdubs. The result is an endearingly authentic and rollickingly fun folk-rock reinvention of both Dylan's classics and hidden gems, quickly transcending the confines of a traditional tribute piece.
"There is something about Bob Dylan's songs we connect with," says Rhaye. "The melodies and his simple ease of delivery… We feel like there's an invitation like it's ok to feel they can be our songs."
And 'make them theirs,' they do.
Dale Murray was the producer at the helm, and it was free flow. All band members brought ideas to the floor and imagined working in the style of Dylan in Woodstock, the days of the Basement Tapes and Big Pink, in the wake of the motorcycle crash.
"Dylan always approached production with a minimalist hand," Rhaye continues. "The real people, the noises of the shirt buttons, chairs scraping the floor — mistakes being made — these were allowed to stay in the final tracks rather than cut out on the editing floor. These features always made his work accessible. You could always tell three were real people somewhere in a room playing these tunes together. That's what we hope listeners take away from this record."
Beyond visual, the track holds sentimental value for Rhaye, making it a surefire inclusion on the recent album. "This is the first Bob Dylan song I fell in love with as a kid," Rhaye confides. "I'd listen to it while lying in the back of my parent's old station wagon driving to early morning Judo class."
Jessica Rhaye is an East Coast Canadian fixture; her dynamic 20-year career has garnered critical acclaim, awards from Music New Brunswick, and nominations from Canadian Folk Music Award and East Coast Music Award.
I Dreamed I Saw St. Augustine (Bob Dylan Cover) by Jessica Rhaye and the Ramshackle Parade
https://youtu.be/xSaNiL4xpOA
Just Like A Woman - Songs of Bob Dylan is Rhaye's sixth full-length release, her second project produced with Dale and the first with the backing of The Ramshackle Parade. "The music from this band flows naturally but is also derelict, delicate, and pure," says Rhaye of the ensemble that includes a bevy of award-winning and highly accomplished artists in their own right: Chris Braydon, Sandy MacKay, Clinton Charlton, Bill Preeper, and Dale Murray. The band name is "borrowed and bent from a tune on Joe Strummer and the Mescaleros' Streetcore album.
"It felt like a good fit for the sound we came up with while making this record."
Tour Dates:
November 1 @ National Arts Centre, Fourth Stage, Ottawa ON
November 2 @ The Cove Inn, Westport ON
November 3 @ Hugh's Room, Toronto ON
November 5 @ Dog House Studios, Napanee ON
November 8 @ Evergreen Theatre, Margaretsville NS
November 9 @ Astor Theatre, Liverpool NS
For more visit:
jessicarhaye.com/jessicarhaye
facebook.com/JessicaRhaye
instagram.com/jessicarhayemusic/
twitter.com/jessicarhaye
open.spotify.com/artist/0JI6j7EohGdNldcfMxq9By?si=Ukbwv9rASJi6Fhh4toQItA