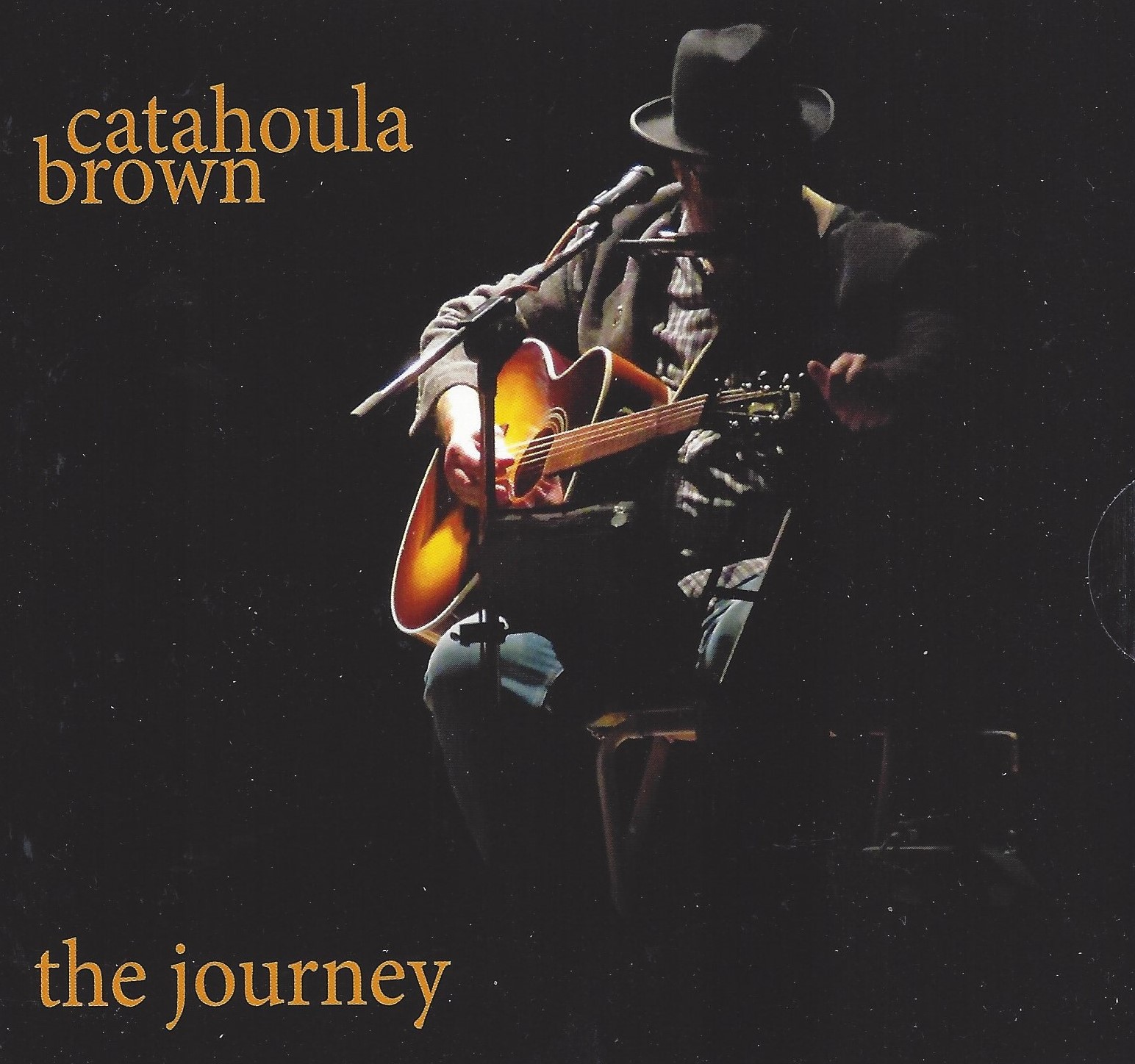 Fri Nov 01, 2019
When asked why he chose the stage name 'Catahoula Brown', Chris simply said, "Well...I have a Catahoula dog, and he's mostly brown...and besides, al lot of the early Blues artists had aliases...Muddy Waters, Howlin' Wolf, Hound Dog Taylor...and some of my early songs were influenced by those artists."
His earliest influence, however, came from his father Bob Weagle, who loved to sing songs by Jimmie Rodgers, The Carter Family, Hank Williams and Hank Snow (the latter was actually born near his own birthplace in Nova Scotia). As a young man, his father performed at a local radio station on Saturday afternoons. "I was no bigger than a guitar when my father taught me to play...he tuned the guitar 'Hawaiian-style', and I played it with a slide made from a butter knife, 'cause my fingers were too small to make chords."
Although he started writing songs when he was in his early teens, Chris didn't perform publicly until after he was married and raising a family. He was given the chance at a local Songwriter Night in his hometown of Bridgewater, Nova Scotia. "I remember being so nervous...I couldn't even look at the audience...I just kept my eyes closed," he recalls. He continued to sing at Songwriter Nights and Open Mics for the next few years, until one night he went to see the Blues artist Guy Davis perform at a nearby theatre. "I was mesmerized by his story-telling and his showmanship...I thought to myself, 'I want to be like him'...it was then that I decided I would not just be another 'Singer-Songwriter, I would be a 'Blues-Man'...and I would wear a fedora hat and dark sunglasses so I couldn't see the audience." It was then that the Catahoula Brown persona was born.
At the age of forty-four, Catahoula Brown recorded his first album. It was recorded in Lunenburg, Nova Scotia (the birthplace of Canadian Blues Legend Dutch Mason). The aptly named 'Cur Dog Blues' (a Catahoula dog is known as a 'cur' in Louisiana), is a collection of gritty songs about trains, frustration and love. The album's success would give him the opportunity to perform at the 2005 Lunenburg Folk Harbour Festival, held in the historical Nova Scotian town.
In 2007, he recorded the anticipated follow-up CD, 'Let That Boy Boogie', which sounds like it was recorded in some "Mississippi juke joint", instead of an intimate Halifax recording studio. The album was nominated by both the East Coast Music Association, as well as Music Nova Scotia, for 'Blues Recording of the Year'.
For his third album, recorded in 2010, Catahoula wanted to show his softer, more vulnerable side. The result, 'Lonely Lives Here', is a forcible Folk masterpiece. With guest appearances by Matt Andersen (on Lyla Rose Blues), and Irish Mythen (who not only adds her vocal talents to the beautiful ballad, 'You Tell Me', but also co-wrote the contagious Celtic infused 'Tullamore Blues'). It also received a nomination from Music Nova Scotia.
In 2014, Brown went back into the studio to record 'Can't Hide From The Blues', a raw swampy mix of ten original songs so influenced by New Orleans, you can almost smell the Gumbo cooking. Once again he received a nomination for 'Blues Recording of the Year'.
Catahoula Brown's last project was the six-song EP, 'The Broad River Sessions'. It was his first foray into the Country music genre. The music he grew up listening to as a young boy has brought him full circle. It's taken him on the road across Canada, and no surprise his new release is 'The Journey,' out on fledging Shelburne, NS label Maritimes Music created by folk music industry legend Jay Pilzer and Rachel Yellin.
Watch "Boat in a Bottle" here: https://youtu.be/1pSEZUVTBM8
He has opened for such respected artists as: Bonnie Raitt, James Cotten, Kenny Wayne Sheppard, Shemeika Copeland and Jimmie Vaughn, to name a few, and has performed at Lunenburg Folk Harbour Festival, Dutch Mason Blues Festival, The Riverfront Jubilee, Smokin' Bluesfest, the Acoustic Roots Festival and The LaHave Folk Festival...and others.
For more visit: catahoulabrown.com/
facebook.com/catahoula.brown
instagram.com/catahoulabrown/?hl=en