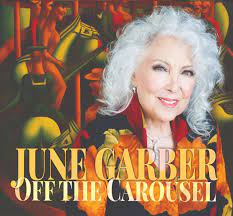 Fri Sep 10, 2021
June Garber has released a new video of the classic "Windmills Of Your Mind" in advance of the album release concert – check out the video here on YouTube:
The album release party is Thursday, September 16, 2021 @ Paradise Theatre, 1006 Bloor Street West in Toronto - Doors 7pm • Concert 8pm
Tickets available at https://bemusednetwork.com/events/detail/869
June Garber will be joined by Attila Fias (piano), Sam Pomanti (keyboards), George Koller (bass), Steve Heathcote (drums), Ted Quinlan (guitar) and Colleen Allen (flute and reeds), as she celebrates the album's September 17 release of Off the Carousel. This album, arranged and produced by Lou Pomanti is her fourth and is distributed by Vesuvius Music.
June has chosen material that reflects on her life's journey thus far. And, as is her way, June has not limited these choices to any one specific genre.  The album highlights June's oh-so beautiful interpretations of tunes well and lesser-known.
Describing Off the Carousel June Garber says, "Life is a journey… a wild carnival ride. And as the carousel slows… there is so much gratitude for the exhilaration and lessons learned! And so much hope for those whose journey is just beginning.  And remember, as I have… you must understand The Rules of the Road."
Check out The creation of June Garber's album OFF THE CAROUSEL produced & arranged by Lou Pomanti:
Pre-order link to the album ffm.to/offthecarousel
June's singing career began shortly after arriving in Canada from her native South Africa in 1975. She first joined a Toronto-based band as a back-up singer and later formed her own 8-piece band, self-producing shows filled with songs she loved – mostly contemporary but also songs from the South African musical, Ipi Tombi. The band enjoyed huge success with long runs in Las Vegas, Atlantic City and Toronto in addition to single concerts across Canada and the U.S.
In the late 1990's June took a break from constant travel and performing and spent time simply living her life until 2003 which is when her jazz career began and it was no time at all until June Garber won the hearts of Canada's thriving jazz community.
This concert also features an opening set by a marvelous young jazz singer, Jocelyn Barth who will release her own album on Vesuvius Music this fall.
For more visit: junegarber.com/