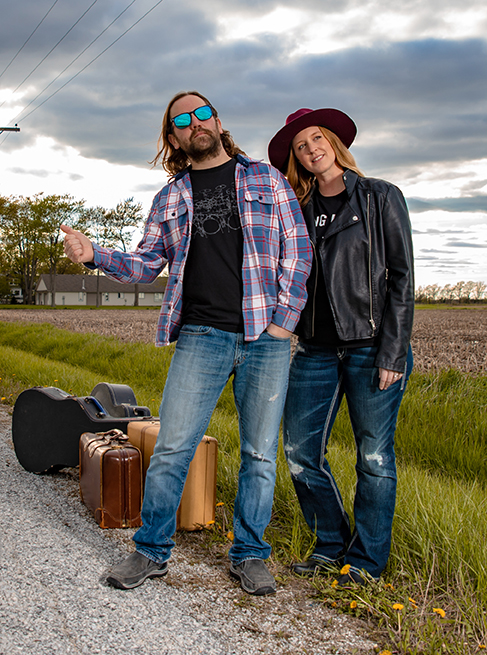 Fri Jun 26, 2020
Award-winning Canadian alt-folk rock-to-blues duo Fresh Breath are taking off and getting outta town, adding to their over 100,000+ streams across Spotify along the way, with their newest country-inspired single, "Time For A Change".
"At face value, it's a song about wanting to break free from the stressful normalcy of small town living," Katie Pascoe says. "It's about heading out on an adventure with the one you love.
"Getting out of town," Josh Pascoe adds. "Together."
But as most great songs do, there's a personal back story to "Time For A Change," too.
"It's inspired by some personal events that happened to us," Josh explains. "A friend of ours who lives in Calgary, Alberta, was chatting with us about their upcoming western tour at the time. Knowing we'd be there during the Calgary Stampede, he encouraged us to learn and brush up on some country music."
"So we decided to write our own!" Katie adds. "We kept it honest, simple, and to the point."
Watch and listen to "Time For A Change":
To boot, the pair had both experienced a weekend full of 'small town drama' at the time, so they included it in the track. "As we were writing, Josh was sipping on whiskey and it also happened to be a Tuesday…. That got worked into the very first line of the song, and it all fell into place from there."
The Ontario-based husband and wife duo are fresh off their recent Spring 2020 double-single release for "Tomorrow Today" and "Make It Together." The tracks beamed brightly as positive perspective pieces amid the COVID-19 pandemic.
Beyond their growing 100,000+ streams across Spotify alone, Fresh Breath have also garnered critical acclaim and radio attention; 93.9 The River / AM 800's Dan Macdonald says "Fresh Breath is on FIRE on this new record," citing their 2019 release, The Big Picture, which also received airplay on 99.1 CKXS, CJIM, CBC, and more. Previous albums have also included 2017's Us Against The World, 2015's A Dream That's Not Followed… is a Dream That Is Lost, and 2010's The Speed Of Sound.
Folk Roots Radio notes that they have "great energy, (and are a) great live band;" Buzz Music LA agrees, adding "good, high energy with an electrifying delivery… (Want) to see a performance like this live!"
For more visit:
freshbreathband.com/
instagram.com/freshbreathband/
facebook.com/freshbreathband/
twitter.com/freshbreathband?lang=en
open.spotify.com/artist/1ibTMP8Fd9AvQ6fcw2FtDK