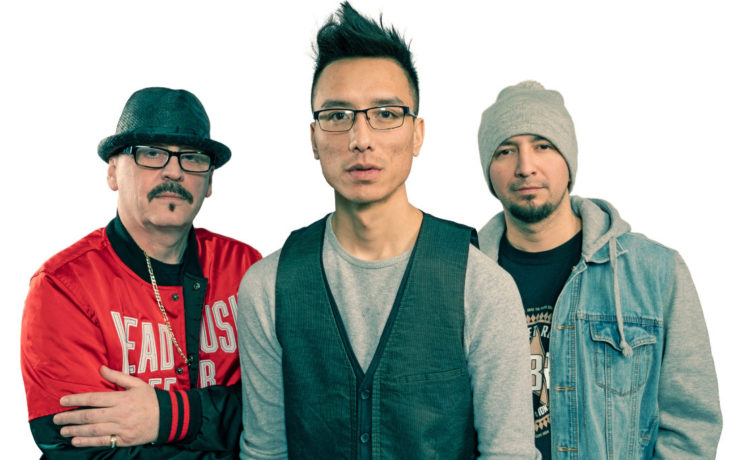 Thu Oct 01, 2020
When legendary rock n' rollers release a song named after their own band, you know they mean business; we're talking The Clash, Bad Company, and now The Pas, MB's Indigenous rockers Low Budget Rock Star and their eponymous single.
Check out "Low Budget Rock Stars" here:
A small but mighty three-member group with a big purpose — to save rock & roll — multi-talented artists Kennie Henderson, Harley Whitehead, and Richie Cudmore's bold brand of arena rock styles are the result of three music careers destined to land together.
"I've done it all," Henderson shares, adding, "I've been playing music since I was young, but I always had something in the way: I worked various 9-5 jobs, I went to school to attain my Bachelor of Arts degree…
"Ultimately, it wasn't good for me. The spirit of music relentlessly kept me awake at night and created an unhappiness that crept up on me every day.
"It did not let up!"
"In the summer of 2017, I was out with some of my old bandmates when I bumped into Richie, who was out with his old bandmates; coincidence? I told him we were heading out on tour in BC and he said, 'Oh, cool! If you ever need a drummer, let me know!'"
Henderson said he'd hold him to that, and then and there the earliest inklings of Low Budget Rock Star were formed. "Finally, after many heartbreaks, band breakups, addressing of past traumas, plus nurturing relationships with Richie and then Harley, as well as the birth of my child, Mikwan. I quit my job to pursue music full time."
For his part, Cudmore first took to the world of tunes after discovering his older brother playing the Beatles' "Let it Be" on a set of blue metallic drums just like Ringo's; he has since worked with Jim Kale (The Guess Who), Fred Turner (Bachman Turner Overdrive), and Chris Burke-Gaffney (Orphan, The Pumps). "I had the luxury of a father who rented and maintained juke boxes," Cudmore recalls. "The hits of the day were the soundtrack to my life, and knowing the importance of flow, melody, and a catchy chorus shaped me to be a principal songwriter for bands I was in."
Whitehead also lends to the songwriting for Low Budget Rock Star, as well as bass, and he considers himself a lifelong student of the music industry and music, in general. "When it comes to the music we write," he notes, "we bring in personal stories that involve the everyday struggle for survival and overcoming personal demons."
It's these bits and pieces of each of The Pas-based bandmate's lives that have become integral, if not front-and-centre, parts of Low Budget Rock Star's relatable identity and ultimate rise. "This is a name and project that captures our spirit and heart," Henderson offers. "It — life… music… — cannot be bypassed and lived with half-fast effort and energy; it's a project that requires many struggles and hardships.
"With the song 'Low Budget Rock Star,' we want to portray our humble — yet cheeky — attitude influenced  from years of living and breathing this rock & rock philosophy and life," he continues. "We're three guys and the only thing in our pockets is our songs and our stories; true, gritty, silly, intimate, and flavourful with the ability to put you through a lifetime of emotions."
Critics, peers and fans agree; "Low Budget Rock Star is on a mission to save rock n' roll in a big way!" multi-award winning fellow artist Crystal Shawanda says. "(They) write songs we can all relate to as we roll through this thing called life," CJ102.9's Mark A. Behren adds.
For more visit:
instagram.com/lowbudgetrockstar/
facebook.com/lbrsmusic/
soundcloud.com/low-budget-rock-star/low-budget-rock-star?ref=clipboard
open.spotify.com/album/4mbX3BpwBnsTCXAg5Y8fuQ?highlight=spotify:track:4LhO2shCsA37y9iKRHPh9E