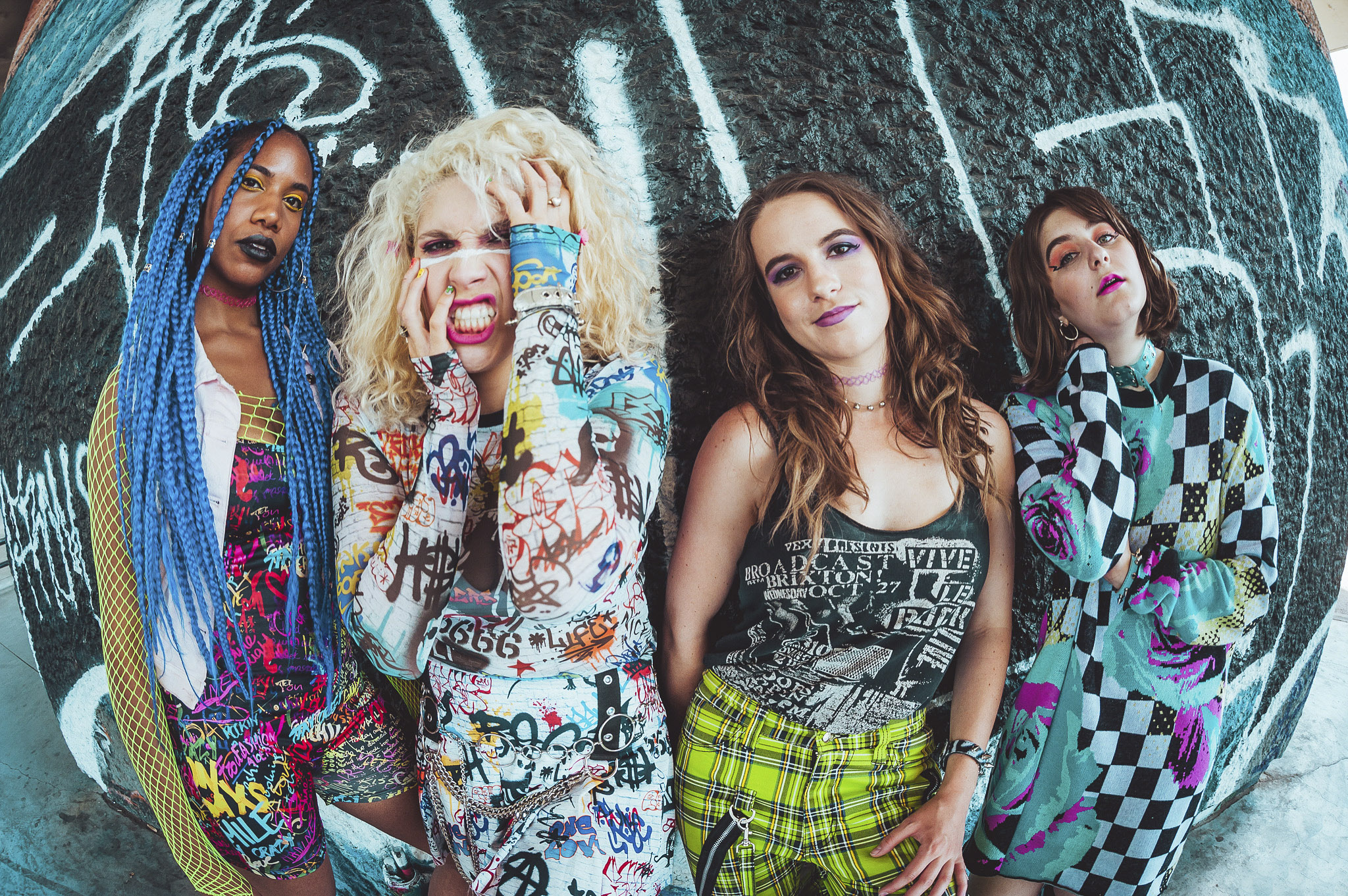 Fri May 20, 2022
The end of a relationship, especially if one party hasn't exactly been ethical, can be incredibly destabilizing and crazy-making. With that, Canadian-grunge punkers Bad Skin find the sweet spot between sad and pissed off in their angry-melancholy new breakup single, "Completely Insane" – watch it on YouTube here:
Laden with wailing guitars, melodious pop harmonies, and sludgy, driving bass, "Completely Insane" starts out with a woman reminding her ex (yeah, she's gotta remind him)  'Hey, it's me/ The girl you say you'll always love/ And, yeah, I know that love can hurt.' Soon, we learn that he's with someone else – 'It's so hard/ To know that you feel for her and not me.'
The song manages to perfectly replicate that all-women '90s grunge-band sound, particularly in the chorus — and the corresponding music video uses a creative stop-motion technique of stills to show the band suspended briefly in time while performing. It's particularly striking and effective as the band wears an array of colorful outfits against a white backdrop and, at times, is shown sitting sullenly on a bright yellow sofa, reflecting the somber mood.
Bad Skin consists of Dope (lead vox, rhythm guitarist), Caro (lead guitar), Aurély (bass), and Christine (drums). As the group continues to lay down the singles one after the other off their sophomore release Live Fast Die Punk, they've recently announced a slew of 2022 dates, as well, presented by IndigoBravo Promotions. Bad Skin will take the stage overseas on a UK blitz this coming July to coincide with their upcoming Breakup Tour EP.
A band raising their voice for the voiceless, talented and brazen, refusing to back down, bow down, or explain themselves, Bad Skin isn't afraid to call it like it is or say it like it is; refusing to comply or conform.
Bad Skin are available on Dance Plant Records, Montreal Quebec.
For more visit:
danceplant.ca/bad-skin/
instagram.com/badskinband/?hl=en
facebook.com/BadSkinband
open.spotify.com/artist/1GQUBvUvhSB2SY90VNgRd8?si=fd0rd7QoRHacIkZZFvuldA&nd=1