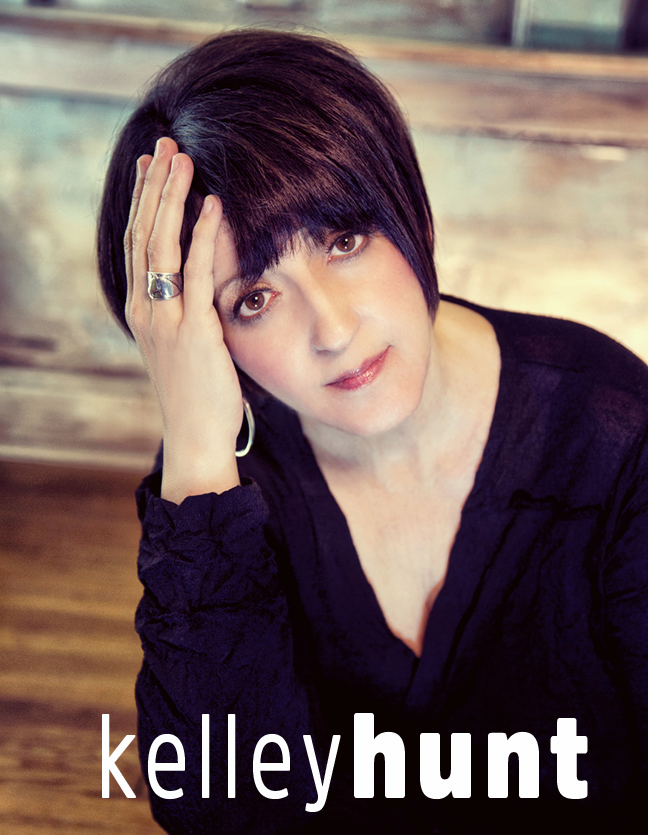 Thu May 23, 2019
Submitted by Sandy Graham
We recently had the pleasure of seeing Kelly Hunt perform at CMW 2019 and what a treat that was –a gem found at the IMP and she can truly belt it out.
In some ways Roots R&B/Americana singer/songwriter/piano player/guitarist KELLEY HUNT is a rarity and a challenge to the music industry's penchant for easy artist definitions -- a woman who has muscled her way onto the scene on her own terms with an identity steeped in blues/roots/gospel traditions and a refreshing originality. She makes music with it's righteous roots intact that also crosses boundaries, has an open-minded, exploratory attitude and takes on social and political issues. Together with a commanding, passionate stage presence and superior vocal, keyboard and songwriting skills she has earned the respect of critics and fans across North America and Europe.
Born in Kansas City, Hunt's love for her craft was ignited listening to early blues, R&B, roots rock, jazz and Gospel influences -- artists like Ruth Brown, Mahalia Jackson, Billie Holiday, Ann Peebles, Ray Charles, Dinah Washington, Aretha Franklin, Charles Brown, Wanda Jackson and a crossection of the New Orleans/St. Louis/KC piano traditions of Professor Longhair, Toots Washington, Johnnie Johnson and Kansas City masters Jay McShann and Mary Lou Williams among others. Before that came the sound of her mother singing jazz and blues - her first musical memories - and the influence of her New Orleans Gospel singer grandmother. Reminders of these very traditional influences are evident in Kelley's live performances and recordings but the lyrics, soul and passion are all her own. Her career path so far has been a story of fierce independence, incredible will, unassailable cred as a blistering live performer and hard-won accomplishment. That narrative includes 1500+ performances with appearances on a long list of premier North American and International festival stages, six times on American Public Media's 'A Prairie Home Companion',150,000+ indie units sold on her own label and critical praise reflecting her conviction from the outset to make her path in the roots music world not just as a performer, but as a forward-thinking songwriter as well.
Hunt's world has not been short on substantive, impressive critical praise, including a fresh swell of kudos for the new generation of music first unveiled on her 2008 88 RECORDS release MERCY (EER0804, her 4th commercial release): "Kelley Hunt resides among those bluesy, soulful piano players who write great songs." "...the main attraction here is Hunt, whose rich, soulful voice is an instrument in and of itself, with a toughness that shines on cuts like "You Got To Be The Vessel." "Her piano playing and songwriting also function at the highest levels." "Emerald City" is a brilliant political statement…" -VINTAGE GUITAR. "… Her fourth release "MERCY" shifts the focus to her songwriting skills and immense voice." "...a superb live performer, immediately drawing you to the power of her music and her voice... " -ELMORE. "Surprises don't often crop up on the well-trodden blues circuit. So welcome Kelley Hunt. This Kansan is a full-blown phenomenon: Powerhouse singer, hardboogieing pianist, polished songwriter…" -MINNEAPOLIS STAR-TRIBUNE. "…the freshest slant on classic R&B you're likely to hear these days. She's a tough woman who makes a hip and burly sound." - WESTWORD Denver.for her
That praise continued with GRAVITY LOVES YOU (2011, EER1105): "...(GRAVITY LOVES YOU) sounds like her best yet - which is high praise considering the quality of her 2009 release, MERCY. Hunt's songwriting shines on powerful, moving compositions like 'Deep Old Love', 'This Fall', 'In the End' and the title cut. And she proves she can shine on the keyboard as well - with dynamic inspired playing throughout" -ST. LOUIS BEACON. "Kelley Hunt delivers the goods with a voice that grafts passionate blues to scorching soul - instantly endearing her to all within earshot, as her band surrounds her in a greasy funk that completes the package and brings you back for more. 'GRAVITY LOVES YOU' continues this tasty tradition and ups the ante once again" -Eric Thom BLUES REVUE, SING OUT!, MAVERICK, PENGUIN EGGS, ROOTS MUSIC CANADA. "...Hunt delivers her socially charged lyrics with a voice that's part powerful gospel yearning and part bawdy soul shouter..." -THE ONION Denver, CO. "Kansas City roots singer Kelley Hunt is equally impressive as a soulful, throaty vocalist and an aggressive, gospelly pianist. She showcases her songwriting prowess on the nicely nuanced GRAVITY LOVES YOU". -THE MINNEAPOLIS STAR-TRIBUNE. "Blues, R&B singer-songwriter and show-stopping boogie piano player" -OMAHA READER.
Kelley Hunt's new album, "THE BEAUTIFUL BONES" (2014, EER1406), her 6th release and 4th as co-producer and universally hailed by press, radio and fans as the best work of her career, offers a dozen superbly crafted songs that blend timeless music with a contemporary perspective drawing a bead on modern life with grace, humor and gravity through the earthy poetry of her lyrics.
The critical praise has been unanimous: "More than bones prove beautiful on this scintillating release ...," "As she rips across strong originals like the funky 'Golden Hour' to high-torque, torrid testaments like the gospel blues of 'Release and Be Free', Kelley Hunt's time has come." writes BLUES MUSIC MAGAZINE. BLUES BLAST MAGAZINE says: "...this work is both totally inspirational and one of the best CDs you'll hear this year." TUMBLR says: "a beautiful work of art. I highly recommend this …It is an album you will want to hear over and over discovering something new each time." AMERICAN BLUES SCENE exclaims: It is not very often that we receive an album that makes us sit down and really listen; like, grabs us and demands our full attention. Multi-instrumentalist Kelley Hunt has done exactly that with her new album, 'The Beautiful Bones'. The album has depth, soul, personality, and nuance." "... a 50-minute journey through these 12 windows into Kelley Hunt's musical soul. Though some selections here are more blues or soul inflected than others, the entire album resonates with a quiet comfort firmly grounded in a gospel voice. The sound and mix on this album is first rate, and the music has an inviting clarity and freshness about it. This album will definitely lift your spirits and make you smile, on the inside." NYC's ELMORE writes: "Kansas City–based Kelley Hunt delivers a dozen originals (some with a co-writer) that span blues, roots, soul, rock and mostly gospel on The Beautiful Bones, her most fully realized album to date. These tunes showcase her marvelous vocal range and ever evolving strength as a songwriter." CASHBOX summarizes: "Kelley Hunt soars on her new release and invites listeners along for the ride."
All the songs on "Bones" are buoyed by a performing style that balances Hunt's virtuosity with the down-home gospel, soul and R&B that's part of her DNA. The title track is a perfect example of Hunt's art, with its shimmering guitar and B-3 organ providing a gorgeously textured canvas for her haunting, soulful voice. And its storyline is an equally deep illustration of her multi-faceted writing, celebrating both the joy of life and its impermanence, while quietly reminding that the Earth is a delicate and mortal place that must be tended to flourish.
"That song was the key to the album's identity," Hunt explains. "I had already written most of the songs, and felt they were about the things that are important to us all as people, but 'The Beautiful Bones' connected them. I was inspired by looking out my kitchen window while I was playing guitar and seeing the bare branches of a tree covered in snow, and I started to think about the layers we all have in our lives and the possibilities that come with each of them. The bare branches of that tree started to resemble a hand, and I started thinking of all the strong women in my family. It was as if they were sending me a message. Fifteen minutes later the song was done."
The album repeatedly returns to pivotal moments, from the central question "what will we do with this truth and these tears?" asked in "The Beautiful Bones" to, in "Gates of Eden," the flash when a glance off the road nearly causes a cataclysmic accident to, in "Let It Rain," the realization that whether we know it or not life truly does give us everything we need.
"As human beings, we get so attached to the material world that we forget the most important things," says Hunt. "The pivotal moments give us clarity. They help us understand that at the end of the day the only things we really have are our lives and our souls."
Both heart and soul are in abundance on "The Beautiful Bones", an evolutionary step in Hunt's songwriting and arranging. The set's seamless integration of her influences - from the wooden-church-pew gospel of Mahalia Jackson that resonates in "Release and Be Free" to the classic Memphis soul of "The Sweet Goodbye" to the boogie-woogie of the Tea Party skewering "I've Got a Good Feeling" to the driving R&B anthem of self-realization "This Time" - captures Hunt at the apex of her skills, abetted in her performances by the A-team of session musicians she assembled in Nashville's 16 Ton Studios.
Kelley is currently at work on a new recording project, her 7th full-length album, for late 2018 release.
For booking and management inquiries contact:
Al Berman • Blue Key Artists
al@bluekeyartists.com
785-841-6000
©2018 Kelarity Productions