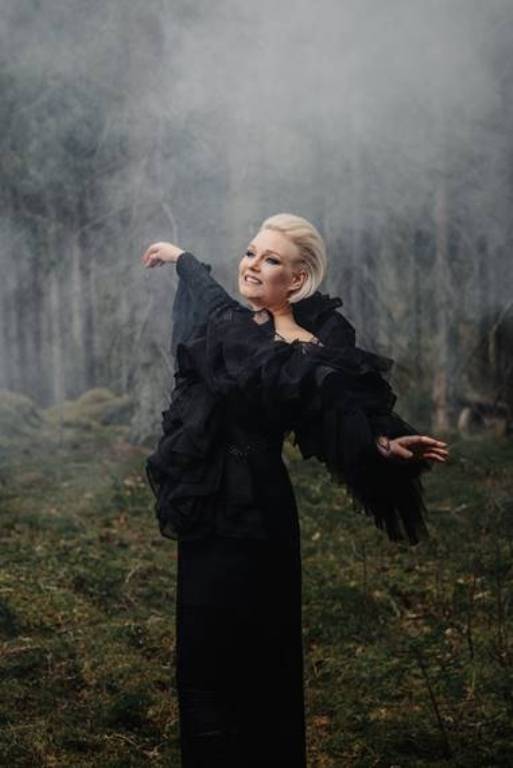 Fri Jun 26, 2020
Cashbox Canada/Sandy Graham
Award-winning electro-acoustic dream-pop art-rocker GEA grounds her otherworldly ambient fairy-folk sound within the densely lush Finnish forestland in this, her newly released single and video "Despite".
As known for since her breakthrough debut Butterflies (2017) and sophomore follow-up Snow (2019), the song-based storyteller wastes no opportunity in "Despite" to use her music to channel messages from spirit guides, laying bare notions of healing, transformation, and growth.
"'Despite' is a song about gratitude and unconditional love for love, despite the challenges, disappointments, and hard times it provides," GEA says. "I want to dedicate it to all the people who have been influenced by the global pandemic.
Watch and listen to 'Despite' here:
The song was first pre-recorded with award-winning and internationally heralded producer, singer/songwriter, sound engineer, composer and multi-instrumentalist Chris Birkett (Sinead O'Connor, Alison Moyet, The Pogues, Bob Geldof, Buffy Sainte-Marie).
"I first met GEA here in Toronto, Canada at Indie Week 2019. I am heavily involved with this event and GEA attended my Songwriting Workshop; she was the brightest and most attentive so we stayed in touch afterwards," says Birkett. "She went back to Finland determined to have me produce her and with her faith and tenacity raised the funds to record a full album. This single, "Despite" is the first from that project."
"We did this in Finland, in a small, arctic island called Hailuoto," GEA shares. "It is close to the city of Oulu, where I'm originally from.
"I actually went to Finland in January for a few weeks to get the pre-production done," shared Birkett. "It snowed for two weeks straight so we were isolated and creatively focused and ended up with the 15 songs we needed for the album."
"The pandemic gave us quite a bit of challenges in getting this song done," GEA continues. "I was going to fly to Toronto in April to record the final vocals and to be part of the mixing, but it didn't happen. I recorded the vocals remotely in Helsinki, Finland, with the help of amazing producer and friend Oona Kapari while Chris did the instrumental recordings, production and mixing in Toronto.
"The mastering was done by Fred Kevorkian in Brooklyn, New York, and the single visual and brand design was done by bynew.co in Tallinn, Estonia. We worked fluently between four countries, despite all being heavily influenced by the pandemic."
When asked if it was a great challenge to record the project in various parts of the world, Chris Birkett explained, "I believe Buffy St Marie and I were the first production/artist team to do it this way. It seems we are the first ones documentated to record over the internet. I was in England and Buffy was in Hawaii. It was a bit tedious as the professional equipment back then was nowhere near as good as it is now but we found way to create magic while not being in the same country. GEA and I found the same magic while doing this recording."
"We are experiencing an unusually tough period of uncertainty, fear, and loss of loved ones, or jobs, and more," she continues. "I wish to reconnect us who are struggling with hope, joy, and gratitude. I hope with this song, we can celebrate our beautiful journey on Earth, regardless of our troubles."
And much how the connection of the song and its creation are deeply intertwined with the current state of the world, the track also sets the tone and begins to touch on a part of Call for a Snake dedicated to something GEA very much admires: The spirit of the swan. "Swan represents beauty, loyalty, grace, love, and elegance," she explains. "Swan is an iconic figure in Finnish folklore, and it moves fluently between this dimension, afterlife, and other transcendental dimensions."
"I wrote this album after taking a bold decision to quit my job and dedicate my life to my soul mission: touch the light within people with my music," GEA reveals. "It was not an easy choice to make as a single mother… I traded the comfort of financial security into serving my purpose, and it made me happy beyond words.
"My songwriting changed," she continues. "I call it a 'divine downloading' where I get my songs through channeling. The songs on Call for a Snake are about different aspects of our spiritual journey. I only understood the concept afterwards as the different parts became clear to me gradually."
Based in Finland, previous releases set the stage for GEA warmly acclaimed welcome into the North American music scene; she was nominated for 'Best Emerging International Artist' at Indie Week, and her song "Followers" was licensed to Netflix series directed by Emmy Award-winning Michele Josue, Happy Jail. GEA's music video for "Alone" won a Hollywood Golden Film Award for 'Best Editing,' and "Pink" was crowned "Best Soundtrack Award" at the Social Machinery Film Festival.
"Despite" is the premiere single from GEA's forthcoming release, Call for a Snake released June 12th by Fragity Records, Songwriting & Lyrics: GEA Recording & Production: Chris Birkett, 2 Mounties Media Inc Vocal recording: Oona Kapari Mastering: Fred Kevorkian, Kevorkian Mastering, inc. Vocals: GEA Keyboard, percussion, bass and guitars: Chris Birkett Recorded at: Hailuoto & Helsinki, Finland & Toronto, Canada Mastered at: Brooklyn, New York.
For more visit:
geaofficial.com/
twitter.com/official_gea?lang=en
instagram.com/geamusicofficial/
facebook.com/geamusicofficial/
open.spotify.com/track/2kmxc0rusiLqAfyQ1izhio?si=amZ0DmvbQ26238jqHInNuw