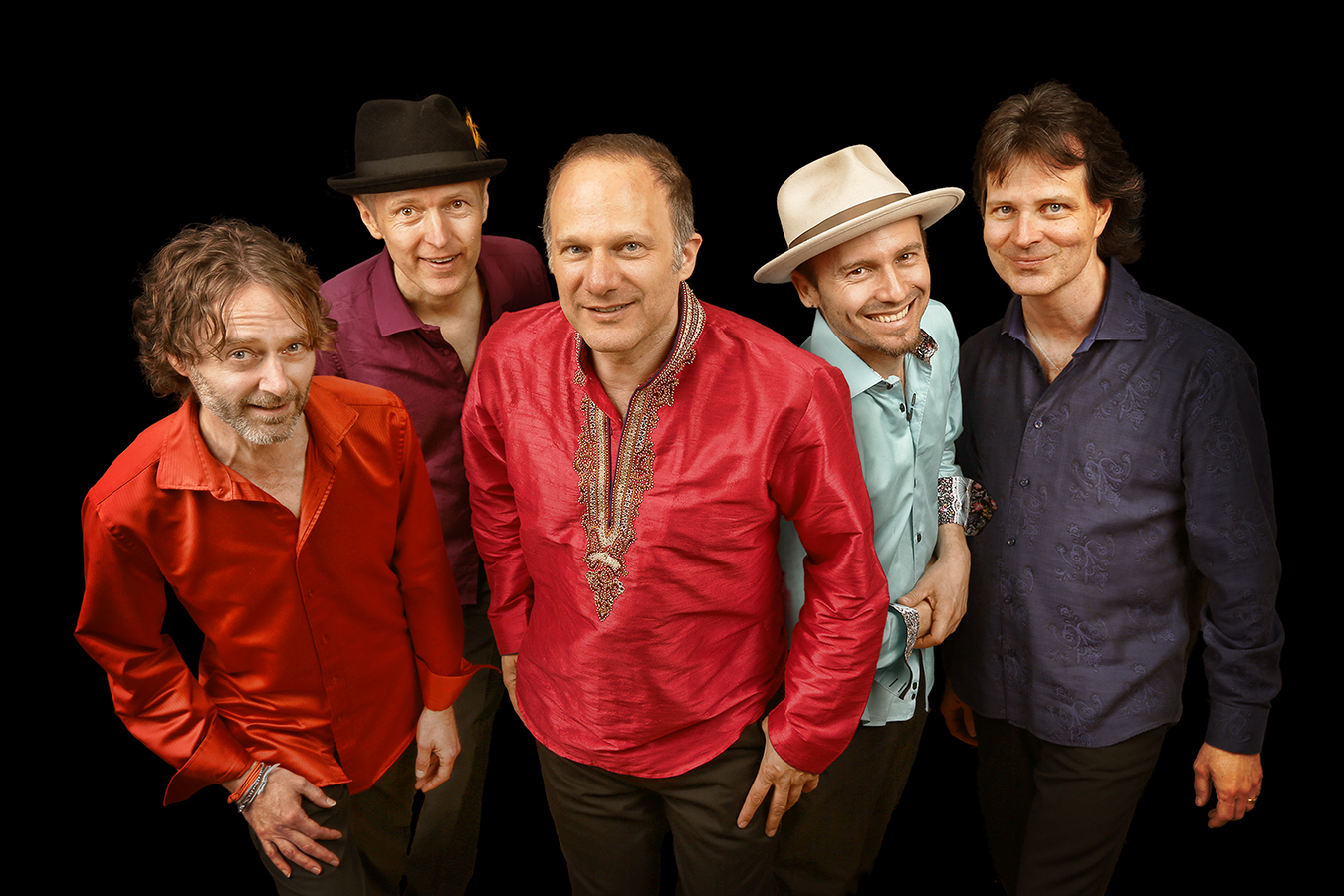 Fri Jan 10, 2020
Over the past dozen years and six albums, McKhool and his bandmates — co-founding guitarist Kevin Laliberté, bassist Drew Birston, Cuban percussionist Rosendo 'Chendy' Leon and second guitarist Eddie Paton — have excelled at both. Thrilling listeners around North America with their genre-hopping fusion of Celtic reels, flamenco, Gypsy jazz, Arabic, Cuban, and South Asian rhythms, Sultans of String celebrate diversity and creativity with warmth and virtuosity. And they often do it with artists such as Paddy Moloney and The Chieftains, Richard Bona, Benoit Bourque (Bottine Souriante), Nikki Yanofsky, Alex Cuba, Ruben Blades, Crystal Shawanda and Ken Whiteley.
This newly released track "El Bint El Shalabeya" reinvents an ancient traditional Lebanese song, bringing in Syrian refugee Majd Sekkar, Algerian mandole player Fethi Nadjem, and Greek oud player Demetrios Petsalakis, who all now find their home in Canada. It is from the upcoming album REFUGE (releasing March 20, 2020), a project that is "centred around the positive contributions of refugees and new immigrants to U.S.A./Canada," says bandleader Chris McKhool, whose Lebanese grandfather stowed away on a ship bound for North America a century ago. "We are bringing in guests that are newcomers to this land, as well as global abassadors for peace".
Watch "El Bint El Shalabeya" here:
https://youtu.be/0LCRDQ3U86g
This very fresh arrangement of "El Bint El Shalabeya"  is also a musical tribute to Dick Dale who passed away in March. Dale was known as "The King of the Surf Guitar" (which was also the title of his second studio album). Like Sultans of String violinist McKhool, Dale's father was of Lebanese descent from his father, who drew on Middle Eastern music scales in his arrangements.   Sultans of String fleshed out this arrangement with the incredible string playing of Gündem Yayli Grubu, a Turkish Roma string group in Istanbul.
Like most of their collaborations, it came to life in the studio, with Sultans of String and their guests composing and creating together. But no matter how they began, they all ended the same: With all the artists recording together at Jukasa, a world-class recording facility on the Six Nations reserve between Toronto and Buffalo.
"We knew we had to do it this way," McKhool stresses. "We couldn't make an album honouring refugees and do it long-distance. But having everyone in the room at the same time made it extremely challenging, both from a logistical and technical standpoint. But the results certainly made it worthwhile."
With their historic and visionary seventh album Refuge (Releasing March 20, 2020), McKhool and co. bring their unique brand of musical synergy and collaboration into the studio like never before. Their most ambitious, diverse, inclusive and passionately political album, Refuge puts the Toronto-based Sultans face-to-face with a VIP roster of artists from around the globe — including American banjo master Bela Fleck, Israeli vocalist Yasmin Levy and others, like Iraqi violinst Imah Al Taha and Iranian santur master Amir Amiri, who have fled the peril and persecution of their homelands for the safer shores of North America.
You can pre-order 'REFUGE' here: https://orcd.co/refugee
"We love to expose people to sounds they might not have heard before," explains violinist and bandleader Chris McKhool, summarizing the mission statement of the groundbreaking and acclaimed world music ensemble. "And we love collaborating with other artists."
For more on Sultans of String visit:
sultansofstring.com/
instagram.com/sultansofstring/
facebook.com/sultansofstring
twitter.com/sultansofstring
open.spotify.com/artist/6GUPR8j10gupeAmKJYgP3I?si=ODnrLMQnQGqlncLhaKP51Q
Editor's Note: Sultans of String are a talented group of artists, who are tenacious and inspiring for their continuing growth and musical offerings. Cashbox Canada is a huge fan and always look forward to what they will release next. On "El Bint El Shalabeya"  they didn't disappoint us – it is brilliant.