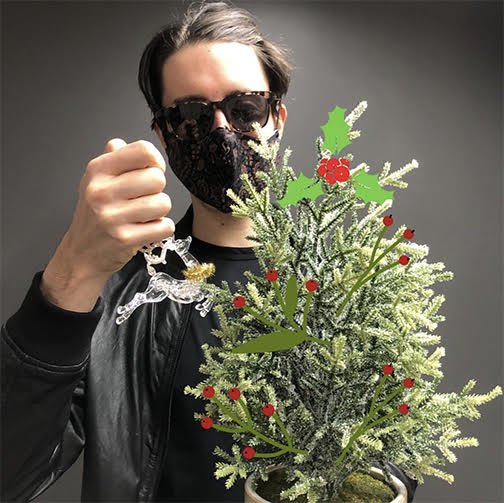 Fri Dec 04, 2020
With the holiday season fast-approaching and the COVID-19 pandemic still looming over our heads, it's uncertain what Christmas is going to look like in 2020. Despite the second lockdown and a concerning lack of good news around the world, Toronto-based chef Luke Hayes has returned with his popstar alter-ego — SEKSI — to make a difference and spread a little joy this holiday season, by releasing an all-new single entitled "Be My Christmas Dream Tonight.
Inspired by the likes of Max Martin, this instant pop classic takes its listeners on a journey, complete with a surprise gospel ending. The two-minute, 45 second-spanning dance track is chock full of enough jingling bells and heartfelt, romantic verses to leave anyone with a wide-eyed grin on their faces.
While it's an undeniably fun and wholesome song that reminds the listener of many of the traditional joys that, pre-pandemic, come along with the holiday season — including caroling and partying with friends — when you listen closely, it actually becomes clear that there's a deeper message embedded within this bass-driven Christmas single.
SEKSI's lyricism makes it clear that he's yearning to celebrate the festivities with a special someone… And truthfully, can't we all relate to that right now? The fact is, many of us will be spending the holidays this year without the presence of those nearest and dearest to us — possibly for the first time ever — all because of the COVID-19 pandemic.
"Be My Christmas Dream Tonight" is a song that speaks to the feeling of wanting to spend the holidays with someone special during the holiday season. It was produced with the intent to bring people together, especially during a time when we can't physically be together. Luke wanted this happy-go-lucky tune to "uplift" and "inspire" during such a difficult time and the surprise gospel ending in the song certainly uplifts.
The Toronto chef said it best in the first line of the song: "it's been such a long year," so shouldn't we be making the most of it? But how can we do that, some might ask? Music. It brings us all together, which is exactly what Luke wanted to do with "Be My Christmas Dream Tonight."
Aside from his music career, Luke Hayes has run Toronto's top underground supper club, L.U.S.T, for six years. His latest singles include "Solo Disco" and "Be My Christmas Dream Tonight" — melody-driven tunes featuring honest and direct lyrics, all inspired by the likes of old and beloved pop music, but with modern twists.
For more visit:
seksimusic.com/
instagram.com/seksi_music/
open.spotify.com/artist/5mdDJ33Rjq8UGlTh8jpPhk