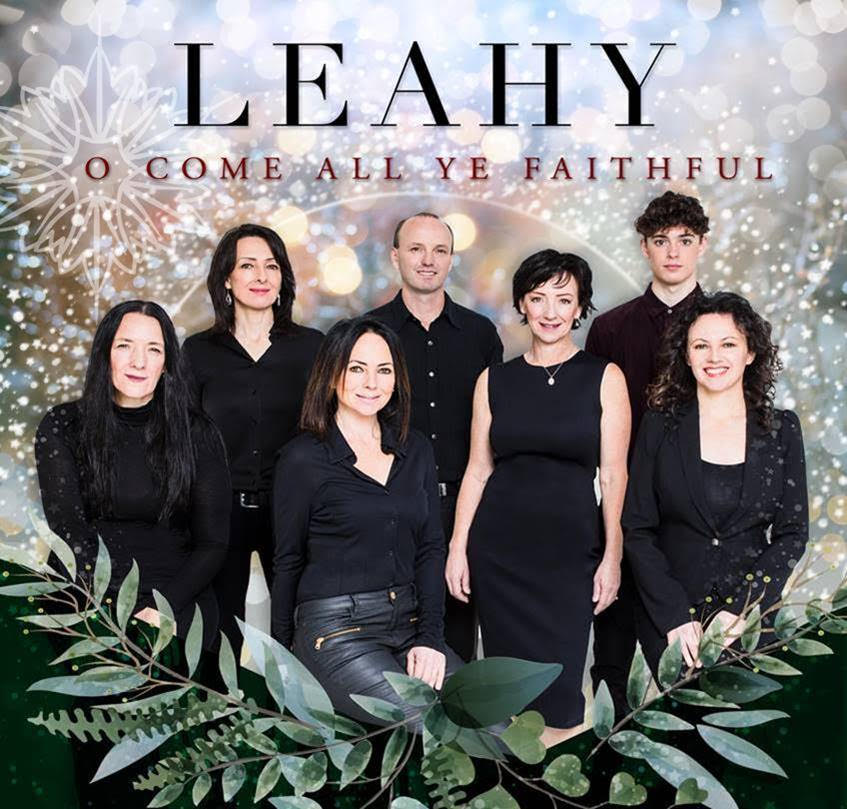 Fri Nov 27, 2020
Who better suited to record traditional holiday music than Canadian group Leahy, one of the country's most highly regarded progressive folk-roots bands? Their well-tuned sibling harmonies and exceptional arrangements are legendary, as can be heard on  their new single, a rendition of  the Christmas hymn, "O Come All Ye faithful." Having just released their single "Good Water" to great acclaim, the JUNO Award-winning group will also be releasing their upcoming album of the same name, in 2021.
From its strikingly original piano-chord opening to its gorgeous solo vocal ending, Leahy's achingly beautiful version of "O Come All Ye Faithful" moves through the sparsely-backed, haunting voice of Denise Leahy; a glorious chorale of the second verse; a tender violin solo; and a mesmerizing, repeated incantation of the line "Let us adore him." It feels pure and heartfelt.
The Leahy group members (as they appear in the photo above), are Julie Frances, Maria, Siobheann, Frank, Denise, and Erin, and they all showcase their brilliant songwriting and vocal abilities on the upcoming new album Good Water, to be released on February 26, 2021. They've also introduced a new, young Leahy to the roster: Xavier, Frank's (drums) eldest son, on electric guitar and accordion, and along with the help of Grammy Award-winning producer, (and fellow Canadian), David Bottrill (Peter Gabriel, Afro Celt Sound System), the new music is the band's most ambitious recording project to date.
An unforgettable experience of music, dance and song, Leahy's reputation as excellent musicians, multi-instrumentalists, singers, and songwriters was (and continues to be) exponentially enhanced by their stunning, high-energy live performances. And what a career it's been. Their 1997 eponymous album, Leahy, seized the public's attention, and extensive touring (much of it as the opening act for Shania Twain) boosted the band to double-platinum sales in Canada. The album also sold impressively in the U.S. (where it reached No. 4 on the Billboard World Music chart), the U.K., and Europe.
Leahy earned three Canadian JUNO Awards, for Best Instrumental Group and Best New Group in 1997, and Best Country Group or Duo the following year. Lakefield (2001) was Leahy's second release, followed up in 2004 by In All Things. To date, Leahy have sold more than 500,000 albums worldwide. They've been featured in three PBS television specials – Leahy Live in Concert, Gael Force (with the Chieftains), and Leahy Live from Gatineau, Quebec – and are the subject of a 1985 Academy Award-winning documentary, The Leahys: Music Most of All.
For more on Leahy please visit:
leahymusic.ca/
facebook.com/leahymusicofficial/
twitter.com/LeahyMusic
instagram.com/leahymusicofficial/
youtube.com/channel/UCA4vDB3vxQbEq3Y_pKDNiFg
open.spotify.com/artist/1Kw4FndVM4Dy2Dz59g1wYA