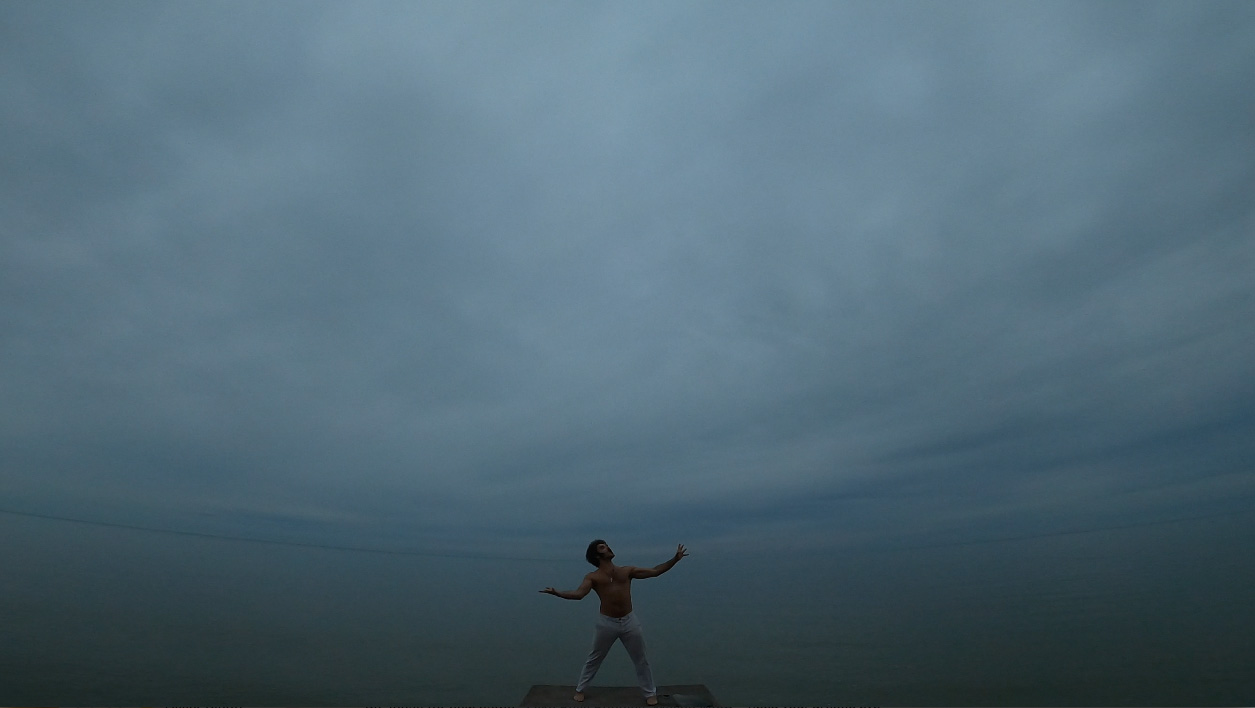 Fri Dec 25, 2020
Canadian indietronica rocker Oliver Pigott delivers his frenetic, uncompromising and undeniably welcome take on Aerosmith's 1973 ever-classic, "Dream On".
Check out this great version of "Dream On" here:
"Here we were, my wife, kids and I, in a charming small town across the border in the US riding out the next wave of 2020," Pigott recalls of the cover's earliest inspiration. "We were in a basement playing music with a few new friends and strangers when, that night, we met a man who suffers from amnesia; he came down to listen to us jam."
"Apparently, he had been a musician himself before his near-fatal car accident," the Toronto-based singer/songwriter, musician, and actor continues. "As I played a few arpeggios over a D minor chord, he began to half mumble/half sing 'Dream On.' 'You know it?' He asked me, and of course I replied. He nodded and looked through me with piercing eyes; 'great song, man.'"
As the night wore on, the man ultimately forgot that moment as well as who Pigott was. "Yet, we both knew the song would live on. Once I was back home, I began to dream of covering it in the studio and producing it with dramatic, orchestral-like instrumentation throughout."
The process of recording the biting ballad would soon prove to create a journey all its own. "My wife recorded the piano track on a beautiful grand piano in our friend's home,"  Pigott shares of Danka Pigott. "Her take sped up significantly over the course of the song, but it was full of feeling so we made the choice to keep it.
"I had the same approach to my vocals; I recorded that night, and decided to keep everything that came out of me on the first take. Too much music is auto-tuned and set to a click, and I wanted to make a departure from that.
"I wanted to trust the moment.
"With my twin boys in the other room as I sang, I could not help but feel the weight of the lyrics. This song has always spoken to me and I wanted to create something that captured my feelings about 2020 as well as what I imagine a lot of people have grappled with over the course of this volatile year."
When it comes to the music video, Danka handily contributed there as well, directing and filming the stunning visual accompaniment; "Dream On" isn't the first creative collaboration for the two — they appear together as Americana/folk duo LambLion as well.
On a cliff at dusk, overlooking tumultuous waves giving the shores of Lake Erie a piece of their mind, the entire video was captured in one take, with the partners once again 'trusting the moment' in its entirety.
"The two of us followed each other's instincts and let the performance and camera angles unfold in real time," Danka shares of the powerful dream-like sequence that evokes states of anguish and passion.
"And melancholy," Pigott adds. "It's where the struggle for freedom and the yearning for truth is unyielding.
"My wife always says 'your art is your politics' and, with this cover, that may well be the case."
For more on Oliver Pigott visit:
oliverpigott.com/
facebook.com/oliverpigott/
twitter.com/OliverPigott
open.spotify.com/artist/0spJdvuH4Lxpbl4rCwSTYO?si=Uf9pslfqRfGE3DsmrJRx6w
Editor's Note:
Oliver Pigott is a musician, actor and songwriter. He's written hundreds of songs in his career, toured and recorded worldwide and acted on both stage and screen. Beginning with a BMG Canada publishing deal in 2002, Oliver's time in the entertainment business has seen him as frontman for projects of varying genres, from folk/pop to country, electronic, soul and hard rock. He's worked with industry luminaries like Nick Tauber (Thin Lizzy, UFO), Doc McKinney (The Weeknd, Esthero) and Dean McTaggart (Wynonna Judd, Amanda Marshall) and recorded in premier studios, including Abbey Road in London, England and CBC Studios in Toronto, Canada. He also appeared as a finalist, alongside his brother Sebastian, on the closing season of Canadian Idol. The two went on to perform and record internationally as The Pigott Brothers, writing two songs for the CBC series Being Erica, in which Sebastian starred. Oliver's voice was featured in the song "Elevator", from the hit Family Channel series The Next Step. He starred in the feature film Lost Angels (which also featured his music), as well as the short film Hum. Oliver currently spends his time between Toronto and Nashville writing and collaborating with other artists, including his wife in LambLion.