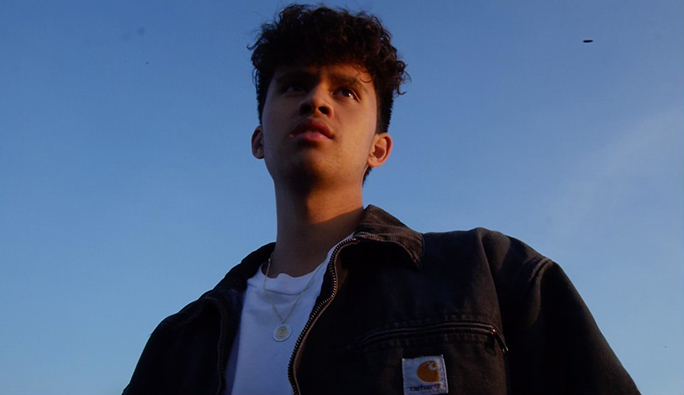 Fri Mar 19, 2021
At 200,000+ Spotify spins across his three breakthrough singles, Canadian pop singer Avry gets mellow for this, his debut music video for "Back to You".
Check out the YouTube video of "Back to You" here:
The ambient, three-minute pop track not only follows the release of the Vancouver-born, Toronto-based artist's previously released singles "Close to Me" (2020) and "Running Dance" (2020).
The song begins with the ringing of a phone and an automated voice message for a "not-in-service" number, and it's not long after that "Back to You" really kicks off into the mellow and relaxing hit unsuspecting listeners and fans are already praising and recognizing it to be.
Avry's smooth melody and lush vocals are backed by an infectious and consistent digital bass groove, oscillating drum tracks, and sporadic sound samples. The singer/songwriter revealed the instrumental track was created by the Canadian producer, Chiara, and that he heard it while sitting in the passenger seat of his friend's JEEP. In the span of just one minute, Avry said he had a topline for the beat and rushed back to his home studio to record the first draft of the project that night.
To help complete the song, Avry enlisted Canadian producer Chris Stiliadis to complete all post-production and mastering work and ultimately help bring "Back to You" to "the next level," he says. Though he didn't produce the instrumentals, Avry (AKA Connor Anderson), wrote all of the lyrics and the vocal arrangement. He described it as one of the most organically created songs he has ever made, and that "the lyrics came so quickly and naturally."
Following the initial release of "Back to You" last November, Avry said he immediately had an idea and rushed to set up a meeting with Vancouver-based photographer Muni to see if he would help record a music video. He wanted the film to be recorded on the rooftop of Gastown — a Vancouver landmark — because he felt "Back to You" is "a great representation of the summers in Vancouver and Toronto, and the carefree life we've been trying to live among the craziness of the pandemic."
Before starting his solo career, Avry was — and still is — part of the Canadian music trio 4.0.4, along with group members Noah and Memblem. He wanted to pursue his own career on the side to help expand his discography, network and skill sets.
For more visit:
instagram.com/avry.ig/
facebook.com/avrymusic.fb
twitter.com/avry_tw
open.spotify.com/track/2VhKFjwGVPCSIa2dZtc2QB?si=8d4d2de7c2e1487b&nd=1